Despite being part of the world's most populous Muslim nation, the island of Bali is a Hindu enclave where pork is readily enjoyed. It is considered a traditional food source and is eaten in conjunction with religious ceremonies and as well as within the home on a regular basis. Balinese cooking uses lots of exotic spices that are blended into a paste that acts as a marinade. Balinese Pork Ribs is a local specialty dish that is infused with layers of flavour. Serves 2.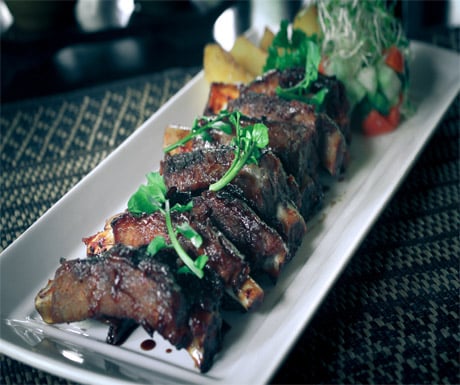 Ingredients
300g pork spare ribs
2 lt water
20g fried shallots
20g fried garlic
100g Balinese spice paste marinade (see below)
3pc bay leaf
3pc lime leaf
20ml tomato ketchup
5ml chilli 'sambal' sauce
30ml salty soy sauce
30ml sweet soy sauce
5g pepper
10ml salad oil
Balinese spice paste
10g garlic (peeled & cut)
30g shallots (peeled & cut)
10g galangal (peeled & cut)
10g turmeric (peeled & cut)
10g white turmeric (peeled & cut)
10g ginger (peeled & cut)
10g candlenut
5g shrimp paste
20g lemongrass stalk (peeled & cut)
1 tbsp coriander seed powder (peeled & cut)
2 pcs lime leaf
3 tsp clove (powdered)
3 pcs bay leaf
5g salt
1g black or white pepper
10g palm sugar
0.5 tsp nutmeg (powdered)
1 cup salad oil
5g red chilli (deseeded & cut)
Directions
Balinese spice paste
Blend the garlic, shallots, galangal, turmeric, white turmeric, ginger, candlenut, shrimp paste, lemongrass and chilli with a bar blender until a fine paste.
Heat a little oil in a pan and sauté the blended ingredients.
Add in all of the remaining ingredients and continue to sauté. The paste is cooked once it starts to emit a fragrance and the oil separates. Set aside to cool.
Once the paste is cool, place it in a plastic container and refrigerate.
The paste can be kept for several weeks but should be reheated every 4 days or so to maintain its flavour.
Pork ribs
Cut the pork spare ribs into pieces.
Spoon 40 gr of the prepared Balinese Spice Paste into a bowl and add the tomato ketchup, chilli 'sambal' sauce, salty soy sauce, sweet soy sauce, pepper and salad oil to make a marinade.
Generously coat each rib with the marinade
Preheat the grill and start grilling the ribs over medium heat.
Grill both sides until brown.
Place the remainder of the marinade in a pot with 2lt of water and bring to a boil.
Transfer the grilled ribs to the pot and cover with a lid.
Add the bay leaves and lime leaves.
Cook the ribs until the meat is tender.
Serve ribs drizzled with soy sauce and a sprinkle of fried shallots.
Thank you to Nyoman Sonder, Executive Chef at the gangsa Private Villa and Spa, for the recipe.
If you have a recipe you would like to share with  A Luxury Travel Blog's readers, please contact us.