Ever dream of flying Singapore Suites, Cathay Pacific First Class, Etihad First Class Suites, Lufthansa First Class and other first class airline cabins, but think that they're impossibly out of reach? They don't have to be, depending in part on where you're located, on your credit score, and on your flexibility. You don't even have to be a true frequent flyer or do much actual paid flying. Here are 8 tips to help you fly first class on award tickets, whether for a honeymoon, destination wedding, anniversary, or special family trip:
1. Have a US social security number and credit history
You can of course earn frequent flyer miles from flying no matter where you live. And another option is buying some of the miles you need. But if you don't fly a lot for work, it helps enormously to be U.S. based or have a U.S. SSN, credit history, and U.S. billing address. That's because US banks offer much higher signup bonus for travel rewards credit cards than most of their foreign counterparts. In 2014 for example, we've seen a 100,000 Citi Executive AAdvantage offer that was possible to earn a couple times or more, and there have been targeted AMEX signup bonuses of up to150,000 for the AMEX Business Platinum card. Right now there's a 70K offer for the Ink Plus small business card.
2. Have (or build) a strong credit score
Let's be clear: I do NOT recommend applying for new credit cards if any of the following are true:
You have any credit card or other high-interest debt
You don't have a steady income
You don't always pay your credit card bill in full
You plan to apply for a mortgage, student loan, car loan, or other major loan within the next year or so
You tend to spend more if you have more credit cards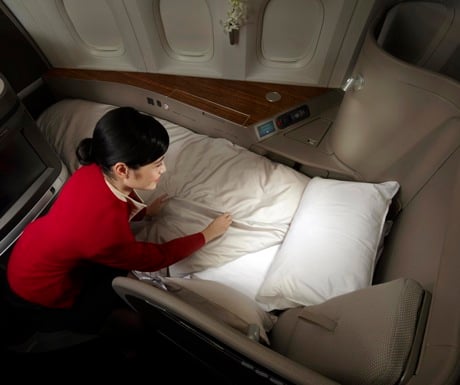 The miles and points game is only for those who are debt free, with a strong credit score, who are able to successfully apply for the most rewarding miles and points credit cards without actually spending any more than they would with just one credit card. If you have any high interest debt whatsoever, you'll want to pay that off first before getting started and strengthen your credit score, otherwise your debt payments will easily negate the value of the miles and points you're earning.
3. Strategically apply for credit cards
It's important to have a strategy before starting to apply for new credit cards. It's a marathon, not a sprint, so I don't recommend going out and applying for 7 or more new credit cards. First figure out what your travel goals are, and which miles and points will be most useful to you when redeeming for awards.
Next, consider which cards' signup bonuses and category bonuses will best help you to earn the miles and points you need, and over what time frame.
Also keep in mind that it's best to apply for a few (I recommend 2-4) credit cards at the same time, then wait 4-6 months before applying for any more cards. That's because at the time you apply, the bank will do a hard credit pull and look at your credit report. One reason even otherwise qualified applicants are sometimes declined is for "too many recent credit inquiries." This can happen if you apply for a new credit card each month, as it looks as though you may have increasing credit needs, which can be concerning to an issuer. If instead you apply for all cards on the same day, without having applied for any credit cards for the past several months, no bank will see that you've applied the same day to other issuers.
4. If you travel with a partner, ensure they also apply for cards
If you travel with a spouse or partner, make sure they're applying for credit cards as well, assuming they also have excellent credit and meet the other criteria I mentioned above. First class awards can require a large number of miles, so ideally each person needs to be earning what they will use for the award, although of course for families, parents will need to earn miles for their children's awards, at least until the kids are college age and old enough to successfully apply for their own credit cards.
5. Take advantage of category spend bonuses
It's not just about signup bonuses; some credit cards have particularly advantageous category spend bonuses. For example, the Ink Plus small business card gives 5X points for spend on Internet, cable and phone service and office supply stores, and 2X for hotel spend. The AMEX Premier Rewards Gold card yields 3X points for spend on airfare booked directly with airlines.
6. Don't hoard: earn and burn
This year, 2014, has been a perfect illustration of why you shouldn't view your frequent flyer miles and points as any kind of retirement fund: frequent flyer programs regularly devalue, sometimes with advance notice, sometimes without. For example, United MileagePlus announced updated award charts last November, which became effective February 1, 2014, increasing some partner first class awards by 86%. And on April 8, 2014, American AAdvantage eliminated US gateway city stopovers and AAdvantage Explorer Awards without any advance notice. That's why you want to regularly redeem your miles and points for first class or other frequent flyer awards that you value, and not be sitting on a million or more miles.
7. Know your redemption options or use an award booking service
In addition to the airlines' own frequent flyer award charts, there are plenty of online blogs and resources to help you figure out your best award redemption options. If you don't have the time or inclination to spend hours poring over all the nuances, you can also pay an award booking service to help research and book your award with the miles and points you've earned.
8. Plan ahead and be flexible with dates
It's important to understand that award tickets, especially first class awards, are in high demand, so your best chance of being able to redeem miles for a first class award is to plan well in advance and be flexible with your travel dates. If you have very inflexible dates or only make last minute plans, you may need to stick with paid tickets.
Hilary Stockton is the CEO at TravelSort.
If you would like to be a guest blogger on A Luxury Travel Blog in order to raise your profile, please contact us.