5 tips on getting through security easily and as quickly as possible
Traveling has become a way of life and so has the use of planes which inevitably means – airports.  As convenient as flying has become, airport security has increasingly turned out to be more stringent and time consuming with heightened security and safety concerns. As a busy traveler, time is money and no one wants to waste it waiting in line at the security checkpoints. These tips are designed to make the process for any discerning traveler to pass through security a little easier and with style.
First off, make sure your carry on is durable and the right size
Airlines keep trying to make more money off every traveler and have changed dimensions, time and time again. The smallest dimensions require a 22" linear length including wheels and handles!  A hard outside shell and four wheels are the way to go and Samsonite fills the void with their "Silhouette Sphere" Hardside Spinner that should fit any airlines stringent dimensions. It's sleek, classy, and perfect for the elite traveler.
Bring along a handy separate toiletry carry on case
3-1-1 tends to be the go to mantra for liquids and gels in carry on luggage. Having a separate toiletry bag with all your essentials plucked away is ideal and will provide easy access to that quart sized container with all your small liquid carryons. The Piel leather Pastel collection cosmetic hanging utility bag is perfect. With luxurious, sturdy leather, the Piel bag will keep everything from razors to toothbrushes neatly organized in its compartments. It has an easy open tri-fold zip and plenty of space for your quart bag. This is a great stylish choice to get through security, look for this build or one that offers a clear quart carrying case as well to be the in-the-know traveler.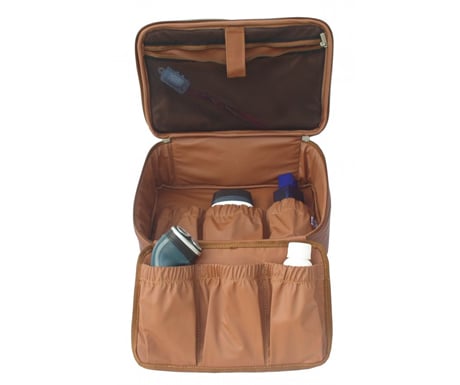 Make use of that smaller carryon in style with a great purse or laptop bag
Men and women with great tastes have great needs and usually more than a carryon is needed for travel. Women can bring a sizable purse to store away all the essentials, while guys can have a nice messenger bag , backpack, or laptop bag.  Almost any handbag will do, but why settle when you can have one of the best?  Hartmann offers a gorgeous leather shoulder bag that would be perfect for getting through security and keeping everything easily at hand.
It's always smart to have a fashionable and semi-large bag as your second smaller carryon just to have all those must get to essentials. This will be a lifesaver and is very efficient as well, ideal for traveling.
Secure your bag and make it stand out with a luggage wrap
Some bags may look alike so to make it even easier for the savvy traveler, a luggage strap with a TSA approved lock is the way to go. You want something bright, easily noticeable, and safe as well as all travelers would. Olympia provides a fine example of this with a dazzling durable strap that is stylish and secure making your luggage stand out from the rest, giving you one less thing to worry about.
Have a handy ID and wallet case for travel
The final thing needed to make your travel run as smooth as possible is a portable wallet for the ultimate in convenience to have your passport, ID, or ticket in hand.  Being prepared is always key to a smooth trip, so why not have a gorgeous way to be organized? "Hartmann Luggage" offers an excellent option with its luxurious travel organizer.  Keeping things organized and separate will make your life easier and security travel faster.  Separation and organization is definitely an important point to keep in mind for all airport travel nowadays.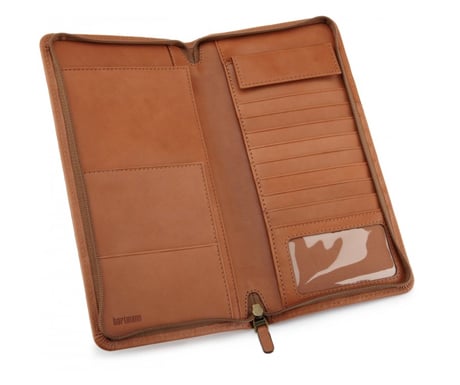 With all of these options, you can become the wisest traveler and be prepared to get through security with ease and in posh style.  These tips will make you the envy of all the other travelers as you will be ahead of the curve with fashionable amenities that will make your time in the airport easy and comfortable.  Keep these in mind when you travel and when planning your trips to make life a bit more convenient.
Tony Tomasyan is Founder and Managing Director at GotBriefcases.com.
If you would like to be a guest blogger on A Luxury Travel Blog in order to raise your profile, please contact us.
Did you enjoy this article?
Receive similar content direct to your inbox.