By
Janice Nieder
on Nov 09, 2014 in
Accommodation
,
Attractions
,
Eastern Europe
,
Europe
,
Food and Drink
,
Going Out
,
Hotels
,
Leisure Travel
,
Regions
,
Russia
,
Speciality Travel
,
Travel Miscellany
St. Petersburg is a beautiful city filled with extravagant historical palaces, cathedrals and royal gardens. Long recognized as the intellectual and cultural center of Russia, this former capital has been spiffing things up with a growing number of luxury hotels and a vibrant restaurant scene truly befitting this City of the Czars. Below are my top 10 recommendations:
1. Climb the 330-foot staircase in St. Isaac's Cathedral
Climb the 330-foot staircase in St. Isaac's Cathedral, one of the city's most important landmarks, for a breathtaking panoramic view of the city. French architect Auguste de Montferrand, built this impressive cathedral, the third largest in the world, which is topped with a colossal dome made from 100 kilos of gold!
2. Cross the street to the stunning new Four Seasons Hotel Lion Palace
Once a 19th century Russian royal palace (also designed by Auguste de Montferrand), the Four Seasons Hotel Lion Palace is their first Russian property. Be forewarned: you'll be very sad if you did not make reservations to stay here! The sumptuous, imperial golden yellow and sky blue guest suites leave you feeling like Russian royalty as you snuggle under the down-filled comforter or watch TV while soaking in a deep tub filled with Bulgari bubbles.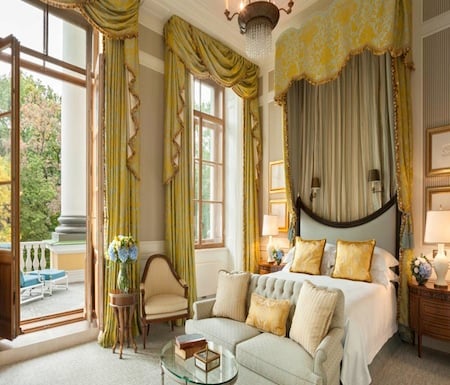 Michelin-starred Executive Chef Andrea Accordi is wowing sophisticated locals and international guests with his innovative cuisine available at Percorso Restaurant, which specializes in fine Italian cuisine, the pan-Asian Sintoho Restaurant, the stylish, walnut-paneled Xander Bar or the glass-domed, garden-like Tea Lounge. And after a full day of sightseeing you'll definitely want to take advantage of their traditional Russian steam room located in a modern four-level spa.
3. Visit the Hermitage Museum
With over 100 museums it can be a daunting task to choose which to visit but one no-brainer pick is the Hermitage Museum, located in the pastel green and white Winter Palace, once home of the Tsars and the setting for the 1905 and 1917 Revolutions. The Hermitage is huge, housing over 3 million of the world's finest art works. While wandering the gilded hallways keep an eye peeled for Leonardo da Vinci's "Madonna with Child", the Rembrandt's "Return of the Prodigal Son", Michelangelo's Crouching Boy, Matisse's The Dance and Picasso's Blue Period paintings.
4. For the best new museum, check out the opulent Fabergé Museum
Located in an elegantly restored, neo-classical marble palace, the Fabergé Museum features over 4,000 exhibits from the collection of Russian philanthropist Victor Vekselberg; the main attraction is the world's largest collection of Fabergé eggs. The history of the imperial Easter eggs began in 1885 when Emperor Alexander III decided to give his beloved wife an Easter egg piece of jewelry and placed his order with Peter Carl Faberge. Peter Carl was given complete freedom with his designs, as long as each egg hid a surprise.
His first piece, the 'Hen Egg' was a rather plain, white enamel egg which opened to reveal a golden yolk, encasing a small mosaic gold hen hiding another surprise: a miniature gold and diamond imperial crown with a ruby pendant. It was such a success that the Tsar ordered a new imperial egg for the next 32 years.
5. Take to the water
The reason St. Petersburg is often called the "Venice of the North" is because it's situated on about 40 islands with over 70 rivers and canals running through the city, crisscrossed by approximately 400 bridges. For fabulous photo opps and a fish-eyed view of the city take to the water for an informative sightseeing canal cruise or jump on a speedy Aquabus (public water taxi) that zips around the Neva River and Gulf of Finland. If you want to see Peterhof (and you really should) the best way there is by hydrofoil.
6. The imperial state of Peterhof
If the weather is remotely decent, a visit to the world-famous palaces and gardens that make up the imperial estate of Peterhof is a must! In 1714 Peter the Great decided to build a lavish country residence, which he modeled after Versailles. After exploring the elaborate royal gardens, adorned with over 100 unique fountains (which operate without pumps) save an hour or two for a tour inside Tsar Peter's Palace, which ain't too shabby either. Highlights include Rastrelli's ornate Ceremonial Staircase, marvelous frescos, a richly gilded Ballroom, priceless silk wall hangings and don't miss the exquisite parquet floor in the Throne Room.
7. The Church of the Savior on Spilled Blood
The Church of the Savior on Spilled Blood is a photographer's dream come true. The flamboyant exterior, topped by exquisite Fabergé-style onion shaped domes, is amazing, but the interior is even more mindboggling. Under soaring cathedral ceilings you'll find every inch of the church (over 7,000 square meters) embellished with exquisite mosaics. The church was built to honor Tsar Alexander II of Russia, who was assassinated here, hence the "spilled blood".
8. Go to the ballet
It would be heresy to come to St. Petersburg without seeing a ballet. Most people head to the Mariinsky Theatre (formerly Kirov) where for over 200 years famed dancers such as Rudolf Nureyev and Mikhail Baryshnikov have graced the stage. However, the newly renovated Mikhailovsky, even though it's not as large or lavish, is gaining popularity under its new world-class director. Watching Swan Lake performed in such an intimate space added a whole new level of appreciation.
9. For the best people watching and shopping head to Nevsky Prospekt
This 4.2 km main drag is lined with designer stores, art galleries and lively restaurants. Don't miss Yeliseev's Food Hall, once frequented by the Tsars. The richly decorated art nouveau style building is now filled with Russian gourmands stocking up on French pastries, smoked salmon, caviar, chocolates, wine and spirits. Another good stop is the glass domed, House of Books (Dom Knigi) which used to be the Singer Sewing Machine factory. The pretty girls busily sewing away in front of the huge windows use to double as live advertisements for the sewing machines. Browse through the wide selection of books, pick up a unique gift (I bought a 3-D paper construction kit of the Cathedral of Spilled Blood) or enjoy a tasty bite at Café Singer.
10. The Russian Vodka Museum
Even confirmed non-museum-goers will enjoy The Russian Vodka Museum, featuring over 220 different types of vodka. Our guide explained the history of vodka, beginning with moonshine made in the 15th century to how it became an integral part of Russian life. Some interesting displays include old advertising campaigns, ancient vodka bottles and even a heavy, 6.8-kilo metal heart that alcoholics used to wear around their neck as punishment. We learned the proper way to store vodka is to keep the bottle in the refrigerator and the shot glasses in the freezer for optimum temperature. The brief tour ends with a tasting of three 3 different shots of vodka paired with traditional appetizers (zakuski): rye bread with topped with herrings, pork lard (salo) and picked cucumber. Our guide left us with one final bit of advice: if you drink vodka straight without any mixers you won't have a hangover and after swigging down 6 glasses of vodka, which I did only to test her counsel, I can vouch for that!
Janice Nieder is Founder of Travel with Taste.
If you would like to be a guest blogger on A Luxury Travel Blog in order to raise your profile, please contact us.