27 of Europe's best Christmas markets
Mulled wine, magical Christmas scenery, romantic European destinations, roasted chestnuts, local delicacies and the opportunity to shop til you drop. What more could you want? Festive singing, a bit of ice-skating, unusual local arts and crafts and plenty of Christmas cheer – that's what it's all about in some of the finest Christmas markets Europe has to offer. Here are 27 of Europe's best Christmas markets. If you discover one during the fun run-up to Christmas that you feel others should know about, please leave a comment at the end. Happy shopping!
1. Angers, France – 28th November to 28th December
The Soleils d'Hiver (Winter Suns) festival in Angers is a foodies festival. Delicacies which come from the Loire Valley and also from other places in France, are displayed outside the town's theatre on gourmet stalls. Drink the local version of mulled wine, and enjoy pommes d'amour – which translates into "apples of love", which are basically toffee apples. Make sure not to miss out on some of the delicious nougat. In the lanes nearby there are some chic boutiques, for other types of gift shopping.
2. Berlin – 24th November to 1st January
In Berlin there are around 50 or so Christmas markets dotted around the city each year. The biggest and best-known is at Kaiser Wilhelm Gedächtniskir. There you can buy artwork, jewellery and decorations, amongst the offerings. Join in with the traditional drinking of mulled wine, and eating of roast chestnuts.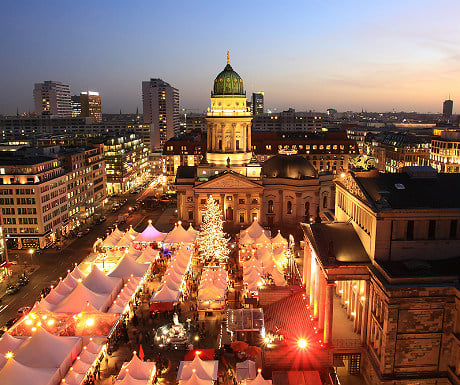 3. Bologna, Italy – 21st November to 7th January
This is another one for the foodies, although there are other things to buy, such as mechanised Nativity scenes and glass Christmas decorations. Taste delicious citrus peel which has been dipped in dark chocolate, or festive turron, which is a nougat made from honey and nuts. Bologna is an ancient, pretty city and the market takes place just by the 12th century cathedral.
4. Brussels – 28th November to 4th January
The Brussels Christmas market is definitely one for foodies. Find delicious chocolate, cheese, patisseries, meat, wines and beers. This market appears to get larger every year, and it has around 240 stalls selling food, drink, arts and crafts. Once in a while you'll notice a toboggan slope. At the end of your shopping day you can head off ice-skating on the 200 foot-long ice-skating rink. Later you can enjoy the light show, which is at the Grand Place.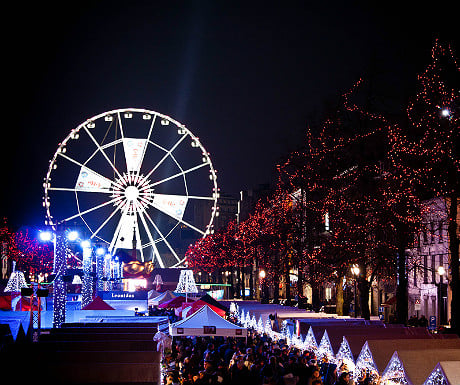 5. Budapest, Hungary – 18th November to 30th December
Before the market opens, the products have been vetted by professional juries from different organisations. The idea behind this is to guarantee that products are traditionally handmade. Your family can enjoy public theatre, folk dances, live music and traditional food.
6. Cologne, Germany 24th November to 23rd December
The sheer size of the Cologne Christmas market is impressive. The stalls can be found spread around seven different locations in Cologne's city centre. As you buy your Christmas gifts, you can enjoy currywurst and mulled wine. Later after a hard day's shopping, you may wish to head off to the beer cellar (bierkeller). As you can imagine there's a huge selection of gifts, gingerbread features once again, and also here you can buy hand blown tree decorations.
7. Copenhagen, Denmark – 15th November to 23rd December
In the beautiful city of Copenhagen, the atmosphere is authentic and a little less commercial than in some other places. There's an invasion of Danish Christmas pixies (nisser), and Tivoli is transformed into a large Christmas grotto, complete with the market. Stalls are decorated in the customary Danish and Scandinavian way. Santa Claus sets up shop in a 19th-century pantomime theatre. There's also plenty of activities such as theme park rides, ice-skating and rollercoasters.
8. Dublin, Ireland – 11th November to 22nd December
Oh Dublin, in the rare old times…as the song goes. Yes of course I am biased, but I can guarantee you that there's a great buzz in Dublin, especially in the run up to Christmas. Us Dubliners are full of Christmas cheer, and only too delighted to welcome visitors. So the Christmas market in Dublin this year is going to be in the lovely setting of around St. Stephens Green. There will be wooden chalets, with over 60 trade concessions. You'll be able to buy gorgeous Irish handcrafted gifts, including wood crafts, and there'll be no shortage of foodie offerings. Work your taste buds through a range of delights such as artisan popcorn, crepes, bratwursts, charcoal grills and the chocolate fountain. Warm yourself up with a glass or two of mulled wine.
9. Fira de Santa Llúcia, Barcelona, Spain – 25th November to 23rd December
In the buzzing city of Barcelona, this Christmas fair, which dates back to 1786, has grown over the years to more than 300 stalls. You can buy all sorts of handcrafted gifts and decorations, plus visit the life-sized Nativity scene, which is in Plaça Sant Jaume. Bring back home the curious Catalan caganer, who will no doubt be a talking point for visitors to your house. The caganer (crapper) is a traditional small figure, who has his trousers down around his ankles, as he crouches over a steaming turd. During the fair, there are exhibitions, musical parades and a nativity scene contest.
10. Gothenburg, Sweden – 15th November to 29th December
Come to a winter wonderland decked out in an amazing 5 million Christmas lights, at the biggest Christmas market in Sweden. Highlights include a Lapland area with Northern lights, reindeer, and of course Santa Claus, and a medieval camp. The market includes a special arts and crafts area, called Designtornet, where you can pick up unique Christmas gifts, as well as around 80 traditional Christmas stalls. Sample Swedish food specialities, such as smoked fish and polkagrisar, which is Swedish candy cane.
11. Hamburg, Germany – 25th November to 23rd December
In a country which is famous for its Christmas markets, a beautiful setting and an interesting motto make the Hamburg Christmas market worth a visit. The motto is – "Art Instead of Commerce" and one of this market's charms is that your mulled wine is served to you by circus artists and clowns.
Products come from all over Germany, and are laid out in themed rows of stalls, in front of the impressive City Hall. A few of the best known temptations are the pottery items, which come from artists in the Lausitz region, and of course the famous Nuremberg gingerbread. This is a traditional market, however there are a total of 15 different markets happening at Christmas time in Hamburg.
12. Innsbruck, Austria – 15th November to 23rd December
There's around six markets to choose from in the small city that is embraced by mountains. One of them is especially pretty as it is lined with medieval style houses, this is in the Alstadt. Traditionally offerings include hand blown glass delicate ornaments, wooden toys and lots of gingerbread. In the Kiebachgasse, you can spot characters from fairy tales looking down from the windows. Amongst the tasty treats that you can nibble on in the market, one speciality is the advent doughnut. These are hot and delicious, served with cranberry sauce.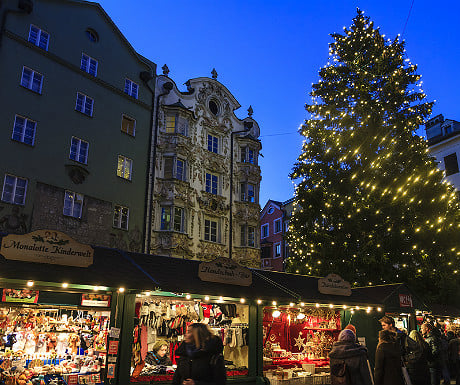 13. Jersey, Channel Islands – 1st to 16th December
At the Jersey Christmas market, which is called La Fete dé Noué, there are pretty Normandy stalls and beautiful canopies of lights. This market is absolutely packed with activities, such as art festivals, carol singing, historical tours, moonlight parades, ghoulish walks and Dickensian storytellers.
14. Leuven, Belgium – 13th to 31st December
The Leuven Christmas market is a good one for the children, as there is a special forest where they can go to visit Father Christmas. There's also a life-sized Nativity scene, funfair rides and musical performances. The market is set in the old part of the town, and has around 140 stalls, which sell a wide range of items.
15. Maastricht, Netherlands – 30th November to 30th December
Come to magical Maastricht! In a wonderful setting on Vritjof Square, you can take a break from shopping by going ice-skating on the market's centrepiece – a 100m2 ice rink. It's also hard to miss the Ferris wheel which is 60 metres tall, from where you get wonderful views over the lights of Maastricht. This Christmas market specialises in selling locally sourced products and items. Make sure to enjoy poffertjes, which are traditional Dutch pancakes.
16. Merano, Italy – 29th November to 6th January
Unlike some of the other markets, this one is quite new. Merano will be in its 28th year in 2014. So far this Christmas market has built a reputation for being in a very pretty location and having a good festive atmosphere. For children there are advent stories, pony rides, cookery and craft workshops. In terms of shopping there are around 80 stalls, where there are items such as felt slippers, wooden toys, and woolen items.
17. Nuremberg, Germany – 29th November to 24th December
A classic Christmas market which has been running since the 16th century, the Nuremberg Christmas market is especially well known for arts, crafts and gingerbread. The 180 or so stalls, which are decorated in red and white cloth, are located in the Hauptmarkt Square. Awards are given for the stalls with the best designs, and also for the best snacks and mulled wine. You'll find plenty of grilled sausages, as well as the fresh gingerbread, mulled wine, and also Zwetschgenmännle. This is a mixture of nuts, raisins, dried plums and fakes, which are made in the form of small dolls.
18. Prague, Czech Republic – 1st December to 1st January
The Prague Christmas market focuses more on unusual food and drink experiences, than presents. Don't miss out on the grog and honey liqueur, which is a traditional Czech drink. In the streets there are a large tubs of water, which are filled with carp, which is actually the traditional Czech Christmas dish. The architecture in Prague is simply stunning, and of course at this time of the year it's lit up with a dazzling arrangement of lights.
19. Salzburg, Austria – 21st November to 26th December
The Salzburg Christmas market takes place in a stunning setting located centrally in Residence Square. This picturesque market has a kind of Sound of Music feel to it, with performances from children's school groups and Salzburg choirs. There's a diverse range of presents to buy, which include traditional handicrafts, locally produced knitwear, and objets d'art. Treat yourself to roasted chestnuts and delicious Salzburg pastries, which can be washed down with either mulled wine or punch.
20. St. Gallen, Switzerland – 27th November to 24th December
In a picturesque setting, you'll find the tallest Christmas tree in Switzerland as well as around 700 glittering stars above the city's pedestrianised streets. There's a Baroque cathedral, Swiss style half timbered houses, a wonderful medieval library and beautiful views of the snow-covered mountains. The local traditional tipple is a fire punch, made of wine and rum, which is called feuerzangenbowle. St. Gallen is also known for concoctions of marzipan and gingerbread, which come in all different shapes and sizes. If you fancy a snack, make sure you try the crusty bread with melted Swiss cheese, known as raclette.
21. Stockholm, Sweden – 28th November to 23rd December
Ramble around the stalls in Stockholm in a classy waterside setting. There are four Christmas markets on offer, but my favourite is in the old town, Gamla Stan. Traditional gifts are sold from wooden huts, in a pretty setting with cobbled stone lanes, and plenty of cosy places to stop off for a refreshment.
22. Strasbourg, France – 29th November to 31st December
This market stretches over a number of squares and several streets of the city, especially around Münsterplatz and Broglieplatz. The Strasbourg Christmas market, which has been running since 1570, is the oldest Christmas market in France.
There is an eye-catching 31 metres Christmas tree, decked out in plenty of festive lights, in Kleber-Platz. The stalls offer a variety of decorations, arts and crafts. Also you can buy chocolate yule log, and Bredele, which come from Alsace and are traditional Christmas biscuits.
23. Stuttgart, Germany – 26th November to 23rd December
In one of the oldest markets, which dates back to 1692, you'll find 300 stalls or so dotted around the old heart of Stuttgart. This is a car free zone, which is beautifully decorated, with scents of fresh pine and spiced wine lingering in the air. Excellent Christmas concerts are held on the steps of the City Hall and also in the Old Palace's Renaissance courtyard.
The Stuttgart Christmas market is especially well known for handmade specialities from the Black Forest. Be on the lookout for artisan fruit brandies, felted slippers and knitted hats.
24. Valkenburg, Netherlands – 14th November to 4th January
For something a bit quirky, you can head off to enjoy your Christmas shopping and experience in caves. The Valkenburg Christmas market features underground markets which can be found in the Velvet Cave, and also in some older, natural caves. A huge bonus for those who don't like the cold is that the temperature is 12°C all the time in the Velvet Cave. Valkenburg is not far from Maastricht, and the Velvet Cave is an ex-quarry which has been turned into a tourist attraction. The town also has a superb Nativity scene.
25. Vienna, Austria – 16th November to 23rd December
In a glorious setting in the square in front of the City Hall, musicians play for the Christmas shoppers. This market which dates back to 1294, has around 150 stalls selling Christmas gifts. The aroma of mulled wine, candy floss and crystallised fruit fills the air. For children there's arts and crafts in the city's town hall and pony riding in the park.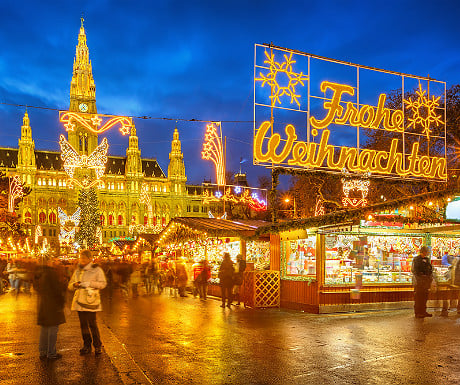 26. Worms, Germany – 24th November to 23rd December
This is a wonderful market for the children, because there is a living manger where they can pet real animals. Bring your children to see Santa Claus and for a fee of €3, they can choose a present from his sacks of toys. The setting is pretty in Germany's oldest city, and presents can be bought from around 50 stalls. There's plenty of festive music, which includes gospel choirs, classical music and traditional brass players. A temporary ice rink is set up during the Christmas market.
27. Wroclaw, Poland – 22nd November to 22nd December
Experience a magical atmosphere at this traditional Christmas market, which runs from Swidnicka Street through to the market in the old part of the city. Foodies can enjoy local specialities, and there's an abundance of Poland's answer to mulled wine, presented in festive mugs. Offerings at the market include traditional Polish gifts, woolen goods, leather goods, decorations and handmade soaps.
There's a gigantic Christmas tree, and as you wander around the city, try to spot the gnomes that are hidden around it. Wroclaw is famous for it. You can also go ice skating, at the local outdoor rink. Images:
Shutterstock
Jackie de Burca is Co-owner of Catalonia Valencia.
If you would like to be a guest blogger on A Luxury Travel Blog in order to raise your profile, please contact us.
Did you enjoy this article?
Receive similar content direct to your inbox.