5 of the best ways to celebrate Christmas on safari
As Christmas is rapidly approaching, it seemed a very appropriate time to touch upon some great reasons why an African safari is an excellent way to celebrate the festive season. Christmas is one of those occasions that is celebrated a myriad different ways. There are cultural and geographic differences, but also each family seems to develop their own unique and special ways of celebrating. If you grew up in the northern hemisphere, then wintry images of snow and roast dinners will get you in a festive mood; whereas if you're from the southern hemisphere then you probably spent your Christmases trying to find ways to keep cool and stay out of the sun. For many people, Christmas is a time for getting together with family and friends, of eating your favourite foods and enjoying spending some quality time together.
When I was growing up, my family always liked to use Christmas as an opportunity to travel, to spend the Christmas period somewhere different, to take our celebrations on the road and really embrace the Christmas spirit in whatever part of the world we found ourselves. One of my favourites was the year that we decided to undertake a Christmas safari. Here are five of the best ways to celebrate Christmas while on safari in Africa:
1. Discover the wildlife
There are lots of reasons that make the Christmas period an excellent time to embark on an African safari. Not only is it a great way to escape the chill of a northern hemisphere winter, but in countries such as Namibia and Botswana the countryside is in almost perfect condition. In this part of the world the first rains after the dry season usually begin to fall during November and have generally finished by mid-December, so there is a unique window of perfect weather before the wet rainy season kicks in from January to March. Not only is it generally not raining over Christmas, the November rains mean that the grasslands have had a chance to grow, dramatically changing the face of this beautiful landscape. Animal life is also plentiful at this time of year as numerous species such as antelope and zebra will time their breeding pattern to when there is maximum grass to feed on – this means that you should get some great photos of young antelope and zebra bounding around before your camera lens. This is also a good time of year for viewing reptiles and also birds who will be returning from their winter migration in preparation for the breeding season.
Plentiful rainfall means that the water-holes will all be full and therefore there is less reason for animals to congregate at specific locations. This is going to make it a little more difficult to see wildlife en masse. Another challenge is that the lush and abundant grasslands create great camouflage and plenty of hiding places, so again, spotting the animals that you've come to see will take a bit of patience and persistence.
2. Give something back
Christmas is the season for giving, but it doesn't have to all be about expensive gifts that are too difficult to fit into your luggage. Why not take the opportunity to use your Christmas holiday to help others. One easy way is to visit a local orphanage. Orphanages in Africa come in all shapes and sizes, but you can have a really positive impact on the lives of these children just by showing an interest in their schooling and giving them some insights into the wider world. If you're in Tanzania, one option is the Yatima Orphanage which helps to provide housing, food, education and medical care to vulnerable children.
3. Celebrate African-style
There are lots of different Christmas traditions throughout Africa, but for those that follow the Christian faith, going to church and having a celebratory meal with family and friends is common. Roasted goat is one of the most popular dishes for families to share at Christmas and is something you should try, if you've not yet had the opportunity.. If you're celebrating while on safari, then your celebrations will depend a little on the type of safari lodge or camp that you're staying at. No doubt there will be decorations and special meals available, but (depending on your budget and your festive spirit) you can make this as traditional or relaxed as you would like it to be. If you need a Bûche de Noël in order for your Christmas celebrations to be complete, then you should probably check in advance whether this might be available – it's not a dessert that you will generally find on the safari lodge menu.
4. Create your own traditions
The best Christmas traditions are the ones that are unique to your family. If you choose the right lodge for your safari, you can create exactly the kind of Christmas that is right for you. A good option is Saadani Lodge on the northern Tanzania coast, which is known for its idyllic white beaches. Combining the best of bush, savannah, and beach, this is the kind of lodge that offers something for everyone. At Christmas time you can set your own agenda, dividing your time between game drives, boat trips on the river, or just hanging out at the lodge by the pool.
5. Christmas in Cape Town
An ideal of making the most of your Christmas expedition is to begin with a safari through one of the game parks and then finish for Christmas celebrations in Cape Town. South Africa. Cape Town is a vibrant, cosmopolitan city that has fantastic weather over the Christmas period. The locals will be firing up the braai (barbecue) and feasting on fresh seafood as they enjoy the outdoors lifestyle and beaches that Cape Town is famous for. One of the best beaches accessible from Cape Town is at Clifton – an affluent suburb of the city. There are four beaches here separated by large boulders. Each beach attracts a slightly different crowd, but they all offer clean, white sand and good surfing conditions.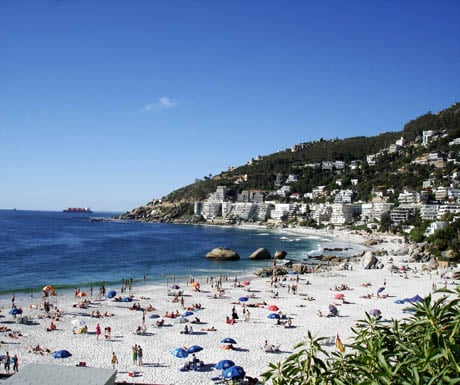 Wherever you are in the world, Christmas is a great time to spend time with loved ones and do things that give you pleasure. For my family that meant travel and our Christmas safari was one of our most memorable Christmases ever.
Javier Luque is a Co-Founder and Director of Your African Safari.
If you would like to be a guest blogger on A Luxury Travel Blog in order to raise your profile, please contact us.
Did you enjoy this article?
Receive similar content direct to your inbox.