Mendonoma, the coastline from Sonoma County to Mendocino County, is not just a place to escape the stresses of life (being just 100 miles north of San Fran). It introduces you to a different kind of lifestyle – one that revolves around nature, one that is sensitive to, and exists with, its surroundings. Here are 5 experiences not to miss: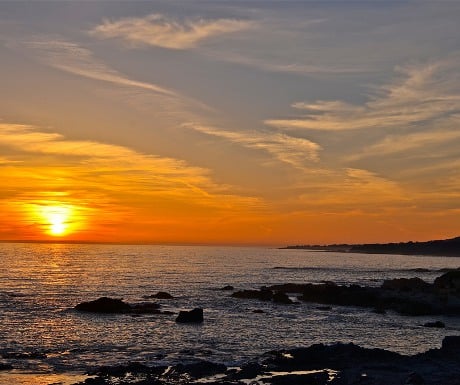 1. Discover a favorite local artist
Gualala has a beautiful community art center nestled in the redwoods, Gualala Arts Center. Art exhibits, workshops & classes, classical & popular music performances, theater, lectures and much more. There's more at Cypress Village Gallery District on Ocean Drive, Gualala. Our favorite, Studio 391, is one of Gualala's premier fine art galleries specializing in photography by Paul Kozal and exhibiting works by emerging and established artists. There are many other shops and studios, each offering a diverse and distinctive selection of fine art for any art lover.
2. Drift along the Gualala River
Enjoy an idyllic river trip along the Gualala River. If you don't have your own you can rent a paddle board (from Wass'Up, a little corner shop inside the ARFF feed store), or a canoe or kayak (from Adventure Rents). They provide self-guided rentals in top of the line watercraft; single and tandem kayaks and canoes, for up to a 2-hour paddle, a 2-4 hr. 'half day' tour for time to picnic, swim and explore or a full day river adventure.
3. Explore Point Arena
In March 2014 President Obama designated the rugged Mendocino County coastline just north of the town of Point Arena, Point Arena-Stornetta Public Lands, as our newest addition to The California Coastal National Monument. It includes access to 12 coastal miles of undeveloped federal and state-managed public lands, coastal bluffs, the estuary of the Garcia River, sandy beaches and dunes, and adjacent small islands accessible during low tide. It was ranked third in places to visit in 2014. Try to also visit the Point Arena Historic Lighthouse. Guided tours are available daily.
 4. Explore Sea Ranch's trails
A walk along any of Sea Ranch's 40 miles of trails is a must! You may encounter harbor seals in the Marine Preserve, a family of deer, wild turkeys, a fox, or even bobcat. As the whales make their migratory trek between Mexico and Alaska you're likely to see them spouting, or even breaching the water! At the end of the day's hike, as the sun sets in the horizon and the moon rises atop the redwoods, offer up a toast to another glorious day at Sea Ranch. Trail maps and guide booklets are available for purchase through The Sea Ranch Association Office.
 5. Meditate in the Sea Ranch Chapel
The Sea Ranch Chapel is an unexpected delight and most interesting piece of architectural whimsy located in the mid-point of The Sea Ranch on South Highway 1. Some describe its shape as an elf's hat. James Hubbell, artist and architectural designer is the creative genius who combined local natural materials with gifted local contractors, crafts men and artisans. The little non-denominational chapel is open to the public every day and may be reserved for small weddings (50 persons).
One of the joys of working with people like Donna, people who have a deep respect and understanding of a region's relevance, is the continual realization that a world so small still has so many hidden wonders.  I'm sure Mendonoma will feed your soul, refuel your energy reserves and send you back home revived!
Andy McNulty is the Co-Founder of Vacation Insiders.
If you would like to be a guest blogger on A Luxury Travel Blog in order to raise your profile, please contact us.