10 unforgettable experiences around the Riviera Maya, Mexico
Are you ready for some fun? You can't beat the Riviera Maya as a fun holiday destination. It is one of the most visited places in the world, and I assure you, you will have a blast! It offers you all that goes into making a holiday perfect. The startling blue of the Caribbean Sea with its brilliant marine life, the emerald jungles alive with hundreds of varieties of birds, the mystic ruins of a civilization long gone and a liberal sprinkling of boutique hotels that make  your stay special and comfortable.  Taking it all in can be a bit of a challenge. So here are ten tours that promise to give you a taste of Mexico – not too much, not too little, but just right!
1. Eco-archaeological tripping
Xcaret
, an eco-themed park that offers on it's plate a myriad reasons to visit. The amazing varieties of birds, the cultivation of plants indigenous to Mexico, and water, which is so much part of the Mayan Riviera, the unusual water adventures to immerse oneself in, and all this cleverly planned around the archaeological restorations in the park. Everything just comes together to bring alive the history and the culture of this wonderful, warm, colorful and generous land. The culmination of the tour is an evening at the amphitheater, a world class entertainment full of surprises and traditional music. A day well spent, an evening that thrills, will definitely leave you with the resolve to come back for more…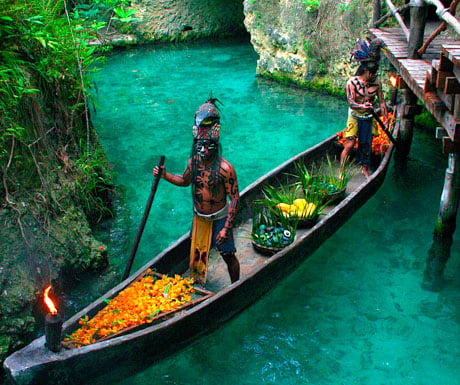 2. The underwater people
Scuba divers, whether you are a novice or an expert, this wonderful, unusual experiment in eco-conservation is for you. An underwater artistic museum. Yes, that's right, art under water. This is a man made reef that was thought up by three men who got together and conceived of this project. One of them,
Jason DeCaires Taylor
, a British artist, created more than 400 life size sculptures and had them installed underwater to protect the marine life in the area.
Aquaworld
, Cancun organizes dives into this startlingly beautiful seascape and it really is not one to be missed.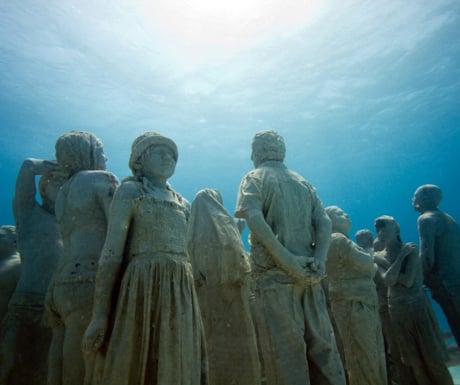 3. A really cool tour
This wonderful mix of activities is put together by
Mayans' Explorers
. The Cool Tour is justifiably one of the best and gives you a taste of Mexico – now and then. With each tour group confined to a maximum of twelve, you are assured of a day well spent. You get an early start, (before the crowds begin) with a trip to magical Akumal, the land of turtles. Snorkel in these crystal clear waters  keeping company with turtles and other marine life in the second largest barrier reef in the world. The activities continue when you move on to Tankah, where you go zip lining and canoeing, swimming in a cenote and then satiate that appetite you built up, on deliciously prepared Mexican food. Your last stop is Tulum, to see the ruins of the early Mayan civilization. Your pleasure is doubled when it turns out your guide is a qualified archaeologist whose interesting explanations bring it all alive for you. The Cool Tour is also available as a private tour.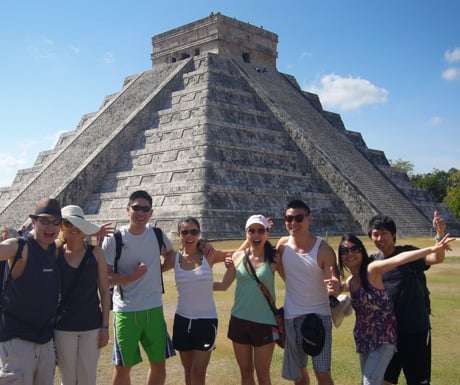 4. A Trajinera trip through Mexico's culture
So a Trajinera – this is a flower festooned, colorful, flat bottomed Mexican boat. I bet you didn't know that! Visit
Xoximilco
aboard one of these for an unforgettable, fun filled experience of the Mexican culture. Xoximilco, meaning 'a field of flowers' is a system of canals that was and still is used to transport flowers from this flower producing area. Over the years it evolved into a place of festivities, highly commended and recognized by the UNESCO. Step aboard a trajinera and enjoy an evening of music, tequila and a most unique experience of the culture and traditions of Mexico. The three hour trip accompanied by a guide who makes the learning fun, stops by passing boats that bring you exposure to different Mexican traditions and even one that serves you a genuine four course Mexican dinner. I couldn't think of a better way to get to know Mexico!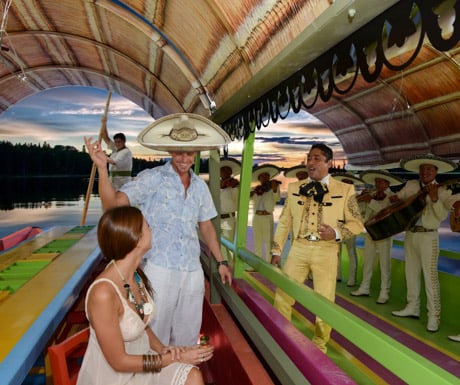 5. A chilled out quickie!
Nope, its not what you think it is! Its a tour like no other. Well, more a hanging out with the locals, snorkeling, swimming, eating. The best trip to opt for is the Signature Tour, get to see places that are not inundated with tourists, just gorgeous spots best known to the locals. Snorkel with sea turtles, visit a typical Mexican town or pueblo, cool off in a beautiful open air cenote, feast on delicious Mexican food and round up the evening aboard an 82 foot catamaran, the largest in the Caribbean, that boasts an open bar, a dance floor, great music and perhaps some fishing too! This trip delivers on its promises to be a memorable one. From the time you set out, to the time you step off the boat in the company of your '
local quickie
', it is all fun, fun, fun!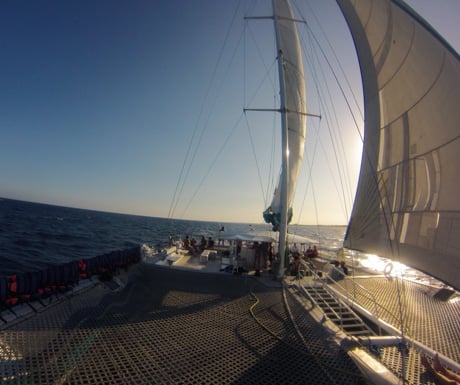 6. An underground adventure like no other
Take a trip into a space where time stands still, a trip into the Mayan underworld.
Rio Secreto
is where you head to take the tour of a lifetime through caves in an underground river system. So yes, it will be cool and wet in places, but you are provided with shoes and wet suits. After a short informative film to orient you, the walk through the caves begins with the expert guidance of an attentive and informed expert whose warmth puts you at ease. And a long walk it is, so be warned! This is a tour that brings to you not just the awe and incredible beauty of nature, but the significance of this underground system to the Mayas. This is definitely a must for the enthusiastic spelunker! An adventure tour that promises to be like no other.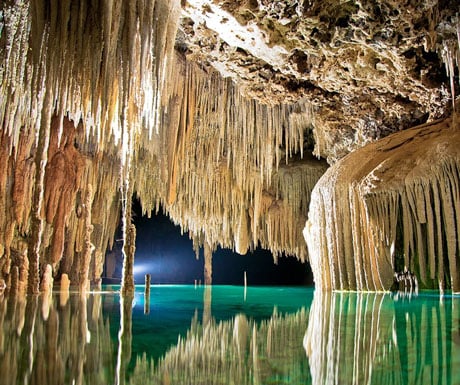 7. A Real memorable meal 
A romantic dinner by the beach with the most exquisite food and wine, fresh ocean breezes caressing you as you savor your wine at the Ocean Bar – all this in an exclusive restaurant by the sea, quite off the beaten track. Yes? You'd jump at it, of course! Well,
Pavo Real by the Sea
is just the place, set on perhaps the best beach in the Mayan Riviera – the Maroma Beach. Eating out at the Pavo Real is an experience where the service is personalized and exclusive. The food is prepared by a French chef who conjures up a delicious blend of French and tropical cuisine. Each dish a  gastronomic treat! This restaurant is the last word in exclusivity and caters only to a few, so a reservation is certainly in order.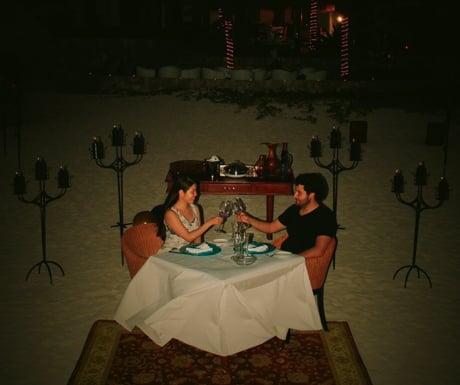 8. A close encounter with cenotes and ruins
One of the most popular tours offered by
Riviera Adventours
, is the Coba Expedition. This tour brings you up close and personal with the mystic Mayan ruins at Coba. What's unusual about Coba is that it is located near four natural lakes that give the place its name.  The ruins here are not all completely excavated, leaving most of the area overgrown and wild by the jungle. Its unusual location does not attract as many visitors as Tulum or Chichen Itza do, so that really gives you a sense of adventure! The Coba Expedition is confined to a small group, taken care of by an excellent and knowledgeable guide. And after snorkeling in a cenote you are treated to a delicious four course lunch at Oscar & Lalo's. This no rush tour is a perfect way to absorb the history of the Mayans and is great value for money!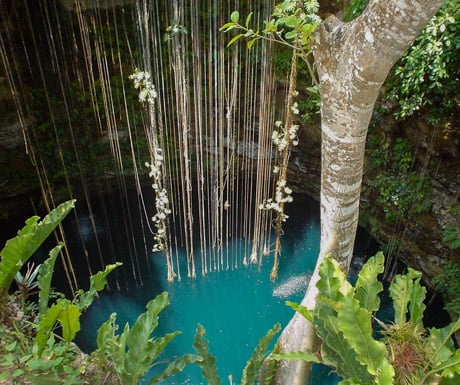 9. Rock the night away
This has got to be the most rocking night out in town.
The Playacrawl
at Playa del Carmen makes you feel like a rock star for a night, and its no ordinary pub crawl! If its a bachelor/ette party, celebrating an occasion or you just want to check out the best nightspots in town, this is the way to go. Whether you are a group of friends, a couple or just on your own lonesome self, sign up on this tour and you will have the best time ever! You get to hit three of the most happening places, sit at the best tables, make VIP entries without waiting in queues and a completely hassle free fun time. What's more, you get picked up and dropped off and no worries of safety at any point through the evening. Making a trip out like this possible are the specially chosen guides who know their way around, know everyone around, and more than anything else, are super fun to hang out with!
10. Cavernous cenotes and dream dives
Ever scuba dived into an underwater cave? The Riviera Maya is known for its hundreds of cenotes. Underwater rivers that flow through caverns and caves are visible throughout the land as stunningly inviting water holes.
Blue Life
has scuba dives for everyone from beginners to experts. Beginners are taken to Dos Ojos and Cavalera among others, cenotes that are 15 to 18m deep. The more adventurous dive into Angelita and Dream gate Cenotes.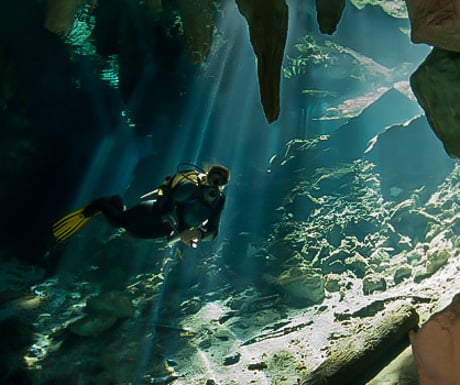 Well, we have a pretty varied lot of activities to choose from, but perhaps there are some I may have missed. For those of you who have been to the Riviera Maya, are there any other activities you would recommend?
Carmen Anderson is Founder of Here and There Without a Care.
If you would like to be a guest blogger on A Luxury Travel Blog in order to raise your profile, please contact us.
Did you enjoy this article?
Receive similar content direct to your inbox.