Top 5 luxury chalets to spend a magical Christmas
In most peoples's mind's eye the quintessential christmas would include traditional elements such as deep snow, a roaring log fire, a Heidi chalet somewhere in the mountains and a deep sense of contentment that the right ambience and the right interiors can engender. Throw children into the mix and the full magic of christmas can be seen through the eyes of those young enough and still innocent of the rampant commercialism that xmas represents to more cynical and knowing adults. Despite the overt sales pitch and clamour for last minute, must have items that makes shopping a nightmare in the run up to the big day, christmas can still be a magical time, spending time in the five luxury chalets presented here can and will restore your faith in the idea of a perfect christmas.
Chalet La Ferme du Bois, Chamonix
This stunning luxury chalet sleeping twelve guests fits the bill perfectly as the ideal place to spend christmas with family and friends. It has the crackling log fire, a grand one at that, with plenty of room for the most rotund of Santas to wriggle down, along with a reindeer or two. He would more than likely fall behind schedule as he would be reluctant to leave this wonderful abode. Ferme Du Bois is beautifully clad in a forest of timber and could be the setting for a christmas tale, good old Santa would look at home here, with his legs dangling down the chimney as he makes a bee line for the mince pies.
Chalet Tichka, Meribel
This delightful accommodation sleeping eight adults and four children would be the perfect retreat for a blissful christmas. The lounge area is large enough and comfortable enough for all to relax in the post dinner somnolence and allow that bloated feeling to pass before launching into a game of Monopoly, a perennial favourite for families at christmas. The kitchen is close at hand and open to the lounge area so sneaking that extra turkey sandwich, later in the evening won't be easy to conceal, so go for it anyway, just because you can. The cosy children's bunk room is ideal for the christmas stockings and the roaring log fire will complete the rosy glow of satisfaction on your face as you contemplate the lovely christmas you're having in this stunning winter wonderland.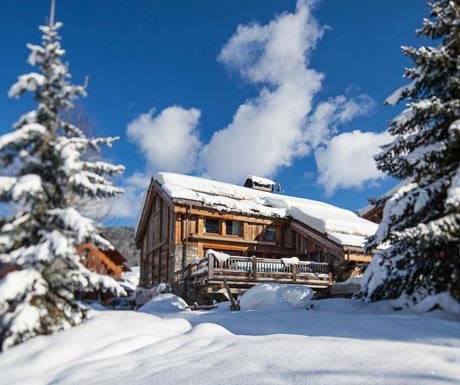 La Ti Chalet, Verbier
Roy Wood and Wizzard chorused "I wish it could be christmas every day" and it's a sentiment you'll fully subscribe to if you're lucky enough to find yourself in this fabulous chalet over the festive period. La Ti accommodates six adults and three children and is another ideal venue for an intimate and fulfilling, traditional family christmas. Cosy and snug, with the requisite open fire, La Ti, is a haven that presents a wonderfully warm and welcoming ambience. There's pool table for a family tournament and as the wine intake goes up no doubt the potting will become more wayward but that makes it all the more fun.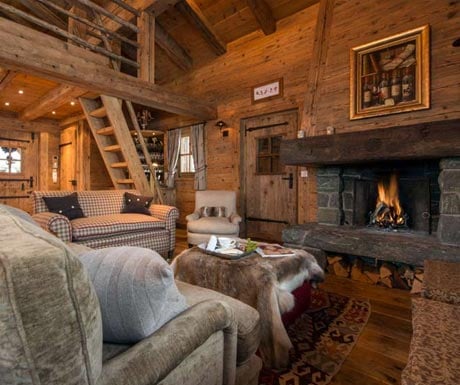 Chalet Montana, Val d'Isere
When you listen to Bing singing, 'I'm dreaming of a white christmas' you are instantly transported back to a more innocent age, a bygone era of yuletides and mistletoe, of imagined christmas perfection. Chalet Montana could well be the setting for that ideal. Montana has everything you could need for a perfect christmas break, the open fire, the luxurious comfort, the surrounding splendour of the snow dusted pines and the snowy mountains, throw in a swimming pool and you have a fabulous bolt hole for a family christmas, Montana sleeps twelve adults and three children so there's room for a couple of friends too.
Chalet Chardon, Val d'Isere
Rounding of this selection and by no means the least favourite, Chalet Charndon ticks most of the boxes. Ideal location? check, cosy and seductive? check, Heidi like chalet features? check, roaring log fire? check, Charndon even has a heated outdoor pool. You could even partake in the xmas festivities outside, alfresco dining amidst the wonderful scenery that surrounds Chardon, with the outdoor patio heaters is a possibility for those adventurous souls who would like to try something a little different, you can always decamp back inside for the crissy pud and the sherry trifle. Factor in the attentive staff and the fact you never have to face a pile of crockery, pots, pans and utensils, what's not to like. Merry christmas everyone.
Rebecca Taylor is Director at SkiBoutique.
If you would like to be a guest blogger on A Luxury Travel Blog in order to raise your profile, please contact us.
Did you enjoy this article?
Receive similar content direct to your inbox.