Finding the perfect luggage for you can be a challenge sometimes. Whether you're needing a sturdy carry-on for a short business trip or something that will enure you look stylish on the move, we've rounded up 10 great examples of luxury luggage to cover you for a variety of scenarios, and catering for a range of budgets.
Who says road warriors can't look great? Certainly not Wilkens, who is now offering their thoroughly contemporary interpretation of classic luxury luggage through a unique crowdfunding concept.
This stunning carry-on combines references to the glory days of travel – including exquisite leathers, brass and hardwood trims – with space-age materials such as carbon fibre and clever design. Conceived in Barcelona and produced in Flathead Valley, Montana, the W1 Suitcase puts you in control of your luggage. You configure your own, online, when you choose the combination of materials and colours that suits you best. The logo? That's your initials. And if the crowdfunded concept takes off, initial patrons even get a piece of the action moving forward.
Leather backpack from Jekyll and Hide
Based in Cape Town, South Africa, the Jekyll and Hide team are renowned for creating beautiful leather items, designed for everyday use. Their "Texas" leather has been handpicked for its ability to mature with age, and this is why we love this backpack.
It is both a casual and fully functional business item, with laptop and tablet compartments, as well as an amazing organizational space for cables, clothing etc. We think you will struggle to find a better example of a leather backpack. Their bespoke items can now be found in locations across the UK, Europe and Australia. £229.
TUMI Alpha International Expandable Carry-on 22020D2 from FirstClassCases.com
This compact wheeled carry-on is expandable, is the best sold model from TUMI and ideal for short trips. You can use this trolley for travel within Europe and other international locations. This is farway the best material for suitcases that is available at the moment. With the size of 56cm (21.75″) you can take this model as cabin luggage on most airlines. You can personalize this model with your free monogram to make this your own personal TUMI trolley.
With a 30-year history of creating superior products for discerning professionals and frequent travelers, TUMI is recognized as the world's leading brand of luxury travel, business and lifestyle accessories. TUMI's success can be traced to its continual focus on its principles of design excellence, functional superiority and technical innovation. For the European market you can order TUMI at the website of the online dealer FirstClassCases.com.
The damaged case! An innovative travel philosophy that has opened the way to a whole new way of conceiving the suitcase: that of the non-handle with care, where damage is no longer a problem.
Crash Baggage already has the typical dents that are caused by frequent use. Indeed, over time, the new dents give even more personality to the suitcase. All this without forgetting the functionality and comfort of an object that has been created using the most advanced materials. With your Crash Baggage you will feel relaxed and at the same time unique while travelling.
Cellulose Fiber Briefcase from Man of the World
An exclusive to Man of the World, this briefcase is woven completely from cellulose fiber. The material is soft to the touch, durable, malleable, and (amazingly) washing machine safe. Designed to be used on a daily basis, its size is accommodating to all everyday objects such as laptops, tablets, notebooks, and cell phones.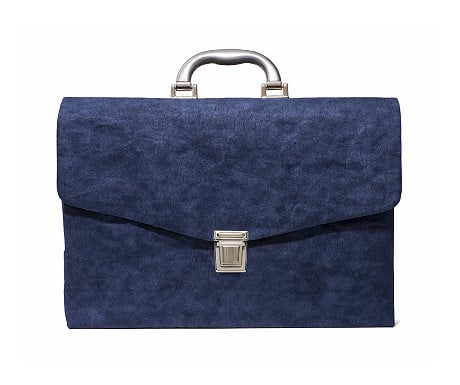 Inside there are three different sized pockets, one large, one medium, and one small, adding organization to the bag. The color is rich and textured, due to the cellulose fiber construction, which is completely environmentally friendly. The metal clasp enclosure is strong and the handle, made of metal with a plastic coating, is comfortable in the hand. A new addition to the world of briefcases, this bag is everything you could want and need all wrapped into one.
TUMI Tegra-Lite® case from Case Luggage
Expandable, accessible and effortless: this TUMI Tegra-Lite® case – available from Case Luggage – is the most durable and fully functional hardside case made today. It is expandable and features a spacious, accessible front pocket, and it moves effortlessly in every direction on double turning wheels. Tegra-Lite® is constructed from Tegris®, a revolutionary polypropylene thermoplastic composite material created by Milliken® for use in lifesaving armour, Nascar race cars and protective gear for NFL players. TUMI has worldwide, exclusive rights to use the Tegris material within the travel industry.
This compact, wheeled, carry-on is designed for those who travel domestically and internationally. It expands by 2″ for extra capacity when you need it and has two packing compartments. There is a hanger bracket for suits and longer garments and interior pockets for accessories.
Clean lines, hard-woven navy nylon, top-notch brass hardware and dark brown full-grain bridle leather goes into the recipe for this handsome travel bag by Danish luxury accessory brand Mismo. RRP: €700.
The M/S Explorer has ample interior space to hold all your essentials, whether packing for a week in the wilderness or by the Riviera. The bag features two external pockets, an internal pocket in each gusset with leather strap closures, and an additional internal zip pocket.
Meet Trunkster — the world's most revolutionary intelligent luggage, featuring zipperless entry for faster access, USB charging, a built-in scale, and GPS. In a tired industry defined by the same old zipper and flap design, Trunkster's patent-pending suitcase designed with impeccable construction and intelligent features defines a new standard for the discerning traveler, bidding farewell to the brittle zippers, cumbersome flaps, flimsy handles, and unreliable wheels of old.
Trunkster is making a huge splash in the international press by approaching nearly half a million dollars with over a month left in itscrowdfunding campaign, where it is pre-selling its carry-on and checked Trunksters at discounted prices. The Telegraph asks if Trunkster "is the world's coolest suitcase?" and Fast Company thinks it "could be the best carry-on you'll ever own."
Red eye carry-on garment bag from LAT56
A lightweight, compact carry-on approved overnight garment carrier from LAT56. Ideal for that three day conference you need to attend in Geneva, San Francisco or Singapore. The Red-Eye includes a patented feature called the 'Suit Packing System' (SPS™). This proven, lab tested crease-free process involves rolling your suit with a bespoke textile garment bag and torso shaped hanger.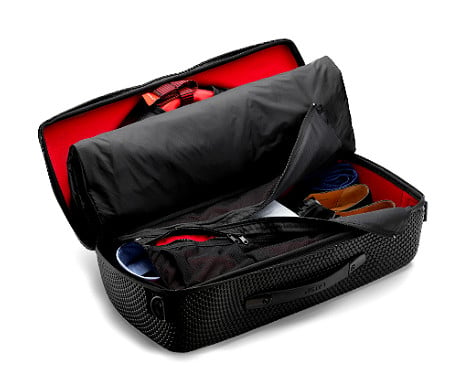 An additional kit chamber is incorporated for your demanding overnight business trips. It offers space for your overnight essentials: spare clothing, shirts and ties, shoes, underwear and other essentials. A smart sleeve strap on the back allows you to connect it over your rolling luggage handle. Includes the patented 'Suit Packing System' (SPS™). It wouldn't surprise us if this was the choice of James Bond. $299/£199.
The Overnighter from Paul Magí
The Overnighter from Paul Magí, developed and tested over a period of 18 months, is designed as the perfect bag to accompany a trip away. Designed to hold your laptop and chargers as well as a change of clothes and personal items, the bag was conceived to provide the functional aspects of a modern laptop bag with the aesthetics and quality of a timeless suitcase.
It is sized to comply with all major international airline hand luggage restrictions, including the low cost carriers, whilst also being comfortable to carry over or across the shoulder. Ideal for travelling, the compartments also provide commuters with a "one bag solution" for gym or sport wear and a day at the office.