4 walks to do in Paris away from classic city tours
Even if I perfectly understand that when you come to Paris, you wish to visit the "must-see" attractions, I would like in this article to propose five walks a bit away from classic city tours. If you stay several days in Paris, it should be easy to find enough time for to the Tour Eiffel or Notre Dame. So just pick one of the following for something completely different.
La Butte-aux-Cailles
With all due respect to Montmartre fans, La Butte-aux-Cailles (located in the 13th arrondissement) is really the highest point of the French capital (63m). This working-class district is bursting with funny little surprises and is very popular due to its cafés and restaurants in particular. One such establishment is the cooperative restaurant 'Le temps des cerises'. It's easy enough to find; just head for Rue de la Butte-aux-Cailles. On the same street, there's a shop called 'Les Abeilles' where you can buy honey produced by Parisian beehives. Then as you turn into another cobbled street, you might just chance upon one of the works of the famous street art artist Miss Tic or other very interesting pieces. Place Paul-Verlaine is an important stop when visiting La Butte-aux-Cailles, it hosts one of Paris's oldest swimming pools. Inaugurated in 1924, the swimming pool is now a listed building. The square also boasts an intriguing fountain, which is actually an artesian well dating from 1866. It boasts very pure water which I recommend…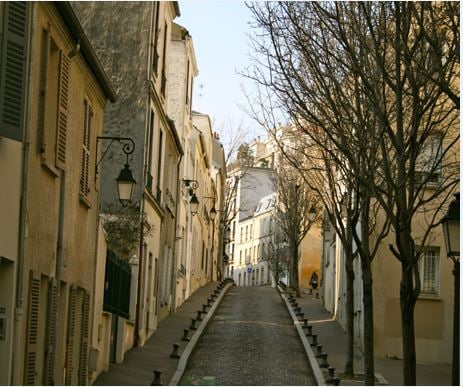 Les Catacombs
Paris is also home to quite remarkable catacombs, with different origins. They served as an underground ossuary for more than 6 million skeletons. At the beginning of the 19th century, the authorities decided to have them taken away from the capital's dirty cemeteries and stored together underground in what used to be quarries, accessible from the Place Denfert-Rochereau. This was a gigantic mission, for transporting all those skeletons at night and storing them in vast, endless tunnels was no mean feat. Today, they are all perfectly ordered, without anything to indicate their social status or date of death. Do go and take a look at the millions of shinbones, arms and skulls, it's a unique experience. At first, it is simply staggering and following a bit of metaphysical questioning about our own fates, surprise at seeing all these piles of bones takes over, after which you acclimatise and finally lose interest… as life quickly get the upper hand again!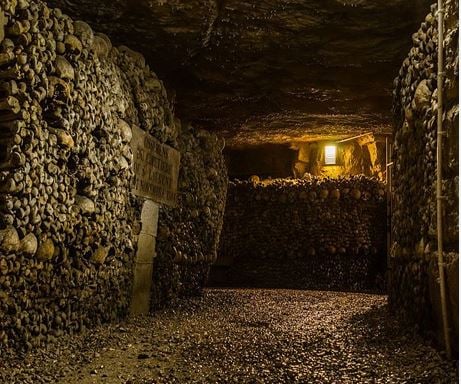 The tour will leave you musing, even shivering. For that matter, bring along a jumper as you will be feeling the chill mid-visit. One final remark: claustrophobics are advised to steer clear!
La Coulée Verte
The Promenade Plantée (tree-lined walkway), also commonly referred to as the Coulée Verte (green path), is a green area located in Paris' 12th arrondissement. This 4.5km walk takes you along a former railway track which linked Bastille to Saint-Maur until 1969. It was bought in 1986 by Paris City Council for redevelopment, which led to the creation of the Coulée Verte by the architects Philippe Mathieux and Jacques Vergely. The Promenade Plantée offers a relaxing setting and a very interesting view of Paris. Leading above-ground and below, the Coulée Verte enables you to cross the 12th arrondissement from one side to the other, exploring the many secrets and treasures it contains. I'm thinking particularly of the Viaduc des Arts on Avenue Daumesnil, home to fifty or so craft workshops (creators, furniture restorers, etc.) or the former Reuilly Station. Trees and parks are spread along the walkway of course, such as Hector-Malot Park and Charles Péguy Park. The Promenade Plantée is the perfect place for a unique and relaxing walk. NB: please be aware that you should verify the Coulée Verte's opening hours before your visit.
Le Parc de la Villette
I could have mentioned it in my previous article about the gardens to discover in Paris, but I preferred to keep it for this article. The Parc de la Villette, extending over 55 hectares of land, and crossed by the Ourcq Canal, is the biggest green space in Paris. Built on the site of the old city abattoirs in Paris, the Parc de la Villette is home to the Cité des Sciences et de l'Industrie, the Géode, the Zénith de Paris, the Cité de la Musique, la Grande Halle de la Villette, the Cabaret Sauvage, the Travendo and the Théâtre Paris-Villette. It also hosts a range of film and music festivals. Lastly, it is interspersed with a whole series of differently themed gardens. Let's take a closer look at the Géode, the biggest cinema in France, which was inaugurated in 1985.
Demonstrating remarkable technical prowess, the cinema consists of a central arborescent pillar surrounded by 386 tiered seats enveloped in a metal structure consisting of more than 6,000 triangles. The hemispherical screen which covers 1,000m2 plunges viewers into the heart of the image during screenings of documentaries, scientific films and concert programmes. Finally, hats off to the musical water clock installed in the square basin in which the Géode sits. This clock gives off strange crystal clear chimes every second, minute and hour. This is a nice link to the Cité de la Musique, which I'll rapidly mention! Inaugurated in 1995, it rapidly became the capital's favourite place for all kinds of musical performances, with its large, flexible hall seating more than 1,000 people. Home to the Ensemble Intercontemporain and the Centre de Documentation de la Musique Contemporain, the Cité de la Musique includes a multimedia library and the remarkable Musée de la Musique which houses thousands of works from throughout the history of music. You will also find Paris' Conservatoire National Supérieur de Musique et de Danse. And that's not all! There are thousands of other things to say about the Parc de la Villette and hundreds of activities throughout the year.
Le Marché aux Puces
With 11 million visitors a year, the Saint-Ouen flea market is home to the biggest collection of antique dealers and second-hand goods traders in the world. Made up of several different markets (Biron, Vernaison, Malik, Paul-Bert, Serpette, Malassis Dauphine, etc.), it brings together around 2,000 stalls and shops over seven hectares. There are, without question, antiques for sale, but there are just as many stalls selling clothing, novelty items, lighting, jewellery, toys, books, period clothing, scientific objects, sports equipment, tools, car parts, hardware and military items! And it takes place every Saturday, Sunday and Monday throughout the year. Parisians and tourists (80% of visitors) alike enjoy coming here to look around, buy and take a stroll in a very distinctive atmosphere. Popular music can be heard all around, including « Jazz-Manouche » which Django Reinhardt's successors continue to play each week in the local cafés.
More than just a market, the 'Puces' is a meeting place for different cultures, generations, classes and styles. Take, for example, the bucolic and picturesque setting of the Vernaison Market, the small wisteria-covered pavilions on rue Paul Bert, the shaded patios of the Malassis Market, the sumptuous boutiques at the Biron Market and the hushed atmosphere under the covered passageways at the Serpette Market. Going to the flea market is like taking a poetic stroll, freeing your imagination, in another world right next to Paris. There is one slight drawback: more and more new furniture traders are setting up here which spoils the traditional image of the place. And be careful of pickpockets and counterfeit goods. In short, apart from the real antiques on display (sold for a small fortune), the flea market is above all a sight to behold. Go along simply to contemplate the passers-by, but not really to buy anything. Finally, where does the name 'flea market' come from? It seems that originally, the name was given to the clothes found in dustbins by the rag-and-bone men and that the Paris City Council sent away to St Ouen for hygiene reasons. Something about fleas no doubt…
Didier Moinel Delalande is a Director at Hotel Mathurin.
If you would like to be a guest blogger on A Luxury Travel Blog in order to raise your profile, please contact us.
Did you enjoy this article?
Receive similar content direct to your inbox.