Top 5 cycling destinations for beginners
I often write about destinations that thrill me, full of opportunities for tough climbs and challenging rides. But what if you're just starting out in the saddle, or perhaps simply enjoy more leisurely riding? I haven't forgotten about you. Here are some locations around the world that I have found are best suited to the beginner cyclist. So strap that helmet on and let's get pedaling. There are so many places to explore!
1. Holland
Especially for those who may be nervous about
cycling
on the open road or encountering traffic, Holland is the perfect destination for any beginner cyclist. This is a locale that truly appreciates and encourages bike riding. You'll find the most respectful drivers for safe riding, and the country is full of car-free bike lanes. Riders can pedal amidst seas of flowers during tulip season. I suggest visiting late April-May, and making a stop in Keukenhof, the tulip capital of the world. Soar past windmills of all kinds and make some time for a Gouda tasting!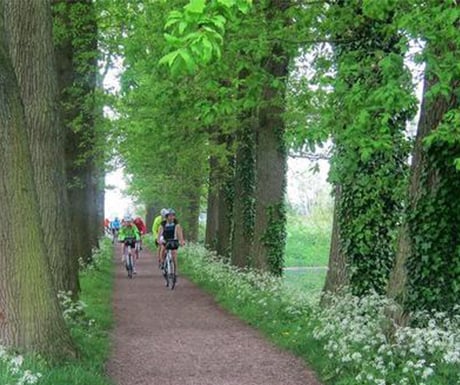 2. Brittany
Another fantastic beginner destination is Brittany, France. This destination is best suited for the rider who loves French cuisine and coastal towns. Ride with the ocean breeze on your face as you cycle alone the Atlantic coastline. A trip to the Gerande salt flats is recommended, and afterwards reward your palate with a hard cider and the freshest seafood including oysters, langoustines, crabs and more. As far as your accommodations are concerned, Brittany is brimming with gorgeous manors that were once vacation homes to Parisian nobility.
3. Umbria
Umbria is plentiful with things to do and sights to see. Olive groves, medieval towns, vineyards, and tremendous architecture will complete the scenery around you as you cycle through this stunning Italian destination. And when you're looking for some time off the bike seat, explore the artistic town of Assisi and watch master craftsmen at work on the potter's wheel. Perhaps you can even take a Deruto ceramic home with you as a token of your trip. Plus, a trip to Italy is never complete without sampling some of Umbria's incredible local wines like Rubesco Riserva and Sagrantino di Montefalco.
4. Loire
Stepping (or pedaling) back into France, novice riders can certainly take some enjoyment from a trip to Loire Valley. The roads are quiet, the land is fertile, and châteaux dot the countryside as far as you can ride. This region is a magical one. Every time I visit I am still taken aback by the sheer feeling of being in a real-life fairytale. And the fare? Plenty of fresh produce, foie gras, and delectable Vouvray wines. Don't miss an opportunity to visit the home of Leonardo da Vinci,
Le Clos Lucé
. The final years of his life were spent in this estate, where he was said to have arrived holding the Mona Lisa.
5. Chile
But perhaps you are looking to hone your skills in a more unique destination? Or are you looking to expand your wine knowledge in untapped regions? Head to Chile and start your cycling journey pedaling through the Casablanca and Colchagua Valleys. I'll be honest –some of the best red wines I have ever tasted come from this area, and it may be a locale you want to visit before everyone else catches on. You can even bottle your own in the Yacquil region.
These destinations are perfect starting locations for travelers who are looking to get on the bike but aren't fully comfortable yet. And the best part is that the riding can be adapted to any riding level. I like a challenge, and still take great joy in visiting and revisiting the sites mentioned. My final piece of advice for beginners: it's all about the journey. Don't take it too seriously. See the world. Travel by bike. And enjoy yourself! Is there another spot not listed? Let me know! I'm always encouraging friends to hop in the saddle, and your suggestion may just be the one that gets them there.
Andy Levine is the President/Founder of DuVine Cycling + Adventure Co.
If you would like to be a guest blogger on A Luxury Travel Blog in order to raise your profile, please contact us.
Did you enjoy this article?
Receive similar content direct to your inbox.