Australia's Northern Territory is the home of unique and adventurous experiences. A place that is known for its incredible natural beauty, vast and changeable landscapes and an unfathomably long history; the Northern Territory has everything you need for the trip of a lifetime. From wetland safari to desert exploration, here's a list of our favourite experiences from the heart of Australia.
Helicopter flight over Nitmiluk National Park
The Katherine Gorge within the Nitmiluk National Park is a wondrous medley of sweeping rock escarpments, roaring waterfalls and endless rivers that are home to a range of indigenous wildlife species. It's a huge place, so views from a private helicopter flight are hard to beat. Take off by mid-morning and glide above these ancient rock formations and dramatic waterfalls. Landing at a number of secluded spots along the way, you'll get the chance to swim in natural pools and learn about the significance of the aboriginal rock art that is prevalent in the area. As well as spectacular views of the Northern Territory's endless horizon, helicopter tours allow you to enter parts of Nitmiluk that are inaccessible by road, making this a truly memorable and exclusive experience.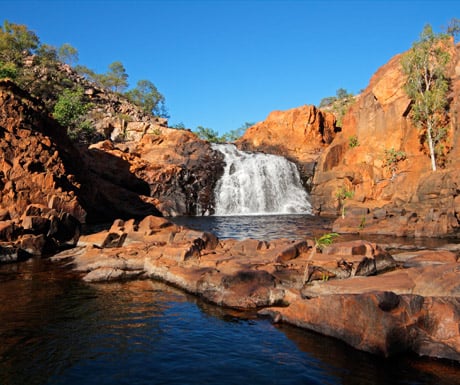 Cruise the Yellow Water Billabong
The most famous wetlands within the boundaries of the stunning Kakadu National Park, the Yellow Water Billabong stands in direct contrast to the Northern Territory's red centre. You'll feel as though you're in a completely different part of the world as you float through luscious greenery, spotting anything from crocodiles to exotic bird life as you go. Sunrise or sunset is the best time of day to enjoy this experience, with the cooler temperatures luring the wildlife from their hiding places.
Discover ancient rock art and spectacular landscapes
The Northern Territory is a part of Australia that boasts some incredible examples of indigenous rock art. Offering an insight into a 50,000 year old culture, take a trip to Central Australia or the Top End of the Northern Territory for some of the country's most spectacular landscapes and best preserved art sites. In and around the East MacDonnell Ranges of Central Australia you're likely to come across petroglyphs that are around 10,000 years old whilst the Top End will give you access to places like Kakadu National Park and Arnhem Land. With a knowledgeable guide at hand, your foray into the history and challenging landscapes of the Northern Territory will be both an enlightening and exciting one.
Enjoy an airboat safari across the Mary River floodplains
Safari isn't usually something you'd associate with Australia, but take a trip to the Northern Territory's River Flood Plains and you'll realise this is a country full of surprises. Brimming with indigenous wildlife, it's here that you can hop into an Airboat and spot crocodiles, buffalo, wallabies and a plethora of beautiful bird species. With one crocodile to every human in this unpopulated territory, your chances of catching a glimpse of Australia's' iconic creatures are pretty high. Plus, you'll get to surprise people back home with your knowledge of an unrivalled safari experience outside of Africa.
Tom Marchant is Co-founder of Black Tomato.
If you would like to be a guest blogger on A Luxury Travel Blog in order to raise your profile, please contact us.