By
Paul Eyers
on Jan 30, 2015 in
Accommodation
,
Asia
,
Food and Drink
,
Going Out
,
Hotels
,
Regions
,
Resorts
,
Restaurants
,
Sri Lanka
,
Travel Miscellany
Sri Lanka is an island with lots to offer; a rich history, a vibrant culture, beaches, natural beauty and an amazing cuisine that is not often found outside of the country. Previously stricken with problems from a long running civil war and then the devastation caused by the 2004 Boxing Day Tsunami, tourism in Sri Lanka is now enjoying a revival and people are flocking back to enjoy this beautiful island.
We have visited Sri Lanka many times over the years, seeing the changes, the improvements and the things to avoid; in short we've got a lot of love for this country!
Here's our favourite spots to escape the craziness of the streets outside, be close to some of the best things Sri Lanka has to offer and to eat some of the best vegan and vegetarian food in the country.
Experience 'lean luxury' in the heart of the city at Cinnamon Red
In the centre of the capital Colombo, Cinnamon Red brands itself as a 'lean luxury' property although with an awesome rooftop pool, a funky cool vibe and a breakfast to die for we think it 's firmly in the luxury camp.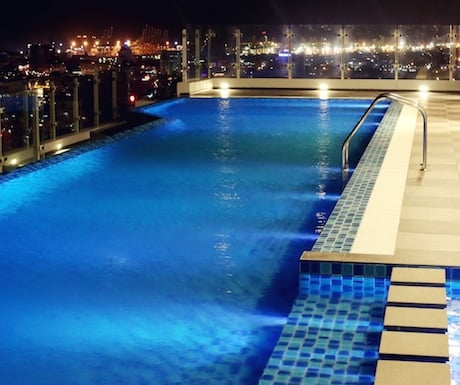 Breakfast offers vegan and vegetarian guests the chance to fill up on Sri Lankan favourites like red rice string hoppers with dahl, coconut 'sambol' and spicy chilli laden 'lunu miris' chutney.
Stay in an iconic building at Heritance Kandalama
This unique hotel was famous Sri Lankan architect Geoffrey Bawa's final creation; drawing it's beauty from the surrounding landscape and natural environment, it sits proudly in the jungle enjoying far reaching views of the pristine countryside.
Ideally situated for a trip to two of Sri Lanka's most popular tourist sights, the ancient rock fortress at Sigiriya and the stunning cave temples at Dambulla, this hotel is the perfect place to experience the fundamental principles of Bawa's work as the surrounding forest almost merges with the hotel in many areas, monkeys swing around the trees and can often be found scampering around the large, open corridors; nature is everywhere.
At dinnertime vegan and vegetarian guests can enjoy a great array of vegan rice and curry (the food is labelled well making it clear what is suitable) but if you ask the chef nicely, then you might be lucky enough to try these specially created vegan pancakes made from rice flour and coconut milk and stuffed with fresh local coconuts and coconut palm sugar; a wonderful treat indeed.
Heritance Kandalama also happen to make some the best hoppers we have eaten in Sri Lanka, these local foods are a must for any traveller to Sri Lanka but vegans will be particularly pleased as they are 100% animal free.
There's also a great Six Senses Spa which uses local and natural products (some are vegan too), definitely a place to recover from climbing the 1200 steps to the top of nearby Sigiriya.
Get healthy in stylish luxury at Anilana Nilaveli
Over on the East coast, on one of Sri Lanka's most pristine beaches, is the new and modern Anilana Nilaveli, the rooms are chic, light and airy; the pools are perfect and the beautiful beach is right on your doorstep.
This place is a must to visit for any food loving traveller (vegan or not) as Chef Joe creates plateful after plateful of exquisite vegan and vegetarian food. Using his years of knowledge in the kitchen combined with Ayurvedic principles, he cooks both traditional Sri Lankan food (but using low heat, slow cooking and little or no oil) alongside modern Western food that not only tastes good but is healthy too.
They also have a wonderful spa (you'll be rejuvenated after a visit for one of their superb Thai / Balinese massages) and the in-house yoga teacher is on hand to give you a lesson in traditional Hatha yoga which will have you rebalanced, reenergised and feeling your inner peace in no time at all.
Go green at Jetwing Beach
Right on the beach at the popular West coast beach resort of Negombo, Jetwing Beach is where you can see at first hand Jetwing's commitment to sustainability. Relax by one of the beachside pools or gaze at the sea from your balcony either way it's easy to find a bit of luxurious peace here.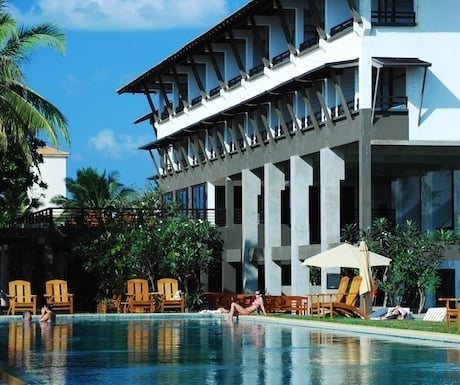 Visit their Eco garden to see a previous piece of wasteland which has been transformed into an oasis where vegetables and plants which are used in the hotel restaurant, thrive under the guardianship of the hotel resident naturalist. They'll tell you about their environmental policy, use of solar energy and other 'green' practices like filtering and bottling their own water to cut down on plastic.
They have a great breakfast for vegans and vegetarians, showcasing some of Sri Lankas best breakfast foods in their buffet. Opt for a Southern Indian inspired 'pittu', made from steamed rice flour and coconut, then topped with mild coconut flavoured 'kiri hodi' curry and spicy chilli rich 'lunu miris' chutney.
They also have an excellent cashew nut curry available on their regular menu; this indulgent, creamy cashew filled curry is a great example of just how good Sri Lankan cuisine can be for a travelling vegan or vegetarian.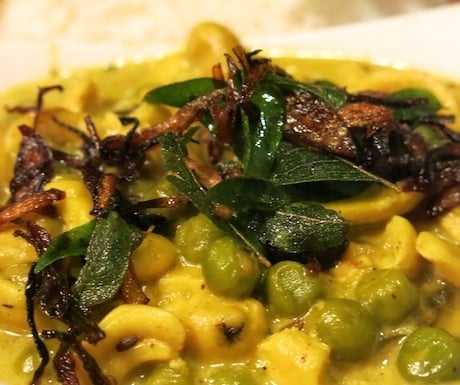 Get into the relaxing holiday vibe fast at Jetwing Lagoon
Jetwing Lagoon is a great option for the start of your trip to Sri Lanka, you can be happily relaxing next to the vast and peaceful lagoon within 30 minutes of walking out of Bandaranaike International Airport.
Theres an epic 100m pool and spacious, well designed rooms which will all help you get into that luxury holiday relaxation mode.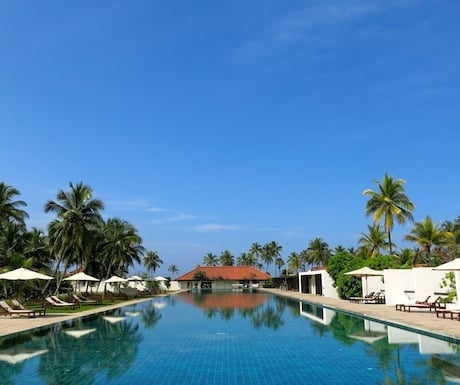 And the food is nothing short of awesome for vegan and vegetarian guests. You won't miss out here if you order their traditional Sri Lankan 'rice and curry' banquet and you'll feel happy that there are no hidden animal ingredients are the team of chefs are very capable at making the necessary adjustments needed. Full of spices, rich with coconut milk and bursting with flavour; these are amongst the best curries you'll eat in the country.
In the morning, more indulgent Sri Lankan food awaits you and you'll have the opportunity to try out indulgent 'kiribath', otherwise known as 'milk rice'. Rich with coconut cream, this rice pudding is served with spicy 'lunu miris' chilli chutney and it's absolutely delicious.
Find peace and get back to nature at Jetwing Vil Uyana
Beatifully designed using natural materials with having the lowest possible impact on the environment, you wouldn't be blamed for not setting foot outside Jetwing Vil Uyana after you've checked in. It's one of those places where you feel a million miles away from it all and can breathe a peaceful sigh of relief as you get back to nature.
The individual luxury 'dwellings' are surrounded by lake, trees, grass and wildlife making you feel you have escaped to a nature reserve instead of a hotel resort.
You can spend hours watching wildlife on the lake (we saw a wild crocodile and an abundance of birdlife) or just enjoying the peace and quiet. There's an impressive wine cellar, an open air lakeside library, an inviting spa and an infinity pool that sits beside the lake. If you do want to visit the outside world and do some sightseeing then the magnificent Sigiriya ancient rock fortress or the beautiful cave temples at Dambulla are only a short distance away.
As you will feel that you are in the middle of nowhere, vegan and vegetarian guests will be relieved to hear that they can cater for you perfectly. The vegan food was delicious with authentic Sri Lankan rice and curry for diner and a range of Sri Lankan favourites for breakfast, like wonderful spongy, savoury 'dosai' rice flour pancakes.
So, if it's culture, beaches, vibrant busy cities, peaceful nature and probably a bit of excitement thrown in, all with a huge serving of delicious vegan and vegetarian food; then Sri Lanka may well be the luxury destination for you. You can eat your way around the country, indulging all of your senses, soaking up every drop of delight that's offered (we predict there will be lots) and then rest and relax in some beautiful luxury properties. Not a bad deal at all…
Oh and it's great for non-veggies too!
Paul Eyers is Founder of Vegan Food Quest.
If you would like to be a guest blogger on A Luxury Travel Blog in order to raise your profile, please contact us.