Do you wish you could upgrade your travel, for example fly first class instead of economy class, access airport lounges, be upgraded more often at hotels, and just generally enjoy a more luxurious vacation? Here are my top tips for how to upgrade your travel:
1. Plan ahead
One of the most expensive mistakes some of my clients and other travelers make is not booking their vacation far enough in advance. While there can be last minute deals for cheaper hotels, luxury properties are often sold out for high demand dates, and airfare is more expensive or sold out for the most convenient routes.
I don't recommend traveling during peak holiday seasons, as I'll explain below, but if you must travel during the holidays, planning ahead becomes even more critical.
2. Use frequent flyer miles for first class or business class
For international trips, one of the biggest expenses is airfare, particularly if you fly business class. By planning ahead and using frequent flyer miles to book first class or business class award seats, you get to upgrade your flying experience to one you might not be able to afford on paid tickets. Other benefits of flying business or first class include airport lounge access and a flat bed for better sleep (complete with mattress, turn down service and pajamas in first class). Getting a good night's sleep and arriving well rested at your destination means less jet lag, so you can start enjoying your vacation instead of needing to recover from the flight. You also save an enormous amount of money that can be used to upgrade your hotels and the rest of your vacation.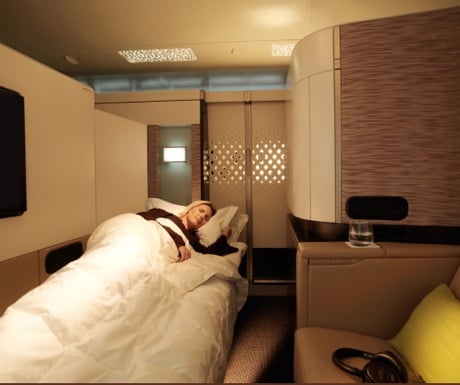 Naturally it does call for some organization and planning to earn the frequent flyer miles, but often, even if you need to buy some extra miles to top up an account, you come out ahead. U.S. residents with great credit scores have a particular advantage, with great credit card signup offers of 50,000 or more miles or points per card, and various category spend bonuses from 2X to 5X.
3. Travel during shoulder season, not during peak holiday season
There's significant variation in pricing for many resorts, depending on whether you stay there during peak season, shoulder season or low season. While I don't recommend visiting a resort during the lowest season, which is often monsoon season, I do recommend avoiding peak holiday season. Not only are prices high, the full occupancy of the resort will make any kind of upgrade very unlikely, and service can suffer.
Instead, aim to travel during shoulder season, perhaps a few weeks after the resort's busy winter holiday period or during the fall, after kids have gone back to school.
4. Book a room in a 5 star hotel, not a suite in a 4 star hotel
If you have a large family or need to be guaranteed a suite, feel free to ignore this advice, but in general I find that my clients have better experiences at a true 5-star luxury hotel, even if they only booked an entry level room, than in a suite at a 4 star hotel.
Why is this? One of the greatest differentiators between decent hotels and great hotels is their quality of service and attention to detail. And the service (or lack thereof) is also often what we remember most, more than the room decor or how big the suite was. A long line or dour face during the check-in process, which is more common at an average hotel, already starts to set the tone for the stay. And if something isn't right with the room or suite, a great 5-star hotel will make a better service recovery than a lower quality hotel.
5. Book with preferred partner programs
A secret that even some otherwise knowledgeable world travelers don't know is that your best chance of an upgrade at a luxury hotel is not by booking direct with the hotel, not by booking online via Expedia, Priceline, etc., and not by using an AMEX or other credit card hotels program.
Instead, your best bet at an upgrade is by booking through a preferred partner program, using a luxury travel advisor who belongs to the program. This is because hotels such as Four Seasons, The Peninsula, The Dorchester Collection and others prioritize upgrades booked via their preferred partner program over other booking channels. Other benefits of booking using a preferred partner program are benefits such as complimentary daily breakfast for two, complimentary internet access, and a property-specific amenity, such as a resort credit for dining or for the spa.
6. Families: select a resort with a complimentary kids' club or activities
It's not much of a vacation for parents if you go to a resort that doesn't have a lot to offer your kids, so they complain about having "nothing to do" or just spend the trip glued to their electronic devices. The solution is to select a resort with a complimentary kids' club or activities where your kids can meet others their age and be engaged in a variety of outdoor and indoor activities, from sand castle building to treasure hunts to learning about the local culture through arts and crafts. That gives you some quality couple's time, and provides a nice balance for everyone between separate activities and excursions together with the entire family.
Hilary Stockton is the CEO at TravelSort.
If you would like to be a guest blogger on A Luxury Travel Blog in order to raise your profile, please contact us.