10 great reasons to take a luxury Kenya safari in 2015
Kenya has taken an absolute battering recently and we feel so sorry for the guys out there, just trying to make ends meet. Terrorists are very active everywhere in the world and the terrorist threat in Kenya has recently dropped to almost nil. Kenya has so much to offer the
luxury safari
enthusiast and it looks like it's back on the up this year, giving people life changing experiences in locations which are more beautiful than one can possibly imagine. In no particular order here are the top ten reasons to add a luxury Kenya safari back into the mix this year.
1. The variety
Kenya is world famous for having the largest variety of habitats and landscapes in Africa – here you go from one area to the next and feel as if you have travelled through several different countries, experiencing desert, thick bush, lush savannah, rivers and lakes. This is why twin centre luxury safaris in Kenya are so popular, you really feel invigorated with each new area you see.
2. The internal travel
For years the Kenyans themselves have been using light aircraft flights like buses, this works in your favour as your luxury safari in Kenya will be completely seamless, there is always a flight to get you from one area to the next and thanks to the frequency of these flights they are often more economical than driving.
3. The wildlife
We should have put this at the top, the wildlife in Kenya is just extraordinary, and that's all year round. In certain areas of Kenya you can expect to see big cats around every corner, have up close experiences with leopard and see elephants playing and splashing in a river. It is a wildlife lovers dream and a luxury Kenya safari will certainly fulfill every fantasy you have ever had about being up close with the large and small animals of Africa.
4. The birds
Following on a similar note to point 4 the birds in Kenya are wonderful – they have everything from the brightly coloured smaller birds to the large birds of prey which are incredibly awe inspiring to see. Watching how the birds help the ecosystem to go round can become completely engrossing. When you're looking deep into the bush for birds you will often find that the flick of a tail or ear catches your eye, and you have spotted something quite different to the birds you were looking for.
5. The people and culture
Kenya is one of the only places where tribes men and women are living authentically as they have for hundreds of years – this means you can have a wonderfully authentic and natural cultural experience. The Samburu and Masai tribe in particular all have a wonderful sense of humour and will often be your luxury safari guides, their eyesight is unrivalled and their sense of fun and passion for the bush infectious.
6. The lodges and camps
Kenya still boasts some of the world's most luxurious camps and lodges and your safari here will be second to none when it comes to style, comfort and unique lodges. There are some with quirky designs, some with all the romance of the first great explorers that discovered Kenya, and some which are in locations that will take your breath away on arrival. There is a reason that many Kenyan camps have loyal repeat customers.
7. The price
As mentioned Kenya has taken a real beating in the last few years with election problems and terrorist threats, however as the country returns to a peaceful and calm state the lodges and camps are really pushing for guests to experience the wonder of a luxury Kenya safari again- this means one thing, special offers, and that means your luxury safari here is now even better value than before. As we see the USD/GBP rate go against us all these discounts in Kenya are very welcome.
8. The wildebeest migration
Every year, anytime from June to October the vast Wildebeest Migration floods into Kenya's Masai Mara. Contrary to popular opinion you can simply stay in a private conservancy on the edge of the Mara and enjoy unparalleled Wildebeest Migration game viewing without any of the people.
9. The private conservancies
Kenya has some of the most beautiful and varied private conservancies in the world – these are leased off the local community for tourism purposes and this means not only are they a benefit to the local people, but also conserve vast tracts of land and the wildlife on it. The huge benefit of these conservancies for us as the consumer is that often there is just one or two luxury camps located within them, so no people – and this where you can often ride, walk and take night drives as well as game drives.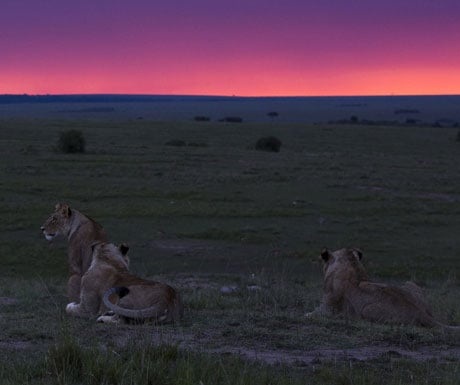 10. The coast
The Kenyan coast is magical – in the South you have the white sands and turquoise waters lapping at Diani Beach or Msambweni, and in the North you have Lamu Island which is just unreal, no cars, just dhows and donkeys and beautiful Swahili Architecture. Once again all of the internal light aircraft flights operate daily services to both areas, and some even fly direct from safari locations so you can always get around easily.
Rose Hipwood is Managing Director of The Luxury Safari Company.
If you would like to be a guest blogger on A Luxury Travel Blog in order to raise your profile, please contact us.
Did you enjoy this article?
Receive similar content direct to your inbox.