Visit Moscow and St Petersburg in style
With a scale of luxury rarely found outside of Dubai and Abu Dhabi, Russia is a country that revels in unabashed indulgence. From sipping champagne on an ultra-modern balcony overlooking the mighty Moscow Kremlin, to nibbling caviar in a palatial St. Petersburg ballroom – Russia has endless opportunities for a quality, luxurious experience. I've picked out my favourite hotels and restaurant in each city that have the most to offer those seeking something a little extra from their time in Russia.
Moscow
Moscow is the commercial and political centre of Russia and is also the home of anybody who's anybody. The combination of ancient Orthodox churches, Soviet architectural excesses and capitalist glass skyscrapers make for an intriguing and unique city that rewards those searching for more from their city breaks.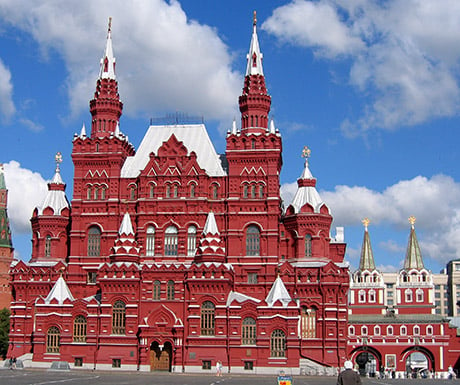 Lotte Hotel
The word that sprang to my mind after spending a few moments in the lobby of the Lotte Hotel was 'decadence'. Swarovski crystals are everywhere, mainly present in the colossal chandelier which hangs right down the central atrium but also in the mini-chandeliers in the lifts. It's situated in the quieter pedestrian Arbat street of Moscow where some of the city's trendiest restaurants are. That's if you wanted to stray far from the Michelin Star restaurant in the hotel.
Baltschug Kempinski
The Kempinski offers understated comfort and luxury from across the Moskva river. Many of the rooms overlook Red Square and offer the best panorama of the Kremlin you'll find anywhere in the city. You'll love the view but you'll adore it all the more when you're having breakfast overlooking the river with the towering Kremlin walls dominating the background. With a wonderfully well-equipped spa and rooms of colossal proportions you'll find yourself wanting for little in this gorgeous hotel.
Restaurant Café Pushkin
Café Pushkin is actually a rather modern restaurant perfectly set up to look like a restaurant from the early 1800s. With food fit for a Tsar it's a an absolute must for those wanting an extraordinary culinary experience in Russia. Highlights on the menu include caviar and sturgeon, food historically reserved solely for the emperor. If Moscow is the wallet and mind of Russia then St. Petersburg is its heart and soul. With a wealth of art galleries, stunning palatial facades and endless museums, this "Venice of the North" is a treasure trove of more refined Russian luxury.
St. Petersburg
Belmond Grand Hotel Europe
One of the oldest hotels in the country, the Grand set a standard which many others have attempted (and failed) to uphold. Renowned for its impressive façade, the Grand Hotel Europe is a true architectural gem within a city dominated by architectural treasures. Every Friday they hold a Tchaikovsky night where ballerinas and musicians from the local theatres will come to perform whilst you dine. They also have an excellent caviar bar where you can sample this wonderful Russian treat along with some ice cold vodka.
Taleon Imperial Hotel
St. Petersburg, Petrograd, Leningrad and finally St. Petersburg again. Numerous name changes can't hide the true heart and soul of this city as the centrepiece of Tsarist Russia. A stay at the Taleon Imperial is your chance to indulge in a slice of this unique history. The hotel is housed in a former palace and kept in sumptuous palatial style that will delight any lovers of Russian history.
Bellevue Brasserie Restaurant
St. Petersburg isn't a city of high rise buildings so finding a view over the city can be quite tricky. The two best places for it are the colonnade of St. Isaac's Cathedral and a table of the Bellevue Brasserie restaurant. The signature dish of this restaurant is the exquisite Kamchatka crab salad. The crab is flown directly from fishermen in the Kamchatka Peninsula of Russia's far East several times a week especially for the Bellevue. There's no better food in the city to enjoy combined with such a superb view.
Craig Burkinshaw is a Founder Director of Audley Travel.
If you would like to be a guest blogger on A Luxury Travel Blog in order to raise your profile, please contact us.
Did you enjoy this article?
Receive similar content direct to your inbox.