By
Christos Hajipapas
on Feb 16, 2015 in
Africa
,
Attractions
,
Food and Drink
,
Going Out
,
Leisure Travel
,
Regions
,
Restaurants
,
Spas & Pampering
,
Speciality Travel
,
Travel Miscellany
,
Tunisia
For the avid traveller, Tunis is the perfect prelude to the beautiful and diverse country of Tunisia. Not only is it the window to the heart and soul of the country but as its capital, it is the largest and home to a population of over 2,300,000 people. But this bustling city filled with charming history and culture is just one amongst the many interesting cities of Tunisia. Between the historic splendour and the never-ending dessert, you will also find surprising luxury. So if you're looking for a little bit of indulgence, here are the top 5 things to do on a luxury break to Tunis.
Pamper yourself in a thalasso spa
Famed for its many high-end thalassotherapy resorts, Tunis is a spa-lover's paradise. Few could think of think of anything more relaxing than a luxury spa day in the heat of Africa but a mineral rich seawater treatment just makes it all the more wonderful. Thalassotherapy leverages the medical benefits of the sea's minerals to provide an enjoyable and lavish treatment. These rejuvenating spas can be found in the many 5 star resorts of the capital; in fact over 40 of the best 5 star hotels currently offer thalassotherapy to its guests, so you won't have to look far for a piece of paradise.
Taste the finest Tunisian cuisine
Fine dining happens at another level of extravagance in the city of Tunis. In this world of contrasts, luxury restaurants deliver much more than just high-class cookery. In the famous Dar El Jeld, visitors can wine and dine with the decadent surroundings of an 18th Century palace – this is without a doubt, the city's finest establishment and bookings are recommended. Other must-visit restaurants include The Dar Hamouda Pacha which has been elaborately decked out like a historical museum and The Symphony Gourmet Restaurant which doesn't disappoint when it comes to grand interiors.
Escape the souks for a top class view
It's impossible to escape the souks in Tunis – and it would be criminal to want to escape such a colourful part of Tunisia's culture. But when the crowds become too much, it's natural to want to break free from the hustle and bustle. If you want a world class view of the city, take the stairs in one of the shops of souk El Kachachine. You can't find easy access to the rooftops everywhere so this truly is one of the hidden gems of Tunis' busy markets.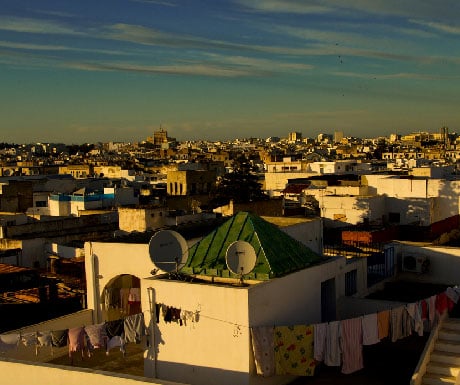 Discover Tunisia's art scene
The Palais Kheireddine Gallery (Le Musée de la Ville de Tunis) is just one of the many art museums in Tunis. If you consider yourself to be a bit of an art connoisseur then Tunisia's art scene is certainly not to be missed. Since the 1990s, Tunisia has seen the investment into contemporary art emerge and grow – and much of this can be enjoyed it the capital city. For those who prefer artistic expression not confined to four walls, Tunis also offers some incredible modern street art.
Shop designer labels at Tunis City Mall
Tunisia isn't well known for its designer shops. Rather it's a fine destination for luxury hand-woven carpets that you simply can't find anywhere else in the world, one-of-a-kind pottery and ceramics for the home, or authentic leatherwork for those who like to spend their cash on unique crafts. But if you're looking for brands rather than one-off goods, head to Tunis City Mall (ranked the largest mall in the country) for more than 90 high-end shops and restaurants.
Christos Hajipapas is Head of Business Development & Strategy at Cyplon Holidays.
If you would like to be a guest blogger on A Luxury Travel Blog in order to raise your profile, please contact us.