6 of the best things to do in Rome
The capital of Italy is one of the most famous cities in the world. Its roots echo throughout history, as remnants and relics of distant eras blend in with Rome's modern-day cosmopolitan nature. These unique characteristics allow the city to stand as an attractive destination opportunity for different typologies of visitors: whether you are looking to seize Rome's vibrant night life and youth culture or you are looking for an unforgettable journey through timeless culture, you are truly in for a treat. "When in Rome" you really can't miss the following top 6 attractions in the Italian capital:
Visit the Sistine Chapel and the Vatican Museum
The Sistine Chapel, located in the Apostolic Palace complex (the official residence of the Pope) and the
Vatican Museum
are two of the most popular attractions in the world, to the point that they reached the status of iconic landmarks of the city, in the eyes of tourists and locals alike. If you manage to make your way past the endless lines of visitors from all over the world who come to enjoy these attractions, you'll have the chance to experience something unique. The Sistine Chapel is a stunning example of architecture and art, while the Vatican Museum is an outstanding parade of priceless treasures spanning from classic heritage (Roman, Greek) to the modern day.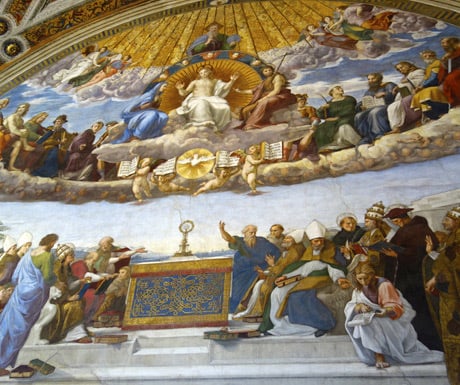 Taste the best pizza in the world at Pizzarium
Italians surely know a thing or two about great pizza, and Pizzarium is definitely one of Rome's hotspots for a tasty slice of the country's favourite meal. From classic combinations that never go out of favor (staples such as Margherita, Marinara or Capricciosa are true pizza "evergreens") to more adventurous flavors, Pizzarium offers a truly overwhelming selection of menu items. This isn't only an establishment where to find great pizza: prices are more than fair, making for a budget-friendly lunch option. The restaurant is located in Via della Meloria, 43, 00136, Roma.
Have a nice walk at Aventino and think about the civilization
The city of Rome is famously spread throughout seven hills. These hills have been mentioned in local legends since the beginning of the Roman civilization, inspiring history and therefore unleashing a chain of events that quite literally led to "the world as we know it" today. The southernmost of the seven Roman hills is called "Colle Aventino", and it still stands out as one of the most charming and old-fashioned areas of the city.
Because of its relative isolation, it feels like Aventino didn't experience the same pace of modernization that appears in other more central areas of the city. These pleasantly old-fashioned vibes make for a pleasant location where locals and tourists alike can experience some rare traditional Italian charm and overlook the "eternal city" from a unique, privileged perspective. Colle Aventino is even home to some of the best eateries and restaurants in the city!
Take a coffee at the marvelous Villa Medici
Sitting down for a coffee at
Villa Medici
is not just about taking a nice break: it is a true experience. Villa Medici feels luxurious and high-end: the beauty of the enchanting premises is only matched by the Villa's long and interesting history, as some of the most influential figures in world history have walked through its rooms throughout the decades. As you would expect from such an establishment, the service and attention to quality are absolutely impeccable. Viale della Trinità dei Monti, 1, 00187 Roma.
Have a cosy "aperitivo" at Hotel de Russie
With its classic, timeless atmosphere,
Hotel de Russie
is one of the city's current hotspots, attracting some of the trendiest inhabitants of Rome, particularly around 6pm,; about the right time for an aperitif to remember. Between lavish servings and luxurious surrounding, it's easy to see why this place is highly regarded as one of the city's most exclusive locations. Hotel De Russie is located in Via del Babuino, 9, 00187 Roma.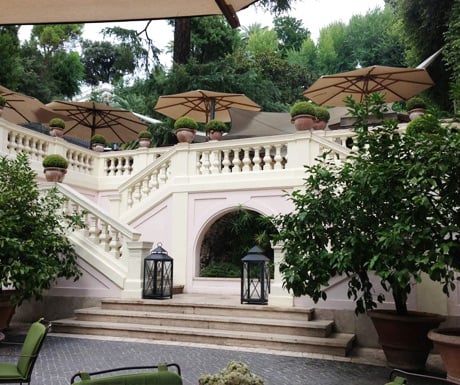 Enjoy fine dining at AROMA
If you are traveling to Italy, chances are, food is going to be a huge part of your experience. Italians truly care about the quality of their food, and travelers won't have any troubles finding great eateries anyday, anytime. In Rome, there are some truly amazing dining opportunities in all areas of the city and for pockets of all sizes.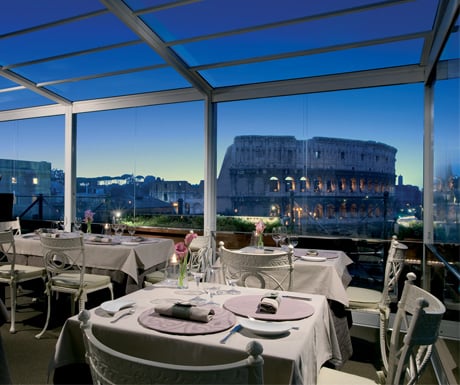 Having said that, if you are seriously looking for the very best in terms of food in the Italian capital, then look into a night at the famed Aroma restaurant. This Michelin-starred establishment is located within the premises of the enchanting Manfredi palace (Palazzo Manfredi). This is where diners are treated to a high-end culinary experience that bridges the gaps between creativity and tradition. We can only advise one thing:….book in advance! The restaurant is located in Via Labicana, 125, Roma.
Olivier Templar-James is Chief Editor at Luxury Travelers Guide.
If you would like to be a guest blogger on A Luxury Travel Blog in order to raise your profile, please contact us.
Did you enjoy this article?
Receive similar content direct to your inbox.