5 of the best places to dine out in Berlin
A decade ago, Berlin's mayor Klaus Wowereit tried to attract  hip young things and tourists to the city by declaring 'Berlin ist arm, aber sexy' – basically, 'Berlin is poor but sexy'. However, what he failed to mention is that it also has some of the best restaurants in the world. 'Berlin is poor, sexy and has food you can't begin to describe' may have been a more appropriate sentiment. Here are the best places to savour fine dining in Berlin…
Glass: Uhlandstraße 195, 10623 Berlin, Germany
Glass is a modern, playful restaurant located in the heart of Charlottenburg, inside a brutalist apartment building at the top end of Uhlandstrasse. Using movement's use of science to alter how you taste your food (stay with us here; it's worth it), diners eat in a black dining room, facing the kitchen, which is covered by reflecting silver fabric.  Guests enjoy  'contemporary cuisine at the highest level, without the conventional ceremonies of classic gourmet restaurants', according to the website, and who are we to argue?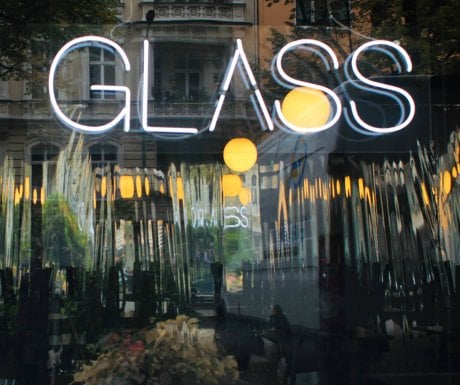 The current dinner menu includes Forest in Glass (mushrooms, smoke and wild herbs, apparently), foie gras, minestrone with scallops, beans and zucchini, and a cheesecake made with pistachios, Saint Maure and wild berries. However, don't be fooled into thinking that eating here is dull; the showpiece 'Candybox' dessert reinvents much-loved childhood sweets, from Snickers snow to passion fruit Gummy Bears, popping candy and a flash-frozen chocolate mousse.
Les Solistes by Pierre Gagnaire: Hardenbergstraße 28, 10623 Berlin, Germany
French chef Pierre Gagnaire has a bit of a thing for Michelin stars, and Les Solistes is his latest effort at the new Waldorf-Astoria.
Using a 'modern approach to classic French cooking techniques', Gagnaire excels at impressing without intimidating. The tasting menu is a thing of beauty (it's four courses at €115 or seven at €150), and starters are priced from €27; try The Spring, an enchanting mixture of asparagus sorrell purree, chard and pearl of farm cider. The pan-fried duck foie gras, served with pumpkin soup, is also a winner. Gagnaire's eponymous restaurant in Paris is still one of the best places to eat in the French capital, demonstrating his resilience in the fast and fickle world of culinary fame. It's worth going here for dessert if nothing else; the signature showstopper 'grand' dessert course is a delight to look at and to taste. Jellies, sorbets, caramels and reductions involving everything from coconut milk laced with tapioca pearls to luxuriant slabs of passion fruit fudge are beautifully and elegantly served; prepare your palate for a long night.
Reinstoff: Schlegelstraße 26C, 10115 Berlin, Germany
Despite this restaurant's high- end credentials, eating here is a pleasingly-relaxed affair. The dining room is like a dark stage and the low-level lighting focuses on the tables, the company and the main act of the evening – the incredible food on offer. Although it's hard to find this place (it's hidden away north of the city centre in a factory), once you're here, you'll struggle to leave. The innovating yet inclusive menu is split into 'nearby' and 'faraway' foods; current offerings include 'Lamb from the volcanic Eifel', which includes belly and tatar with Turkish pointed peppers and an ice wine sorbet with grapes, and French rabbit – Welsh onion and mountain cheese in an aromatic broth. The service here is excellent and the food is plentiful and beautifully-presented; booking is recommended.
Fischers Fritz: Charlottenstraße 49, 10117 Berlin, Germany
This is the place to take a culinary trip into a world of delicious gourmet dishes and fish specialities; chef de cuisine Christian Lohse has worked hard to produce an exquisite menu in a laid-back, friendly restaurant decorated in a classical style with surprising modern touches. As mentioned previously, fish is their business – don't miss out on the seafood on offer.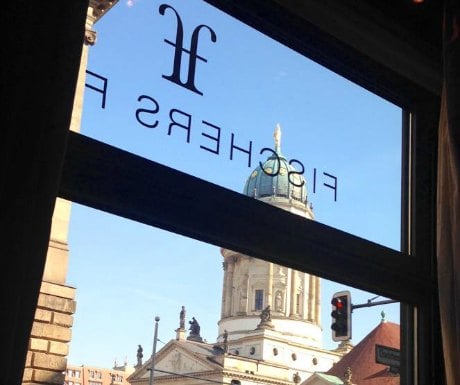 Their Easter Brunch is a real treat for two after a hedonistic night out; various egg dishes, crepes and waffles are freshly prepared at live cooking stations before your hungover and hungry eyes. The starter buffet comprises of culinary specialities such as Maine lobster, Fines de Claires oysters and prawn cocktail – but don't miss out on the prime boiled veal served over navarin of lamb. Please note: The restaurant is closed from July 27 until August 16, 2015.
Hugos:  Budapester Straße 2/14. Etage, 10787 Berlin, Germany
Hugos offers Michelin-star cuisine with stunning 14th floor city views across Berlin – epicures, take note – you've found your new spiritual home. It's one of Berlin's longest-standing restaurants, and with good reason; chef Thomas Kammeier deftly celebrates international cuisine inspired by local ingredients and authentic flair.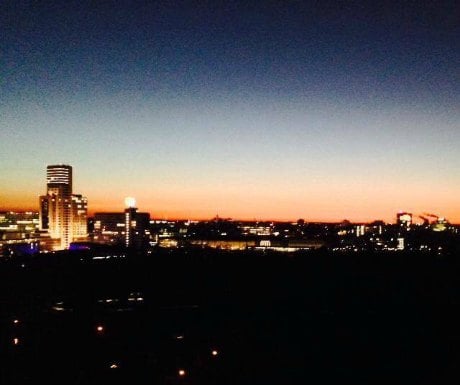 Occupying the entire top floor of the Hotel InterContinental, Hugos serves up dishes such as ibérico papada bellota with confit, grilled leek, mango and dashifond and red king crab with tartar, rhubarb, vanilla, ginger, coriander and ayran ice cream.
Vicky Anscombe is Editor-in-Chief at Columbus Direct.
If you would like to be a guest blogger on A Luxury Travel Blog in order to raise your profile, please contact us.
Did you enjoy this article?
Receive similar content direct to your inbox.