By
Zach Smith
on Apr 05, 2015 in
Central America
,
Costa Rica
,
Ecuador
,
Family Travel
,
Guatemala
,
Health & Safety
,
Panama
,
Peru
,
Regions
,
South America
,
Speciality Travel
,
Travel Miscellany
With fragments of the Mexican drug cartels burrowing deeper into Central and Southern America, travelers may worry that their days of exploring Central America are over once they have a family. Contrary to popular myth, however, the crime rates throughout Central America are consistently decreasing. One need only look as far as Instagram for plenty of #nofilter evidence — there are college students studying abroad in Peru, couples celebrating anniversaries in Costa Rica, and environmentalists volunteering in Guatemala. But what happens when families with young children want to travel together? Is this still possible?
Beyond the tourist "safe haven" of Costa Rica, there are many family-friendly places in Central and Southern America. When your child can crack coconuts with you right from the tree or share a story of "discovering" ruins in the jungle for show-and-tell, parents may find any added stress of traveling well worth the effort.
Of course, despite all the reassurances that people who've traveled in Central America can offer, tourists are still targeted in crimes. Remember, in any major city – whether it's New Orleans or Glasgow – travelers must take precautions when exploring a new place. Common precautions include avoiding alleyways and non-radio taxis, and not carrying expensive objects. This common-sense vigilance can prevent victimization in most places in the world. Prior to traveling, parents should plan to have a sit-down family discussion to familiarize their kids with the "dos, don'ts, and what-to-do-ifs" while traveling abroad.
While traveling with your family, walking around major cities tends to be less exciting than touring ancient ruins, hiking in the jungle, or visiting small villages. This brings us to the fun part—recommendations about where to go to ensure that your entire family has a fun and safe experience abroad. Here are the top five most family-friendly spots to visit in Central and South America:
Costa Rica
It's the wild adventures that are best for kids in Costa Rica: they'll never forget zip-lining through the forest or rappelling down waterfalls with you. Childrens' natural interest in animals will be piqued with visits to places like the Sloth Sanctuary, a family-run sloth orphanage that may just be the cutest place on earth, or the La Paz Waterfall Gardens, where visitors can marvel at free-roaming ocelots and jaguars.
El Paredón and Antigua, Guatemala
El Paredón, a charming fishing village on the Pacific coast of Guatemala, is one of the best and most inexpensive places to truly "get away" in Central America. El Paredón boasts beautiful hotels, black-sand beaches, and all the coconuts a family can gather. For an authentic cultural experience, Antigua is a smaller city in the Guatemalan highlands with impressive colonial architecture, as well as Mayan ruins that are not far from the city. Ruins are not only fascinating for parents, but are also fun for kids to play on! In the city, kids can watch handicrafts be made and even make chocolate themselves with the help of local chocolatiers. Kids making chocolate… need we say more?
Cusco and Machu Picchu, Peru
Cusco benefits from having most of its main attractions in a small, contained area that is safe to walk around with kids. Traveling from Cusco to the famed Inca ruin of Machu Picchu is fairly simple, and while kids can tire on day-long hikes or explorations, plenty of half-day tours are offered of these breathtaking ruins. Because it's a popular destination, this trip runs like a well-oiled machine even with the whole gang along for the ride.
Panama City, Panama
Surprisingly, Panama City is one of the safer cities in Central America. For brainy families, the historic parts of Panama City will fascinate parents and older children alike. The Panama Interoceanic Canal Museum is fun for kids who like to learn how things are made, and the Soberanía National Park is an excellent place to take aspiring biologists.
The Galápagos Islands, Ecuador
The Galápagos Islands are very safe and are full of outdoor adventures for families—swimming with sea lions on Isabela Island or hiking around the Sierra Negra Volcano are boredom-proof activities for kids of all ages. Learning about flora and fauna was never as fun as it is on these famously biodiverse islands, where small sharks swim around mangrove lagoons and blue-footed boobies frolic on the shore. Naturalist guides make science interesting for curious kids.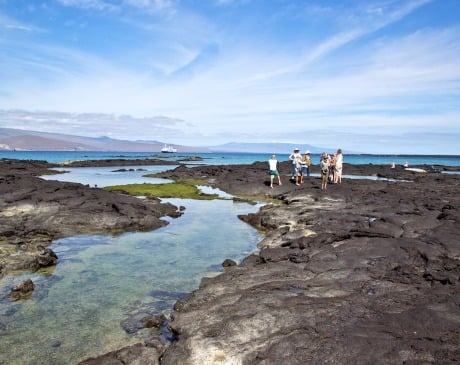 Zach Smith is CEO of Anywhere.
If you would like to be a guest blogger on A Luxury Travel Blog in order to raise your profile, please contact us.