I can hardly believe that the road will lead anywhere. It is steep, rutted, and folds back on itself over and over again. My ears pop and the greenery around me transitions from pale green Tuscan river valley to soft pines that cast stippled shadows. But the road does end. It levels out and my little Fiat pants a bit and the driveway becomes smooth gravel flanked by two entry columns and up ahead green vines neatly climb up cluster of buildings and the tall walls of a tower with a stiff iron flag on top; a monastery completely restored to serve as the ultimate culinary holiday destination where people drift in from all walks of life to spend a week of Tuscan luxury cooking together, eating together and gathering round meal tables to talk of good living.
This is Torre del Tortufo. It was a vision that created this place; a determination to create a destination that you would never need to or want to leave (aside from the odd cultural trip to collect wine, goat's cheese, good olive oil and truffles, all of which can be easily had nearby.) It is the ultimate culinary holiday cocktail; equal measures poolside relaxation, spa indulgence, rugged Tuscan woods and world-class authentically Italian cooking school helmed by a world-class authentically Italian Chef.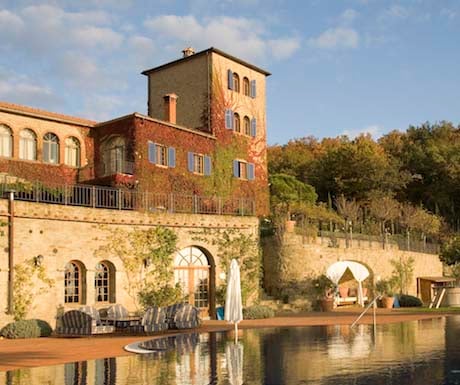 "Make yourself at home." That's what they say to me when I arrive and that's what they mean. My room is a sprawling apartment of clean stone and heavy wood furniture. There's a fireplace and shuttered windows that look out over the green lawn, the blue pool and the hazy Tuscan valley beyond. The love and attention to detail in restoring the monastery means that every corner of the building – every dining terrace, sun deck, walled garden – every cove, nook, and certainly the guest rooms still feel, smell, and taste like the lacquered wood and worn stone Tuscany that one dreams of.
I've arrived late in the day in the middle of a week-long holiday so it is straight to the kitchen for me. The kitchen… the kitchen is large and long and anchored by a massive wooden table running down the middle. A massive iron pot rack hangs overhead holding every imaginable cooking implement. The floor is stone, and three banks of swinging doors open out to a vine-shaded patio that spills onto a clipped lawn, an orderly herb garden and then the views… Tuscany views. At one end of the table is Franco Palandro wearing chef's whites and his trademark bandanna. He is all smiles and big Italian arm waving welcoming me to the Torre. Between him and me are the other guests, A few Canadians, a few Brits – also all smiles – in their aprons, ready to cook. They are at the middle-point of their week-long culinary holiday. They are tan, relaxed and confident. They have spent the last three days rising to a beautiful breakfast spread, shifting from the cool of the pool deck to the camaraderie and joy of afternoon cooking classes in the kitchen and onward to bubbly aperitivos and sumptuous feasts that they themselves cooked. They are a happy bunch and I want to be one of them. By the end of my short, journalist-length visit, I will be, though not quite as tanned.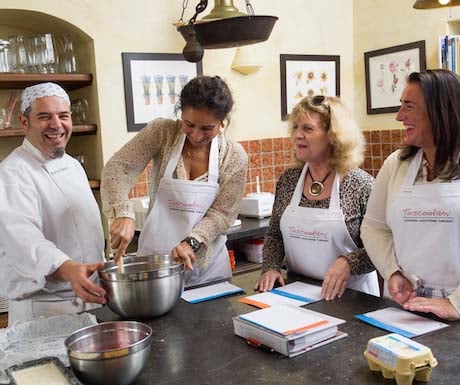 How it begins
An apron and a thick cookery book full of house recipes to work from; that's the kit the newcomer gets. The other guest  (old hands) help me thumb through the pages, showing me what we'll cook up today: Rissoto di Funghi, using the first foraged porcini mushrooms of the season, musky and smelling of forest soil; chicken alla caciatora, an authentic, herby version of the hearty hunter's dish usually brutalized by bad translations; antipasti of stacked grilled vegetables with silky cacciocavalo cheese; and stacks of soft, oily focaccia to be made in the massive wood oven that is still roaring hot from a pizza session earlier. Some of this feast is for tonight's dinner, some for a picnic lunch later in the week and some for nibbling whenever we want.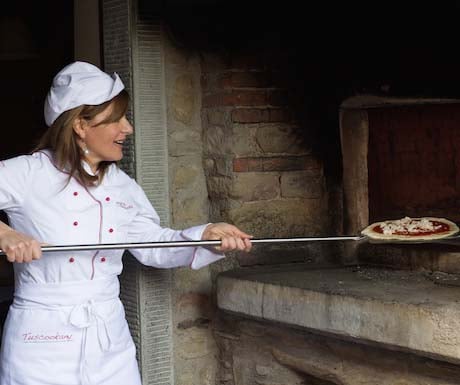 My compatriots know their way around the kitchen. They show me the cauldrons of stock, the grills for sautéing and where to stash our used kitchen tools so that they return miraculously clean before we can even notice they are gone. They show me the flashy espresso machine and the chiller full of lager, and cold white wine. I am reminded to "make myself at home" and to grab a tea and cake whenever I want. Since I'm the journalist, I am stoic this first day and try to act like I am at work. The afternoon cooking lesson is pure fun. It manages to be efficient, informative and deceptively relaxed. Deceptive in that despite the chatting, the joking, and the entertaining kitchen stories of Chef Franco, we are constantly moving and we manage to prepare all of the dishes like clockwork, every person having a hand in the culinary creation. I am apparently the only one surprised, as the other guests are clearly used to starting the afternoon slightly daunted and reliably surprising themselves with culinary prowess that they, at first borrow, and then take possession of themselves.
Class ends on time, with the fragrance of rosemary and slow stewed onion swirling out of the open French doors. I retire to my room to shower and clean up in plenty of time to make the most of what will surely be an epic sunset.
The amazing sunset materializes all purples and peach colors. The cool lawn slowly buzzes to life with the other guests, now dressed in loose-fitting evening wear. Our special guest for the night is an eccentric doctor turned eccentric winemaker by the name of Saverio. He has brought not only a magnum of his flagship Tiratari Sangiovese, but also a palpable glow of winemaker enthusiasm and passion. In his colored trousers and linen jacket he could not possibly be more the picture of gentleman-Italian-winemaker. He explains that we will visit his villa and vineyard tomorrow. He fails to mention that it is a restored 16th century castle, but I will find that out tomorrow.
The meal is grand, the table setting is picturesque, the service and casual atmosphere, the chatter and the spirit are absolutely intoxicating. As is the Tiratari. I feel at home… If my home had a trolley of after-dinner liqueurs and digestive amaros that were wheeled out to keep the conversations flowing. At midnight we disperse, each guest retiring to the medieval charm of a quiet apartment. I close the wooden shutters, blow out the candle and sleep.
The next day
I rise early, not because I have to, but because the sight of the yellow sun rising over Arezzo through the haze of the valley makes me want to sit in a comfortable chair on the lawn and take a cappuccino. I do and the others do the same, us all nibbling on the sweet almond biscotti we made yesterday. We pile into a cool air-conditioned car with our culinary guide for the day, and we venture off to explore the countryside.
We drive down the steep white road and along the river valley. We pass an impossibly rustic Taverna with old men in flat caps standing around a wooden barrel sipping espresso. We turn to cross a stone bridge and we drive up a straight gravel drive guided by tall, thin cypress pines. At the end of the drive is The Doctor, aficionado, gentleman wine-maker, Saverio, waving and smiling, dwarfed by the imposing tan façade of his Romanesque "Villa la Ripa" rising up behind him.
Saverio walks us through the details of the villa, how he found it and what he has made of it, the chance meetings that got him into vines and the serendipity that made his wine great. We taste, we swirl, some of us spit, most of us just drink it down. "People interested in wine, are people interested in life" says the good doctor. It is personal and intimate as if we are all in on a secret. It is the right way to do a wine tour.
Lunch is further up the valley at an olive farm and oil press workshop run by a wild-haired, eccentric named Francesco who self-admittedly spends a great many nights sleeping under the stars in his olive grove. His father and auntie serve us a multi-coarse, home-cooked meal at a high wooden table under massive oak trees. The highlight is Francesco's "experiment", an aged blend of balsamic vinegar, Trebbiano grape must, orange zest and honey. The elixir, dripped onto bread that is then lashed with his emerald green oil is Tuscan eating at its rustic best.
The final stop on our culinary excursion is a working dairy, where sixty alpine goats with smooth brown coats deliver milk that is crafted into small bricks of ripe cheese that are wrapped in Tobacco leaves and chestnut leaves before they go to be sold at the local farmer's markets. I try my hand at milking a goat, and reward myself for the effort by buying two blocks of the chestnut wrapped Cocciatta Fresca to eat on the ride home.
The dinner table is already set when we arrive back at Torre del Tortufo. The sky is striped with color and a Campari and soda is just the thing. Dinner is again sumptuous and the conversation is pure holiday. There is little mention of time passing or of agendas aside from a small discussion about whether tomorrow one should go into town to see frescos in the cathedral or whether to simply lounge at the pool and get a massage. I retire midway through the debate, knowing that I will have to rise early to catch up on delayed assignments, though my office will be a wooden table under the vine strewn pergola overlooking the valley. Back in my room, I lay out notes for the next day's deadlines. I lay back on the cool linens of the heavy wooden bed and I feel at home.
When my few days at Torre del Tortufo come to an end, I am truly sad to leave. I can only imagine the difficulty the rest of my new culinary companions will face when they leave in a few days time.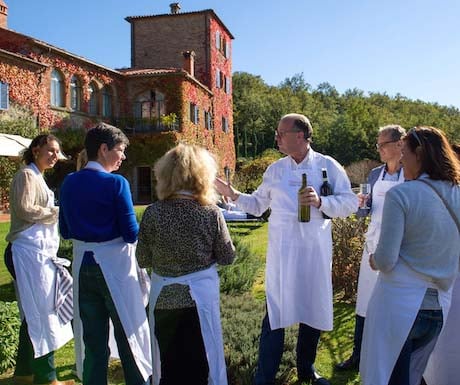 There are so many things about Italian food and wine that don't really translate outside of their region, let alone the country: Showering freshly made pasta with black truffles that I just foraged from the oak trees out back (well… the trained sniffing dog foraged); tasting the minerals in the inky red Tiratari wine while I can smell the same notes from the soil of the vineyards right beside me. So many of Italy's culinary experience rely on being right there; present and aware and able to appreciate the subtlety. Some people come to Italy to bask in this; the visceral smells and tastes and sounds. Some just come to simply relax; to enjoy the sunrise and sunsets and to enjoy the countryside, the hill-towns and frescoed churches. Torre del Tortufo in all of its monastic glory is an amazing feat of vision because it is a place where all of these things – impeccable renditions of these things – can be had.
The other guests, the families, the couples and the adventuring singles are adamant that they will return, and according to my hosts, this happens with great frequency. Some remark on wanting to learn more, some remark on the comfort of the rooms and the luxury of the spa. Some remark on the accessibility of the culture and art nearby. But all them comment on the welcoming, relaxing atmosphere; having the run of the kitchen and the gardens, the walled dining areas and the long lawns. "It feels" - Says the English advertising director Keith – "Like being home".
In my short visit, I have absorbed a superhuman amount of cooking knowledge and Italian food culture savvy. I know my sauté from my sear from my braise. I know why to stir risotto and why not to stir the sugar syrup. I have experienced a hospitality and camaraderie that has made Italian cooking "mine". I will miss this for days when I shuffle off on my own, my new food family waving after me. It has been quite simply, the most complete Italian culinary experience of my food writing career.
Sage Russell is Editor of Food Pilgrimage.
If you would like to be a guest blogger on A Luxury Travel Blog in order to raise your profile, please contact us.