There's a long distance walk in the UK that runs from the longest natural lake in England – Windermere – to the largest manmade lake in northern Europe – Kielder Water. Overshadowed by Wainwright's Coast to Coast walk, interest in the route never really appears to have gathered momentum since it was established in 1999. Any search for it online invariably takes you to a book published in the same year, with a foreword by Sir Chris Bonington no less, but no apparent first-hand account of people actually covering the 166-mile route. Amazon has no reviews for that book and even the Wikipedia page dedicated to the Lake to Lake Walk has been taken down. Yet, despite all this, it takes you through some of the most unspoilt and spectacular countryside in the British Isles, close to the border between England and Scotland.
Unfortunately, my rather hectic schedule at the moment doesn't allow me to explore this route on foot, but when Hyundai recently invited me to test drive the Santa Fe Premium SE 4WD 7-Seat 2.2 CRDi A/T, from my home in the Lake District on a trip to Kielder Forest, this provided me with the opportunity to make the journey between the two lakes, albeit along a slightly different course to the one outlined in the walk.
My first stop was at the car park close to Crag Lough, near Once Brewed, where I met with well-known adventurer and Hyundai ambassador Andy Torbet. Andy is great company and a font of knowledge; he is an expert cave diver and regular BBC presenter (he's worked on the BBC's incredible Coast series), as well as a modest but accomplished climber (he's one of the few people to have climbed one of the Needles off the Isle of Wight). Thanks to the assistance of the Calvert Trust who set up some ropes for us in advance, we were given the opportunity to climb a couple of routes together. I have very little experience when it comes to climbing, mostly limited to belaying children up and down indoor climbing walls at kids' birthday parties, so this was a rather daunting task for me. The sight of the Crag Lough – which I'd passed and admired many times before but never really looked at from a climbing perspective – didn't really ease my concerns. The crags do occupy an idyllic setting, though, with a lake close to their base and Hadrian's Wall sitting on the top.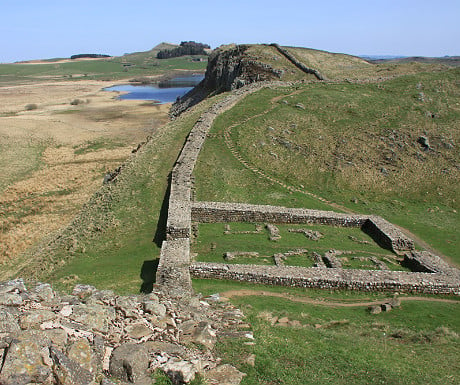 I belayed first for Andy who made easy work of the crags (to the point that I struggled to feed the rope through quickly enough for him at first!) and then it was my turn to have a go. The first route wasn't too bad, and then I had to abseil back down; the last time I recall abseiling was on the Avon Gorge back in my school days and back then I completely 'bottled it', not having the confidence to lean back enough, so this was going to be just as tough a proposition for me as getting up had been. Thankfully, all those birthday parties had helped me to understand climbing a little more and to this time have a bit more trust in the equipment.
Next, we tried a slightly more difficult crag and again Andy went up with comparative ease. This one I found much more challenging and, when I was about three quarters of the way up, I just couldn't work out how to keep going. I was advised from below to move across the rocks on the right, but that just looked to be a completely flat rockface with no holds whatsoever, until I eventually worked out that I needed to drop back down a couple of metres and work my way across from there. After getting 'stuck' for a few minutes, I eventually made it to the top and abseiled back down. Although probably not at all technical, this was definitely at the upper end of my comfort zone and limited climbing ability, so I was relieved to get through it!
From Crag Lough, we got into our respective Santa Fes and drove to the Northumberland village of Bellingham where we met up with other drivers and were given the opportunity to go on an off-road driving adventure through Kielder along various tracks not usually open to the public, and see what the cars were capable of.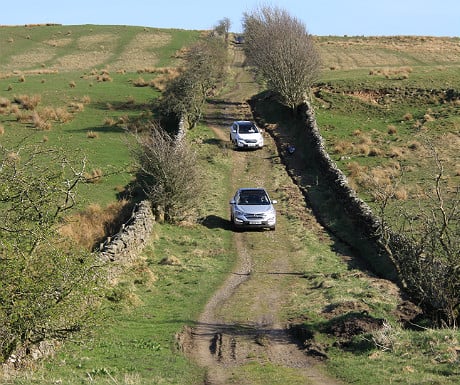 Kielder Water and Forest Park was officially recognised by VisitEngland as the best tourism experience in the country in 2013 and the route took us over several narrow bridges and along all manner of tracks and trails, putting the cars through much tougher conditions than they would normally face on traditional roads. The ground was mostly dry since it followed a sunny spell of weather, and so the vehicles handled the terrain without any problems whatsoever.
As we neared our destination, the roads turned more to loose gravel, throwing up clouds of dust as we picked up a bit more speed. The car is capable of a top speed of 118mph and 0-62mph in 10.1 seconds, but really shines through on its combined fuel economy of 41.5 miles per gallon – not bad for a car weighing around 2 tonnes.
This long gravel road eventually led us to the Hyundai Tipi Camp which we reached just before dusk. A clear sky and a meteor shower forecast bode well for the night ahead: Kielder Water and Forest Park – along with the Northumberland National Park – is the third biggest area in the world with protected dark sky status (and the largest in Europe), and so within the camp a number of powerful telescopes were set up so we could observe the night sky.
We were also well looked after with a hearty camp meal and a toasty fire to help us keep warm as the temperature quickly plummeted and day slowly turned to night.
One of the telescopes was directed at the moon and allowed us to look at it with an incredible level of detail. The following is just a shot taken on my iPhone through the lens of the telescope, but hopefully gives you some idea of the level of detail that we were treated to.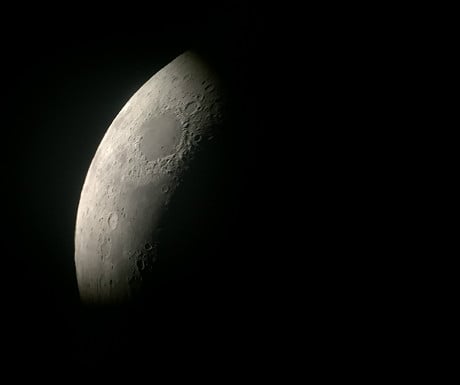 Later that night, and into the early hours of the morning, we spent the time at Kielder Observatory watching shooting stars from the Lyra meteor shower (debris from comet Thatcher, apparently, for those of you who know more about astronomy than I do!) and generally marvelling at the scale of the universe.
There are no windows at this public observatory – just two telescopes housed in towers that open up to the skies, linked by a decked viewing  area. Highlights for me were being able to see the red storm on Jupiter (the storm alone is about 3.5 times the size of Earth and has been raging for at least 300 years), seeing the rings around Saturn over a billion kilometres away, and simply gazing at the sky with the naked eye as meteorites flashed by.
We were there for hours yet the time seemed to fly by and we eventually returned to camp at around 2am. It was a cold night but each tipi was equipped with a proper bed, as well as its own stove and chimney, so a good night's sleep was assured. Andy actually slept in his Santa Fe; with the seats down, there is ample space for a bed in the back of the vehicle and with a panoramic sunroof that spans both the front and rear of the car, what better way could there be to watch the night sky as you drift asleep?!
The next morning, we discussed the previous evening over a bacon sandwich. I don't think there were any particuarly avid astronomers among us but the night's proceedings had had us all converted and wanting to see and learn more, each of us I think quietly contemplating when we might be able to next visit Kielder.
To complete my journey from Windermere to Kielder Water, I called at the lake before my return to Cumbria. The lake was built about 40 years ago to ensure that rising demands for water from a booming UK industry were met, but a subsequent decline and greater efficiency meant the original intentions came in for considerable criticism at the time. Instead, today it serves as England's largest hydro-electric power plant as well as a popular site of recreation, attracting over 300,000 visitors each year.
Disclosure: This trip was sponsored by Hyundai UK.