Think of Rio, and it's hard not call to mind images of the Girl From Ipanema, sashaying along the streets of this upscale neighborhood. Best known for its beautiful beach and for the beautiful people that frequent it, Ipanema offers a great deal besides sunbathing and people-watching. Here you can enjoy a drink in the bar where Tom Jobim and Vinicius de Morais wrote their Bossa Nova anthem Garota de Ipanema in honor of the tall, tan, young and lovely girl they would spot each day from their corner table. You can shop for arts, crafts, souvenirs and clothing at the famous Sunday Hippy Market; linger over drinks at neighborhood bars and dine at some of the most chic restaurants in the city.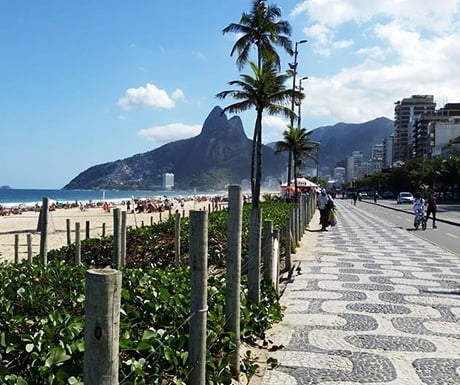 Ipanema is also famous for its upscale boutiques, making this a favorite destination for fashionistas in Rio. To really appreciate Ipanema you'll need to mix tourist favorites with a little insider knowledge – here's our pick of the best that the neighborhood has to offer.
Posto Nove – Lifeguard Post Nine
Let's start at the beach. Not everybody knows that Rio's sands are informally divided into sections, marked by the nearest posto, or lifeguard post. The beach here has spots for families, for gay visitors, surfers and soccer players, but the trendiest of all the spots is Posto Nove (post nine). This is the hangout of choice for Rio's young, carefree crowds, who gather here to see and be seen. Grab a beach chair from the nearest barraca (kiosks renting out sunshades and loungers and selling food and drink), order a coconut water, ice cold beer or caipirinha, and let the good times begin!
Sunset at Arpoador
At the eastern end of Ipanema beach is Arpoador, a quieter section popular with surfers and notable for the giant rock that juts out into the ocean. Make like the locals and follow the trail to the edge of the rock to catch a magnificent show as the sun dips over the horizon and sets the waters aglow.
Feira Hype – Hippie Fair
Despite the name, Ipanema's Sunday Hippy Fair is not just about incense and patchouli oil. The largest open air arts and crafts fair in the world, it is an enticing mix of locally-produced handicrafts, handmade fashions, vintage fashions and more standard tourist souvenirs. You'll also hear live music, from samba to classical violin, making this a truly unique shopping experience.
Fruit and vegetable markets
Foodie visitors to Rio will adore Ipanema's colorful fruit and vegetable markets. These are held at various locations on different days of the weeks, but perhaps the biggest and best is that held at Praça General Osório – next to the Metro station – on Tuesdays. A riot of colors, scents and sounds, this is the place to try tropical fruits you may never have encountered before, and also a great chance to try typical street foods such as tapioca pancakes and buy bottles of potent chili peppers in oil, among other treats.
Bar Garota de Ipanema
This corner bar a block back from the beach is the very place where Tom Jobim and Vinicius de Morais wrote their legendary Bossa Nova Hit Girl From Ipanema. Order a beer or cocktail and some bar snacks, and gaze out at the beautiful people as they pass by – you might even spot your own girl or boy from Ipanema.
Bohemian bars
Ipanema has some seriously chic restaurants and lounges, but if you want to soak up a little local flavor and enjoy a relaxed atmosphere, the neighborhood's informal bars – or botequims – are the best places to come. Take a stroll around until you spot one that takes your fancy, and pull up a chair at a sidewalk table to sip drinks and nibble on petiscos (light bar snacks) as you soak up the bohemian ambience that is so typically carioca.
Rua Garcia d'Avila
Whether you want to splash some serious cash or just do a little window shopping, this super-chic street is the place to come. Here you can find designer fashions, and some of the most exclusive brands in the world including Luis Vuitton and Cartier. It's also the place to come for jewelry – you can visit the Amsterdam Sauer precious stone museum, or pick up a truly special gift at renowned jewelers H. Stern.
Fabio Mendonça is a Founder of Rio Cultural Secrets.
If you would like to be a guest blogger on A Luxury Travel Blog in order to raise your profile, please contact us.