Palaces line the shores of the Bosphorus Strait. Mosques and minarets mingle with European colonial buildings, which are punctuated from time to time with skyscrapers. In between there are bazaars and an abundance of luxury brands. I'm visiting one of the world's most vibrant cities – inspirational Istanbul; former Constantinople and originally Byzantium. I'm on a luxury two-day trip, staying at the greatly anticipated 5-star St. Regis Istanbul, which officially opened on the 8th April 2015. The hotel can be found in Istanbul's answer to Fifth Avenue, and is filled with numerous interesting highlights, including a beautiful Bentley Suite.
Known as the city where East meets West, Istanbul is a place where amazing cultural experiences seem to lurk around the corner. The history of this remarkable city, also known as the City of the Seven Hills, can be traced back to 657 BC, which means I have one problem – there seems to be too much to see!
Normally I avoid tours and tour guides like the plague. However in the case of Istanbul I knew that I would need to make an exception. The good news is that I'd been told about a special tour guide, who is a guy, that has played a part in helping John Malkovich fall in love with the city. So I opted for a one day, tailored luxury tour of Istanbul, following in the footsteps of John Malkovich. This worked out superbly, as did the delightful 5-star hotel, located at Istanbul's best address. I'll tell you more about that a little later – firstly join me on my tour.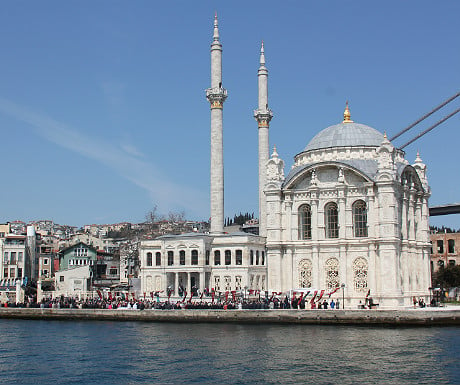 In the words of John Malkovich
"Being in Istanbul is like being in a dream cloaked in dazzling colours, intriguing sounds and a cornucopia of flavours." as John Malkovich said.
If I had to sum up Istanbul in one sentence I couldn't have put it better than Malkovich. At the end of a mesmerising midweek trip, I was left with an intense appetite to experience more. Two days in Istanbul is a bit like eating the first two courses of an eight course tasting menu. It's a city that can seriously trigger your senses, and Etem, the tour guide, knows that better than most, so he decided to start our tour at the famous Spice Bazaar.
An exotic spice bazaar and a sea of selfie sticks
At 10 o'clock in the morning, I was whisked off in a group of six, to the exotic Spice Bazaar. It did occur to me that it's a not really Spice O'Clock in my world, at 10am – and that's coming from someone who gets withdrawal symptoms without a weekly curry.
However that thought left my mind almost as quickly as it came in! Bilge is one of the fifth generation of the family who own the spice shop, Ucuzcular Baharat, founded in 1886. She seems to be the perfect embodiment of someone who appreciates her family heritage and business, but is determined to make her own mark. She does this with a combination of business acumen and analysis, female charm and recipes, and 21st-century technology.
Her family shop is like a magical cave filled with the most vibrant colours, that only Mother Nature can paint. It's a dramatic feast for the eyes, which can only be outdone by the taste explosion that takes place in my mouth with each spice sample. Buy some of her recommendations and you'll head home with a magic fix for BBQ and other culinary victories! There are also wonderful teas, potions and lotions, and of course it would be rude not to bring back a selection of some sublime Turkish delight.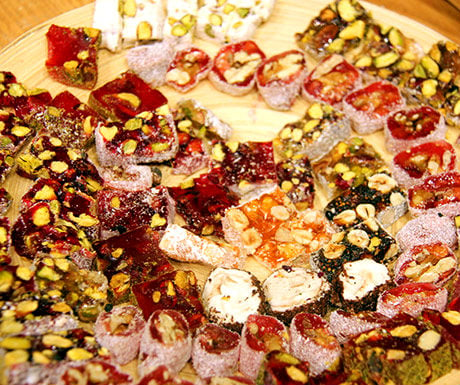 I left on a kind of a high, which Bilge had mentioned might happen. Back out into the main bazaar area, I had some fun deflecting the attention of some of her many competitors and other traders. Of course you need to be in the mood for this type of banter.
Apart from the bazaar banter and sales ploys, there was one other thing that struck me rather forcefully. This was the sea of selfie sticks, that seemed to be a feature in the bazaar and other hot tourist spots of the city.
Holy wisdom, chestnuts, mosques and another world underground
Back out on the street again, feeling a little dizzy from the whole experience, it hit me how wonderful it was to see a chestnut fast-food stall, set against the backdrop of one of the city's beautiful Mosques – the Yeni Valide Camii, which means the New Queen Mother Mosque.
The province of Istanbul has over 3100 mosques, but within the city there are 10 which are considered to be the most important. Mosques form an integral part of the "Variety is the spice of life landscape", of Istanbul. However as it was a one-day tour, I opted instead to see what is considered to be Istanbul's top attraction – the Hagia Sophia – the Holy Wisdom. Constructed in 537 AD, the Hagia Sofia was an Eastern Orthodox cathedral up until 1453, although it was converted to a Roman Catholic cathedral between 1204 and 1261. From 1453 of until 1931, it served as a Mosque. Ever since 1935 it has been a museum.
Our tour guide, Etem, did a great job of explaining the history and telling us interesting stories about various important focal points. I tried to absorb the information and this immense, spiritual structure, that has been standing there for over 1500 years.
Next up on the agenda was the Basilica Cistern. This is the largest of the many cisterns that can be found beneath the city of Istanbul. Surprisingly for a period of a few hundred years, the people of the city didn't even know that this existed. I found it fascinating that its 336 marble columns were actually recycled material, which you can notice from some of their design differences. I also loved the fascinating story of the Medusa column bases, which were apparently strategically placed to avoid men being turned to stone. However what hit me more than anything else was the feeling of being in another world underground, which was rather magical, if a little damp.
A blissful boat trip, palaces and a fortress
After a quick enjoyable, authentic lunch at Sultanahmet Koftecisi, a famous, typical restaurant, that has been running since the 1920s, it was time for our boat trip on the Bosphorus Strait. The luxury boat trip was a blissful, perfect way to see the very expansive city of Istanbul, from a wonderful perspective.
Palaces from the Byzantine and Ottoman empires are one of the city's striking visual offerings. The best way to see some of these sumptuous palaces, is definitely by boat. The contrast of majestic, ornately sculpted stone buildings, against the lapis blue sea and cobalt sky is breathtaking.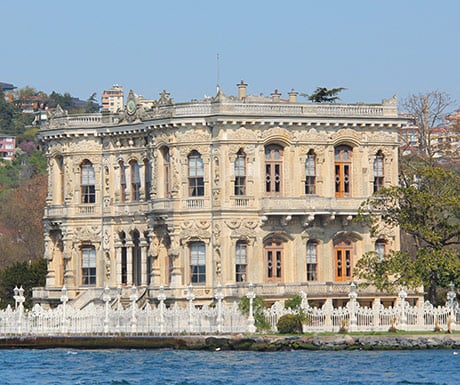 Part of the charm of this boat trip were some of the scenes, which seemed to be superimposed upon each other. With the help of my camera's zoom, I could see the face and table of a Turkish doughnut seller. The lines and expression on his face told the story of the many decades that he had spent, most likely since childhood, sitting on the banks of the Bosphorus selling his wares. He was the foreground of the scene.
The background was the imposing Rumelihisarı Fortress. Built between 1451 and 1452, by the Sultan Mehmed II, its purpose was to control traffic from the sea and protect the city. Since 1960 it has served as both an open air theatre for summer concerts, as well as a museum.
At the end of the tour, Etem and our chauffeur brought us back to the St. Regis Istanbul, with enough time to freshen up and relax a little before the evening champagne sabering ceremony.
A Champagne sabering ceremony at the St. Regis Istanbul
In case you haven't been to a champagne sabering ceremony before, let me explain what it is. The art of sabrage comprises of opening a bottle of champagne with a saber. This is definitely one of those things that you shouldn't try by yourself at home, without expert guidance! Champagne sabering is mostly used for ceremonial occasions. However at a location like the St Regis Istanbul, ceremonial occasions occur every Wednesday evening.
The very personable Portuguese General Manager, Mr. Rui Reis, performed the ceremony, but only after introducing some of the hotel team to the guests. This was a nice touch, that seemed to be well received by the guests.
I have to be honest and say that the word impressive really doesn't do his performance justice. Not only did he manage to successfully saber the bottle of champagne, but he also opened a second bottle, by aiming the cork of the first bottle (I believe not on purpose however) directly at it. There was a tangible buzz amongst the group of hotel guests….and a kind of sigh of relief at the same time. Champagne was served efficiently, and with a smile, while the breakage was calmly cleared up in true 5-star style.
Location, location, location…
The St. Regis Istanbul can be found at the best address in one of the world's great cities. Nestled in the stylish Nişantaşı neighbourhood, which has been Istanbul's elite address for centuries, the 5-star hotel pays homage to local style and history, yet can be classed as a modern masterpiece.
Set up residence at this elite address and step out into the Nişantaşı district, to shop at your favourite luxury brands, such as Versace, Tom Ford, Hermés and Chanel, and top Turkish designers, Hakan Yıldırım and Cengiz Abazoğlu. Nişantaşı has everything for the discerning luxury traveller. The exclusive neighbourhood is the heart of Istanbul's cultural, artistic, culinary and social scene. Antique shops and private art galleries are dotted along the narrow streets, which feature charming Art Nouveau architecture. The area has its fair share of European style pubs, nightclubs, and restaurants, some of which offer world class culinary offerings.
My room had lovely views over Maçka Park, below the hotel, which is a charming, large green zone that can be entered from Nişantaşı, as well as other neighbourhoods. Originally constructed as an informal meeting place for lovers in the early 1990s, the park was renovated and officially opened in 1993 as Maçka Demokrasi Park. I enjoyed watching the people and dogs below, especially the very happy dogs that seemed to be with Istanbul's answer to Cesar Millan. The park is also overlooked by the city's convention centre.
An elegant homely 5 star hotel
In a location like this, in one of the world's most interesting cities, there's no wonder that the opening of the great luxury brand St. Regis in Istanbul, has been so keenly anticipated. Designed by the award winning architect, Emre Arolat, the hotel channels glam art deco of the 1920s. There's one aspect of staying at some hotels that can, at times, leave me a little cold, which is a lack of a homely feeling. This is where the St. Regis Istanbul has an edge. An integral part of the hotel's design concept totally embraces a local tradition, which perfectly balances chic sophistication along with a warm, elegant homeliness.
This is the Turkish tradition of having a type of display cabinet in the living room, where the family can put their finest possessions on show. The St. Regis Istanbul has interpreted this beautifully, as a central design feature. Collector pieces and art is everywhere, thanks to the Demsa Collection of Art. Exclusive pieces by names such as Andy Warhol and Sam Francis are amongst the many focal points. Striking tones of turquoise and gold blend with a varied palate of colours, which are interspersed with beautiful agate crystals. I loved this aspect of the hotel. I also didn't mind having my own butler.
My own butler
Anyone who knows me well enough, knows that I am "challenged" when it comes to operating machinery! It was a little before 7am and I was experiencing my daily urgent, morning requirement for caffeine. I had checked out the George Clooney machine (the Nespresso Machine) …and I had no idea how to operate it! All of this was resolved with lightning efficiency. My personal butler arrived in no time to my room and within moments Nespresso was served, along with a charming Turkish smile. A butler is one of the hallmarks of the St. Regis luxury experience.
St. Regis Istanbul highlights
Some of the other highlights of the St. Regis Istanbul are the stunning suites, the beautiful design throughout the prestigious property, and the excellent, genuinely friendly team. Sadly my schedule didn't allow time for some relaxation in the spa, Iridium, due to a flight delay. I did however enjoy some very good food in the beautiful setting of the Spago signature restaurant. The Wolfgang Puck restaurant is set on the rooftop, with a glamorous outdoor terrace, and offers imaginative, contemporary dishes which use farm fresh, organic ingredients. Downstairs guests can dine at the bustling St. Regis Brasserie, which also has an outdoor terrace and an indoor show kitchen.
Whichever restaurant you choose to dine in, you should pop into the Petit "O" Bar beforehand to sample the local twist on the Bloody Mary, which was first created Stateside, in the St. Regis New York. The Istanbul version is the Misty Mary cocktail, which includes Raki and turnip juice. Drink it while enjoying the beautiful focal point of the bar – the "Bosphorus Breeze" whimsical mural by Bedri Baykam.
Owned by Nisantasi Konaklama ve Otel Hizmetleri A.S. (Demsa Group), the hotel's 118 guestrooms and suites have views over the Bosphorus. My experience was that the warmth and hospitality of the team, was just like the hotel design – a true reflection of the hotel's location and culture. By the end of my short stay, I understood why John Malkovich had fallen in love with Istanbul. This great actor of our time wrote and directed the short film, A Postcard from Istanbul, for the launch of the St. Regis Istanbul. The film is about love and how Istanbul evokes all of our senses… just like the St. Regis.
Disclosure: This trip was sponsored by Bentley Motors.