With the U.S. dollar surging against the euro, international business class travel is now more affordable for Americans than it has been in years. This year, the euro fell below 1.10 against the dollar for the first time since 2003. Although a U.S. flight out might carry a hefty fee, there is a trick to making business class trips to Europe more affordable.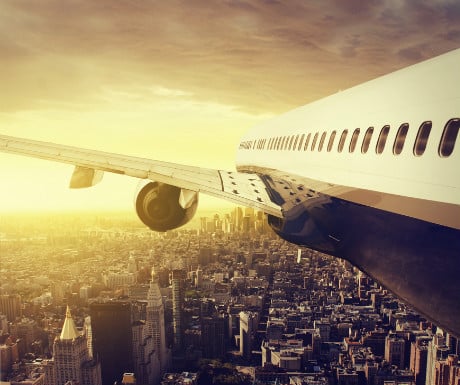 The secret is to base your trips out of Europe.
By deploying a strategy that travel professionals call "offshore originations", savvy international travelers from the U.S. can take advantage of lower business class fares with relaxed penalties by starting a pattern of round-trip flights that originate in Europe, instead of in the United States. This tactic saves money in the long run because business class fares between, for example, Rome and Los Angeles are currently more than 50 percent less expensive compared to business class fares with the same airline originating in Los Angeles.
Here's how it works: first, travelers arrange a one-way "positioning trip" using money or miles from their home city to Europe. Then, they purchase round trip business class travel from Europe to their home city. After the initial positioning trip, travelers will have a spare return flight to Europe that will be ready to use for their next trip overseas. This can take some advanced planning, but with a little research or the help of travel intelligence companies, the savings on your next international business class flight can be substantial.
For example, at the time of writing on 15th May, United Airlines showed business class fares originating from Los Angeles (LAX) and going to Rome (FCO) starting at $4,619 for round-trip business class travel between July 10 and July 24. Now look at the drastic price difference for the same trip, but originating out of Rome's RCA to Los Angeles. Business class fares on United between Rome and Los Angeles start at just $2,067 for round trip travel on the exact same dates. That's a savings of more than 50 percent!
As an added bonus, business class tickets starting in Europe also have more relaxed cancellation and change policies compared to flights originating in the U.S. For example, the higher $4,619 round trip fare from Los Angeles to Rome carries United Airlines' most restrictive cancellation penalty. This particular round trip United flight – like many other international United Airlines flights originating from the U.S. – is non-refundable and carries a $450 penalty for any changes.
The lower $2,067 round trip business class fare originating in Rome, on the other hand, is refundable after a €400 ($447.62) penalty, and changes incur a €240 ($268.57) fee – which is just a slight inconvenience considering the tremendous cost savings found on the flight to begin with. So no matter when you decide to venture out on your next trip to Europe, you will have your ticket ready at a substantially lower price than what everyone else is paying for the same ticket.
As you can see, significant savings can be achieved by deftly positioning the originating country of your flight, but this tactic can be tricky. Several travel companies now offer research and insights into this offsite origination strategy to leverage these lower fares for their customers. If you decide to go the DIY route, it is important to test out several different airlines – perhaps even at different times – for the ultimate cost savings.
While it can take some flexibility and a little planning to achieve the maximum value on your next international trip for premium cabin ticket purchases, the cost savings that is possible is tremendous. It's all about capitalizing on the right fare at the right time – and from the right city.
Images: Shutterstock
Lars Condor is the Managing Director of Passport Premiere.
If you would like to be a guest blogger on A Luxury Travel Blog in order to raise your profile, please contact us.