Secret escapes – 3 epic powder resorts in Japan not to be missed
A cucumber is almost all water. Take away the pesky four percent or so of its, er, cucumber-ness and you could brush your teeth with the liquid remains (if that's your sort of thing). In essence, the world is surprisingly water-logged, and where you least expect it. So it used to baffle me, early in my skiing career, when my skiing friends would talk of 'dry snow'. Surely all snow is wet? Scoop a generous handful of it up, squeeze and mould it in your hands, and droplets of ice-cold water will dribble out—sometimes sooner, sometimes later—but eventually you'll have cold and damp hands. Well, in most cases yes, but in some mountain regions, the moisture content of snow is much less than normal, which means only one thing: powder. The driest snow on earth. You don't so much ski 
on 
this snow, rather you float 
through 
it, as if the surface of the earth has suddenly dematerialised and gravity has been turned down a notch or two. Any self-respecting—read 'obsessive'—skier will happily travel half way around the planet, at great expense, with the prospect of weeks of debilitating jet lag, to satisfy their powder fixation. So where can you slake your thirst for 'cold smoke'? Those in the know, head to Japan, and more specifically, its northernmost island. Every winter, prodigious amounts of snow fall onto the mountains of Hokkaido. Even a bad snow year in Japan is usually an epic year in the Alps. Here's three relatively unknown, and slightly smaller, spots to head to:
Niseko Moiwa
When the powder-frenzied hordes are rattling the gates to burst into the snowfields behind the other Niseko ski areas (Hanazono, Grand Hirafu, Village and Annupuri) the somewhat aloof
Moiwa
is of a more mature disposition, as befits the second oldest resort in this quintet of resorts. Its trails aren't part of the ski pass for the other four villages (the
Niseko United All Mountain Pass
) so when it does dump down, Moiwa can often feel like a forgotten private playground. The trick is to head into the extensive backcountry as there are only a handful of runs.
Even better, chuck the helmet cameras ('so last year') into the thigh-deep snow and let somebody else take the strain of making you look unfeasibly gnarly in this year's ski photos. Outfits like
Niseko Photography
can not only guide you to some of the best places on the hill, but also snap you as you do your skiing 'thang'. Who needs selfie sticks when you can be 'papped' by your own personal photographer?
Kiroro Snow World
The key, to be fair, is in the name of this resort near Sapporo: 'snow' and 'world'. It's no exaggeration—I promise you—to say that this slightly out-of-the way gem is one of the snowiest resorts in the world. Perhaps the management felt that they couldn't get away with, '
Kiroro
! How much snow? Woahh!! Seriously?? I don't believe you, dude. Can't be true.' It doesn't really trip off the tongue nor, despite the best will in the world, would it fit on the entrance sign as you drive into the resort. But be prepared to get out your dog-eared skiing thesaurus as you struggle to find the words to describe: (1) the amount of snow, (2) the quality of the snow, and (3) the landscape that assaults your senses with a sublime beauty that can make your soul ache.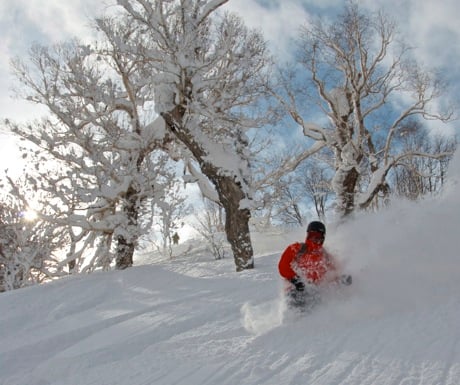 OK, are there any bad points? Yes — to a point. Sometimes there's just way too much weather meaning the resort can close in whole or in part, and, for some, there's a lack of seriously challenging terrain. But, hey, you're in Japan: a carpet of birch trees is all around you and the local staff bow courteously to you as you ski off the chairlifts. What's not to like?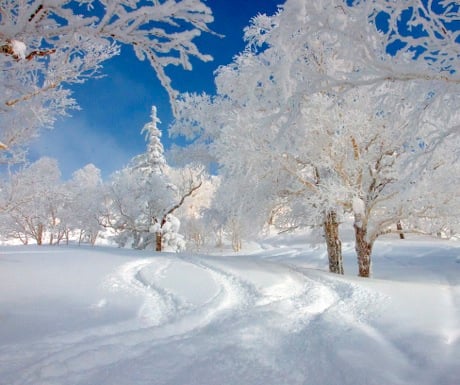 Asahidake
And so to
Asahidake
. If you make it to this resort in the centre of Hokkaido for on-piste skiing, you might be miffed. Why? OK, how can I put this? There are only four runs: the Sesame Street inspired 'A', 'B', 'C' and—drum roll please—'D' trails. In comparison, Canada's Whistler Blackcomb has an embarassment of trails. The Three Valleys ski area in France lost count of the number of pistes years ago. As for the piste names, let's just say they probably sound more exotic in Japanese. There's no 'Tin Pants' (Vail), 'Lower Psychopath' (Beckenridge) or 'Widowmaker' (Sugarloaf) here.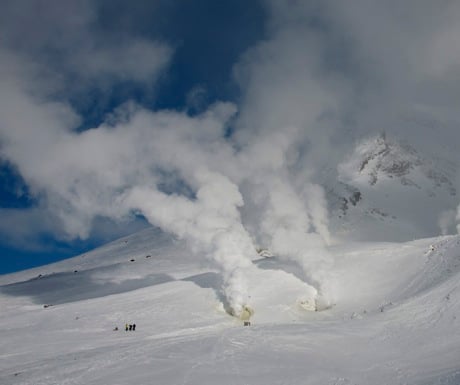 So far so disappointed? Don't be. This hill, the highest in the Daisetsu mountain range, offers lavish quantities of deep, dry and feather-light powder, some 14 metres or 45 feet a year according to some reports. That's about the height of a five story building. The indigenous Ainu refer to this area as 'Kamui Mintara' or 'Playground of the Gods'. With this quantity of white stuff, they certainly knew what they were talking about. There's not many places in world where views of an active volcano, belching plumes of smoke from fumaroles in its pockmarked surface, hove into view as you scoot down the slopes.
In general, all of these resorts are good for several days of fun. A week is probably too much for most skiers and boarders. In any event, off-piste guides are essential and, equally importantly, don't forget to double-check whether your insurance policy allows you to go off the marked trails. Finally, whilst skiing in Japan is, for many, a trip of a lifetime remember that conditions aren't always perfect.  The slopes can sometimes be icy. Sometimes, the powder doesn't arrive or the sun doesn't shine, often for days or weeks at a time. On these days, clip off your skis, get off the hill, and discover the people, food and culture of this country like no other. You won't regret it.
Did you enjoy this article?
Receive similar content direct to your inbox.