The safari hide has become very popular as the skills of the amateur photographers who travel to Africa are becoming better and better. This breeds a desire to get as close to the wildlife as possible, without disturbing it. A safari hide is of course the best way of doing this and there are some unbelievable ones popping up in some of Africa's most scenic and pristine parks and conservancies. You never know what you're going to see, or what's going to happen. Recently the tables were famously turned on a keen photographer when a friendly and curious young leopard popped it's head into the hide, also curious to observe the humans! BUT usually the wildlife around the hide has no idea you're there and that can make for some extraordinary sightings, which wouldn't be seen otherwise. Here are our top five hides in Africa (there are many many more):
Ol Donyo is a beautiful lodge situated in the remote and wild Chyulus, Southern Kenya. The suites themselves have stunning views of open plains, rolling hills and that magical mountain Kilimanjaro. Their elephant hide is just a short walk from the lodge and sits overlooking a small waterhole which is exceptionally popular with the local bull elephants. Raised above the ground this hide can provide an exciting day of watching these awe inspiring males drink, play and generally have a wonderful time.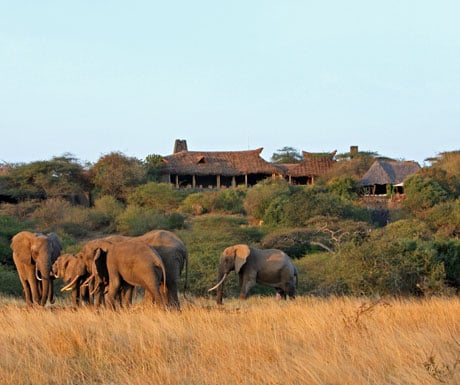 Manyara Ranch in Northern Tanzania boasts everything that is good about a modern day luxury safari – there are no people, wonderful views, friendly and warm staff, a luxury camp and access to acres of private and pristine game viewing territory, here the emphasis is on freedom so it's no surprise they have a couple of exceptional hides. The best is that that overlooks a large waterhole which is the hub for every animal passing through the reserve – the large hide has plenty of space and is set just back from the dam so you really can get a good view of everything and anything that happens there.
Encounter Mara is set in the remote Naboisho Conservancy in the Masai Mara, famous for it's fantastic game viewing and lack of people. This intimate and relaxed camp is set just above a salt lick in a dry riverbed – as you can imagine this attracts vast numbers of wildlife all day every day and a short stroll down into the camouflaged hide will bring you hours of joy between game drives as you watch everything from zebra to baboon to cheetah come down to use this popular salt lick.
Mashatu in Southern Botswana is a unique haven for those that want a little adventure and they have possibly the best hide of all – it is sunken beneath the earth so you are at the same height as the level of the water in the dam – the shots one can achieve of elephant and other animals are absolutely mind blowing and you also get a real sense of how large some of the wildlife is. A truly magical experience.
Chiawa Camp in the Lower Zambezi regularly wins awards for it's fantastic guides, but a day spent in one of their hides on the banks of the Zambezi is equally as thrilling as a game drive or walk – here you will be lucky enough to see elephants swimming and hippos and crocs going about their daily business, as well as whatever else comes down to the waters edge to drink. The elephants here get very close and you can have a truly mesmerising experience as they forage around the hide.
Rose Hipwood is Managing Director of The Luxury Safari Company.
If you would like to be a guest blogger on A Luxury Travel Blog in order to raise your profile, please contact us.