Not too many years ago, Iceland faced an economic recession that threatened to put restaurants out of business due to the inability to obtain expensive imported ingredients. Out of necessity, chefs turned to locally-grown and raised ingredients and the resulting culinary innovation has turned up the heat on fine dining in the capital city of Reykjavik. Today, Iceland is creating world-class cuisine and stylish, high-class dining experiences that far exceed what one might expect from this small island. Now is the time to visit Iceland and experience the best in Icelandic cuisine. Here are five top recommended dining experiences in Reykjavik.
Dill has been captivating eaters ever since it opened in 2009. Chef Gunnar Karl Gislason and Sommelier Ólafur Örn Ólafsson pioneered the contemporary Nordic food movement that transformed Iceland's dining experience with the opening of Dill. They envisioned a place where they could showcase their innovative approach to local, seasonal ingredients – a place where classic Nordic ingredients, like lamb and millet, could be prepared in a simple yet stunning fashion using contemporary techniques, and the meal itself would be an experience for the diner. The signature 7-course dinner menu at Dill changes every week and can be paired with wine to create the perfect meal. There are also 3- and 5-course tasting options on the dinner menu. For lunch, the atmosphere leans more casual with a simpler menu.
Hverfisgata 12, 101 Reykjavík, +354 552 1522
The Grill Market wholeheartedly embraces the modern dining experience and the restaurant is designed with that in mind. You'll feel like you're dining in nature, alongside rock walls, tree stumps and reclaimed wood tables. They take very seriously the concept of locally sourcing ingredients from area farms, which allows them to bring the freshest, most seasonal Icelandic food to the table, using various cooking methods like fire, smoke and coals. Their tasting menu consists of some of their best dishes, served family style, and paired with wines from around the world. If you choose not to go with the tasting menu, order dishes like the crispy traditional dried fish & squid or the perennial favorite, whale, puffin and langoustine mini burgers. There are also a number of specialties on the a la carte menu that most people have never tried, like minke whale steak and tenderloin of horse, so you can be as adventurous as you want to be.
LÆKJARGATA 2A – 101 Reykjavík, +354 571-7777
Fridrik V is wholeheartedly embracing the new Nordic food movement. Their ingredients are sourced entirely from local farms, and they even display a visual aid showing the specific towns and farms where each individual ingredient is grown. The 3- or 5-course surprise menu varies daily, based on the ingredients available at the time, and menu items aim to showcase the ingredient in its truest form. Fresh tomatoes become a refreshing gazpacho and mushrooms become a delightful soup served as a play on cappuccino. The menu can be paired with wine, beer or non-alcoholic drinks based on your preference. Fridrik V is a tiny restaurant, located in the center of town on the walking street of Laugavegur, and only seats 50 people, creating an intimate atmosphere where guests often strike up conversations with each other about the food and their experiences in Iceland.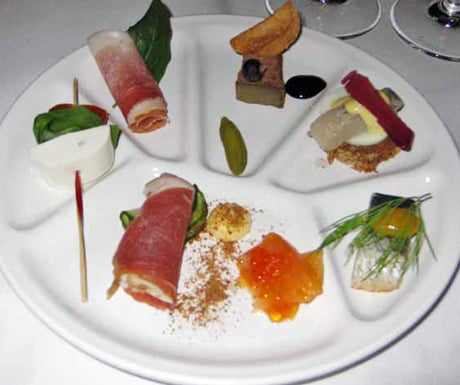 Laugavegur 60, 101 Reykjavík, +354 461 5775
It isn't often that one finds outstanding food at a tourist destination like The Blue Lagoon, so you might be surprised to be served some of Iceland's best at Lava Restaurant. Lava is redefining what quality food should be like, even at tourist-centric spots. Of course, you might be dining next to someone in a bathrobe having come straight from a relaxing soak in the thermal bath, but that does little to diminish the otherwise upscale experience.
Viktor Örn Andrésson, Lava's Head Chef, was named 2014 Nordic Chef of the Year, so expectation are high, but he doesn't disappoint with his fresh and innovative flavors. While the chefs at Lava focus on traditional and local ingredients, they meld it with influences and inspirations from around the world to create a cuisine that is all their own. For lunch, there are various 2- and 3-course menu choices, like the Icelandic Gourmet Menu that features Arctic char and lamb fillet. For dinner, there is a 4-course tasting menu with optional wine pairings.
240 Grindavík, 101 Reykjavik, +354 420 8800
Sjavargrillid, or the easier-to-pronounce Seafood Grill, is a highly-acclaimed restaurant opened by master chef, Gústav Axel Gunnlaugsson, who was named Chef of the Year in 2010. While it's primarily a seafood restaurant, if the menu has anything to say for itself, meat is taken just as seriously. The stylish and modern dining room and adjacent lounge area are always packed full of hungry guests eager to sample the inventive offerings that make up one of the five unique tasting menus on offer. There's something to fit everyone's palette in the Grill Party menu, served family style. The Fish Feast includes Hallgrím´s Shellfish Soup, which might just be the tastiest bowl of soup you've ever had. If you choose the Taste of Iceland menu, you'll feast on arctic char and grilled lamb shank. The hardest part of dining at Seafood Grill is choosing which of their expertly prepared Icelandic specialties to order.
Skólavörðustíg 14 – 101 Reykjavík, +354 571 1100