Take to the skies with a hundred other hot air balloons and spot some sci-fi scenery at sunrise, then head underground to explore the ancient cave cities. Whether you're above or below the ground, one thing is for sure – Cappadocia is a totally magical place! Read on for our top 5 suggestions on what to see and do.
1. Go hot air ballooning
Cappadocia is officially the most popular place in the world to go hot air ballooning. Every morning, around 100 balloons take off at the same time, creating a magical sky. The aerial views are incredible, and will give you the chance to spot some of the main landmarks including the famous fairy chimneys, Uchisar Castle and Devrent Valley.
2. Visit the Fairy Chimneys and Love Valley
The region in Turkey is famous for its incredible rock formations, but you don't need to be a geologist to appreciate them! Several volcanic eruptions, followed by natural weathering and erosion has created a mesmerising landscape of craters, standing stones, valleys, and red canyons. It's unlike anywhere else on the planet, so make sure you have plenty of space on your camera!
3. Visit Kaymakli Underground City
Kaymakli is one of 36 underground cities in the region built thousands of years ago and once used by Christians to hide from Roman armies. Around half of it is open to the public, with the chance to explore underground churches, storage rooms, kitchens, wineries and more.
4. Visit Göreme Open-Air Museum
No trip to Cappadocia is complete without a visit to this UNESCO World Heritage. Check out the medieval cave churches dating back to the 10th Century, and marvel at the detailed frescoes and designs still visible to this day!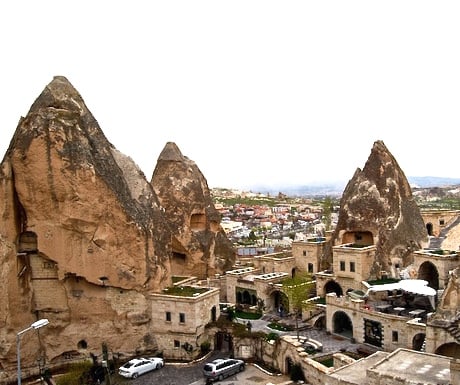 5. Stay in a cave hotel
After a long day exploring all the many wonders in the region, relax in a unique boutique cave hotel. The majority of the hotels in Cappadocia are beautifully designed, incorporating many of the old cave features, alongside modern amenities. Kale Konak Cave Hotel is one of the top choices in the area, sitting high up next to Uchisar Castle, and providing incredible views across Göreme and beyond.
A trip to Cappadocia offers the perfect break from the vibrant, frenetic city of Istanbul. So next time you think about booking a holiday Turkey, skip the resorts, and go on a Cappdocian adventure!