Good food (and wine to go with it) is certainly not difficult to find in Madrid. However, the meals that we remember are the ones that are not only satisfying to our palate, but that combine great food with a unique and memorable atmosphere. If you are looking for a combination of gastronomy and an environment you will not find anywhere else, here are three plans for different and enjoyable dining experiences to try during your stay in Madrid.
1. Real Madrid Santiago Bernabeu Stadium
Home to arguably the best and most successful sports team in the world, the Real Madrid Stadium is not to be missed by any sports fan visiting the city. Even if you're not into the world of sports, the restaurants surrounding the stadium are of excellent quality and the views of the field are quite impressive.
Depending on your mood, you have several options to wine and dine with spectacular interior views of this legendary stadium. Located in different corners of the stadium are El Asador de la Esquina, Puerta 57, Zen Market and Real Cafe Bernabeu.
Dining at one of Bernabeu´s restaurants is certainly an experience to boast about. And if you have the time, also recommended is the tour of the stadium itself.
Once an old cinema and nightclub, Platea Madrid has become one of the trendiest locations for a night of cocktails and quality food next to Madrid's Plaza de Colon. The architecture of this space is truly spectacular and gives the sensation of being in a real theatre with live music.
Platea also offers several options to choose from. You can dine and enjoy the view from the restaurant by Ramon Freixa located on the first amphitheatre. The second amphitheatre is a spectacular cocktail bar. If you´ve grown fond of the Spanish tapas style of eating, then stick with the ground floor called El patio for a variety of food options and bar spaces.
Whether you go for a fancy meal, casual wine and tapas, or an after-dinner cocktail, be sure to check out Platea. You will not be disappointed.
3. Walking tapas tour
It is very typical for Spaniards to go out with friends and have a meal that consists of tapas rather than your usual sit-down 3-course meal. A tapas tour is an excellent way to get to know not only Spanish gastronomy, but the Spanish way of life.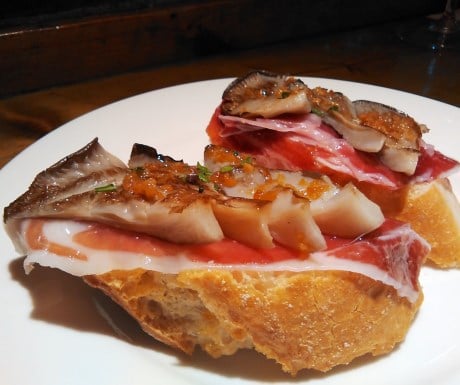 Many people find this way of dining to be more enjoyable. You get to taste different foods, visit different bars or taverns, and it never comes out expensive. A guided food tour is an excellent option for those who are first-timers in the city. The guide is always a local expert who is passionate about food and has carefully selected the bars or tabernas that will optimize your experience.
At the end of the tour, it is likely that you will have picked up a few Spanish words (at least vino and cerveza) and feel a bit more like a madrileno. Do not miss this chance to discover the amazing food Madrid has to offer with the help of an expert.
Luis Lechuga is Managing Director at Winetourismspain.
If you would like to be a guest blogger on A Luxury Travel Blog in order to raise your profile, please contact us.