A small but perfectly-formed Greek island with over 50 beaches and lush, clear seas that border on Caribbean blue, Skiathos is a great choice for those seeking a peaceful Greek retreat. It's especially popular with honeymooners who want to take life easy after the thrills and spills of planning a wedding and older couples who just want to enjoy a laid-back break in the sun. You won't be overwhelmed with an array of late-night parties and boozy holidaymakers in Skiathos, but you will find a tranquility that not many other Greek islands share. But where to stay? Here are five boutique hotels that'll ensure your holidays gets off to a great start.
Mandraki Village Boutique Hotel, Koukounaries
A luxury hotel offering excellent beach accommodation, especially with families with children, Mandraki Village Boutique is a secluded, spacious hotel which prides itself on how it treats its guests. No request is too much for the staff here, who receive rave reviews for their willingness to go the extra mile. Your room will always be spotless when you return at the end of the day, and the breakfast buffet offers everything you'd want to kick-start your day.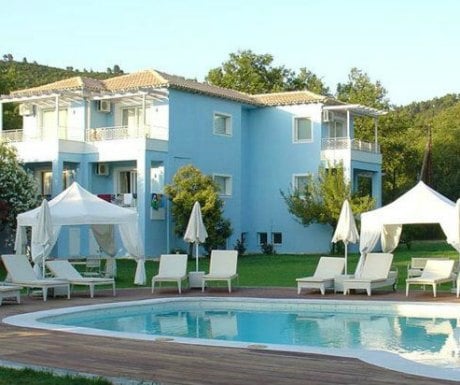 Even though it's just a few steps from the lush Koukounaries beach, Mandraki Village provides excellent family-friendly activities, including Elia's Restaurant, a pool bar, a swimming pool and a kids pool. The gardens that the hotel is set in are extraordinarily beautiful – it's a great location if you're planning a wedding abroad.
Bourtzi Boutique Hotel, Skiathos Town
This charmingly pint-sized hotel may be small, but it's big on making a fuss of its guests. Guests can enjoy free WiFi, air conditioning and have free bottled water while they're relaxing by the pool, and the owners and staff can't do enough for you.
The newly-renovated rooms are well furnished, and the breakfast includes English, continental and European choices. The lovely thing about this hotel is the owners want you to explore the island and see as much as possible; just ask for help, and you'll be supplied with maps and given lots of advice regarding beaches and places to eat.
Kivo Art & Gourmet Hotel, Vasilias
A 15 minute drive from the airport, this family-friendly hotel is set in the hills overlooking the sea. Prepare yourself for a warm welcome – the staff will do everything they can to make you feel at home, and you'll be given fruit juice (or a glass of fizz!) after you arrive.
If you'd like to explore the local town, there is a mini van that takes you there and back at regular intervals – perfect if you want to find a local bar and enjoy a tipple.
Most guests can't get enough of the breakfasts – prepare yourself for oven-fresh bread and omelettes, bacon and eggs cooked to order. The Greek cuisine on offer is equally as exciting; the pasta dishes, cheese assortments and salads on offer will ensure you're full until dinner.
La Piscine Art Hotel, Evangelistrias
With four travel awards under its belt (three for excellence, and one for being named the best hotel in Skiathos), this is the place for you if you'd like to splash out. This stylish boutique hotel is just a five-minute walk to the harbour nearby, but you'll want to try the food on offer here – the Crazy Cow restaurant has a dubious name but comes highly recommended, and the hotel's cocktail bar is a great place to spend an evening working your way through the menu. Can't find a drink you'd like? The bar staff are happy to help and will whip up something bespoke if you can't make up your mind.
The hotel's rooms have all been updated recently and guests have been known to leave five star TripAdvisor reviews about the beds alone – honeymooners beware. You won't see much of the island if you stay here.
A great hotel for families and couples seeking a bit of peace and quiet, this is a calm idyll that's only a ten minute walk from bars and restaurants in case you're after a bit of nightlife.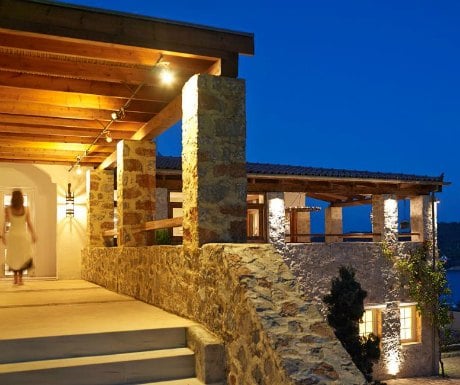 Friendly staff, delicious food, a stunning pool and a lovely modern take on old Greek standards combine to ensure you enjoy your stay – and, of course, Atrium wouldn't make our list unless the breakfast buffet was something to write home about (it certainly is; the selection on offer is incredible). The views from this hotel are wonderful, and worth booking for alone – don't forget to ask for a room on the fifth floor or above to see what all the fuss is about.
Vicky Anscombe is Editor-in-Chief at Columbus Direct.
If you would like to be a guest blogger on A Luxury Travel Blog in order to raise your profile, please contact us.