By
Paul Eyers
on Jun 08, 2015 in
Accommodation
,
Asia
,
Family Travel
,
Hotels
,
Leisure Travel
,
Regions
,
Resorts
,
Speciality Travel
,
Thailand
,
Vietnam
Luxury travel isn't always about heading to a remote island with your soulmate and strolling hand in hand along the beach as the sun goes down, before you dine at your romantic 'table for two' under the stars, staring into each other's eyes, oblivious to the world around you. Oh no, lovely as this might sound, sometimes we want to go on holiday with our friends and family and just because you have kids doesn't mean you stop enjoying life's little (or in this case big) luxuries, does it?
In fact, what better way to enjoy your luxury travels than to head to a private island, or an exclusive luxury resort, with your friends and family in tow? Our '4 luxury resorts where your friends and family can come too' are all places that have exquisite luxury accommodation with multiple bedrooms, so time to pack up the family, send invites to your buddies and soak up the luxury vibe.
Situated on the rugged and untouched island of Koh Kood in Thailand, Soneva Kiri is special; really special. This eco-friendly, laid back luxury resort blends into ancient rainforest and is surrounded by the best beach on the island, which is all yours to enjoy. Soneva Kiri offers some of the largest luxury accommodation in the world. Beautifully presented villas which have been constructed using sustainable timber, are linked by wooden walkways and boardwalks and all have huge private infinity pools.
Impeccable, personalised service comes in the shape of your very own Mr. or Ms. Friday and if you want to explore outside of your very own luxe playground, then you can jump into your own private golf buggy. Treats like So Chilled, the resort's complimentary ice cream parlour and So Chocoholic, a room filled with never ending, complimentary gourmet chocolates, await you.
We guarantee you won't want to leave.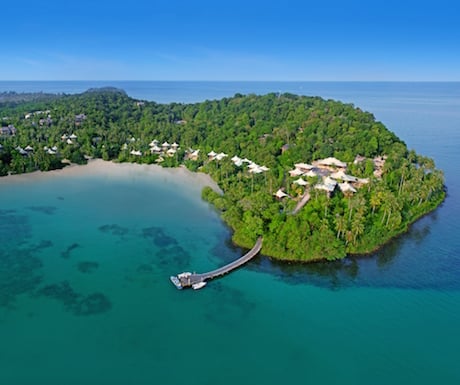 Spend your Soneva Kiri holiday in the Private Beach Pool Reserve 5 Bed Villa and you'll have nearly 2,000 square meters of jungle luxury all to yourself, with a total living space of over 1,600 square metres at your disposal. It's great for the kids too, having it's own luxury treehouse bedroom with bunkbeds and a waterslide that snakes down to the 200 square metre swimming pool below. Adult guests will be well looked after too with a private gym and spa deck meaning that both your body and mind are pampered here. Himalayan singing bowl spa treatment anyone?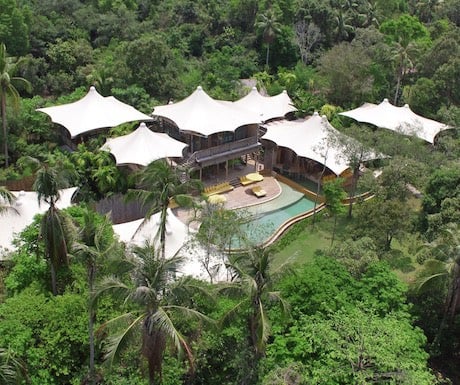 If you need a little extra space then check in to Soneva Kiri's Private Cliff Pool Reserve 6 bedroom Villa and enjoy yourself in over 2,600 square metres of living space, set in a total area of nearly 3,000 square meters. You won't be stepping on each other's toes here as you choose from a selection of terraces to relax on whilst you contemplate the world. Enjoy a bath under the stars in your outdoor bathroom and get together for a meal prepared by your private chef whilst you select a bottle of wine (or two) from your very own wine cellar which, by the way, will have been stocked full of your favourites prior to your arrival.
The villa boasts everything you could possibly ask for including spa treatment room, gym, steam room and a water slide into your huge 300 square metre infinity pool.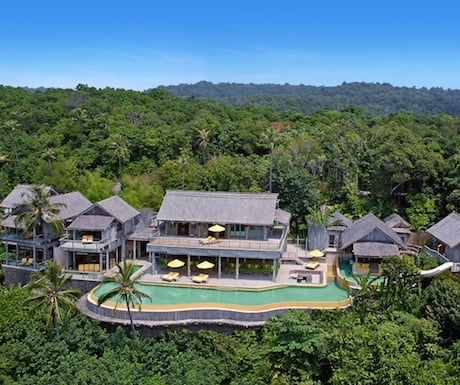 Soneva Kiri is a 4 hour taxi and 1 hour boat ride from Bangkok but if time isn't on your side, make the most of a private plane transfer from Bangkok and you can be in paradise within just a couple of hours. If you're already at Soneva Kiri and want an extra adventure, you can board their very own private plane and fly directly to Siem Reap in Cambodia with your friends and family, where you can explore the remarkable ruins of the ancient Temples of Angkor.
Just outside Nha Trang in Central Vietnam, Six Senses Ninh Van Bay is sat on a dramatic rocky headland.  It has a relaxed, remote island feel despite being part of the mainland and is built using natural and sustainably sourced materials that fit around giant pre-historic boulders and a beautiful sandy beach.
When you're at Six Senses Ninh Van Bay; you never feel far away from nature.
From the moment you arrive in the private lounge to wait for your speedboat transfer, you'll know you are in for a treat; in the distance, over the blue waters of the East Vietnam Sea, Six Senses Ninh Van Bay awaits you. Kayak around the bay or to a secluded private beach 45 minutes away, play tennis, practice yoga, scuba dive or snorkel until your heart is content or just relax on the beach and let your cares drift away.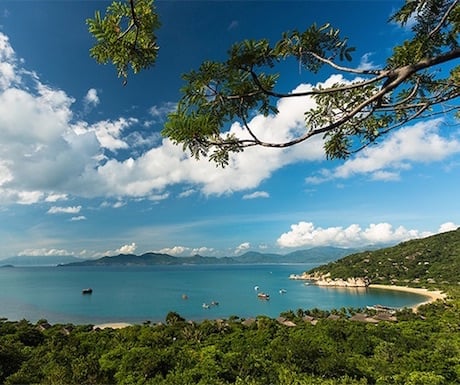 Choose the 2 bedroom Rock Retreat villa with access via private walkway or private boat and enjoy privacy and seclusion, and an expansive decking area with a pool set into the rocks where you can enjoy 180 degree views of the East Vietnam Sea and the mesmerising sunset.
During the day why not book a therapist from the spa to offer treatments in your spa room and then make the most of the direct sea access from your deck and go for a refreshing swim. When night falls, your personal butler can arrange 'in-villa dining' so you can enjoy your meal in your own private dining sala with a bottle of wine from your very own wine cellar.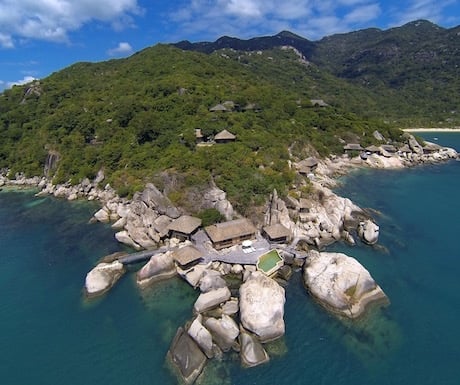 Want more rooms? The panoramic views from the 3 bedroom Hill Top Reserve are breathtaking thanks to it's location. Sat high above the resort, away from it all amidst the jungle and huge granite boulders, this luxury villa offers extreme privacy and is accessible only via off road buggy (with personal driver) or mountain bikes.
Once you've unpacked you really don't need to leave as the villa boasts a fully fitted kitchen with personal chef (available upon request) who can prepare a meal using ingredients from the resort's very own organic vegetable garden. Enjoy your meal, have a dip in the pool then watch a movie on your open air poolside movie screen; sounds like a pretty good way to relax with friends and family doesn't it?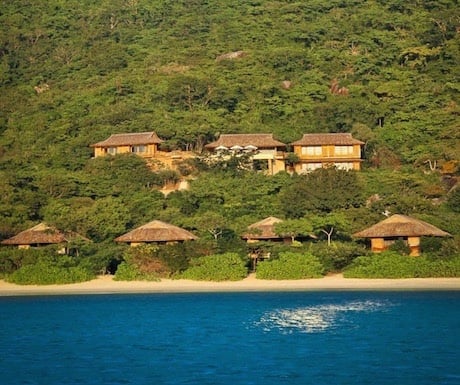 Be sure to visit the award winning and world renowned Six Senses Spa and treat yourself to a day of pampering with one of their trained therapists. For that special evening outside of your villa paradise, make a reservation at 'Dining By The Rocks' where world class chefs will prepare a meal served in an awesome location that you'll remember for years to come.
Marketed as "an oasis of calm and luxury in one of the finest locations on Phuket", Sri Panwa certainly lives up to that billing. Situated on the Southern tip of Cape Panwa it commands far reaching views of the expansive Andaman Sea and offers the ultimate in luxury accommodation in Thailand.
A beautiful selection of villas constructed and furnished with real attention to detail, a cool look and with quality in mind are available to rent and also to buy, meaning this luxury holiday can last for ever if you make Sri Panwa your second home.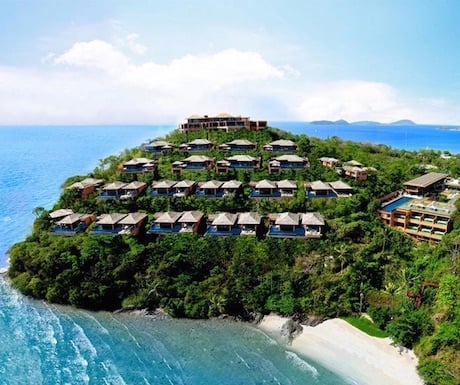 Book a 4 bedroom residence villa and enjoy 1,600 square metres of modern luxury complete with BOSE surround sound entertainment system, a private kitchen and a stunning infinity pool complete with jet stream jacuzzi and incomparable and dramatic views of the sunset over the Andaman Sea.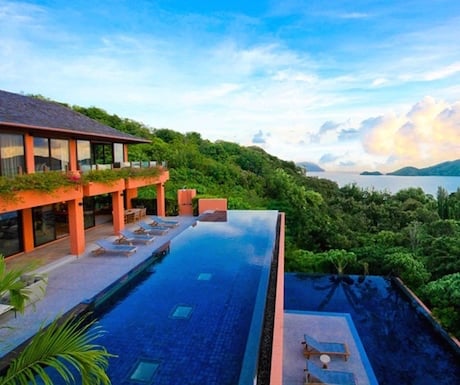 Check in to a 5 bedroom residence villa and enjoy an unparalleled level of accomodation in a stunning location; the master bedroom offers sweeping panoramic views of the Andaman Sea and is fitted out to the highest of standards with the finest linens and furnishings. The outside area, complete with huge infinity pool, is perfect for entertaining your friends and family.
Why not arrange for a BBQ to be prepared on your deck, and let the talented chefs at Sri Panwa amaze you with their skills and serve up a feast of delights inspired by both Thai and International cuisines. All you and your guests have to do is sit back and enjoy watching the sunset over the sea; moments of pure bliss like this should definitely be shared with others.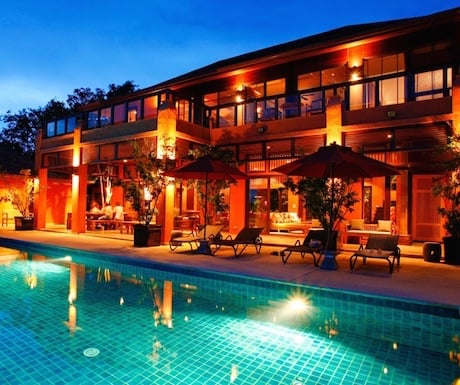 If you can bring yourself to leave the confines of your luxury villa then perhaps you could take a Thai cooking class in their purpose built kitchen? With 6 individual cooking stations, there's room for everyone, but if you're after a more relaxing activity you can always head to the 'Cool Spa'.
Sri Panwa is a place to truly relax in cool luxury style after all.
The Nam Hai is located between Danang and Hoi An in Vietnam, on the never ending Ha My beach. The design of the resort is inspired by ancient feng shui philospophy and the grandeur of the Tu Doc royal tombs, which are situated just an hour to the North in Hue.
With 3 expansive swimming pools, 3 restaurants and a serene spa, The Nam Hai is a seriously good looking resort set amongst beautifully manicured grounds. It's perfect to spend some time with your friends and family; with plenty of activities including early morning meditation and yoga classes with an excellent teacher, working out in the state of the art gym, playing a few sets of tennis or using the mountain bikes to explore the local area.
There really is something for everyone at The Nam Hai.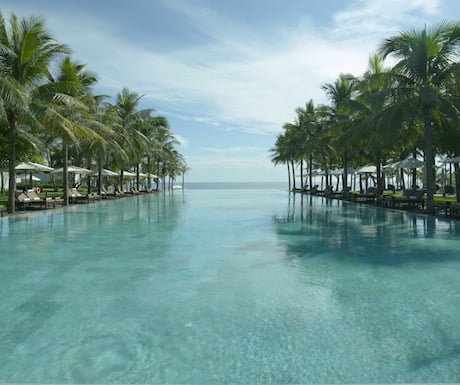 Set within tropical gardens the 4 bedroom Pool Villa is perfect for both relaxing, or throwing a party with your friends and family to celebrate a special occasion. Each guest bedroom is housed within a separate self-contained villa, complete with private bathroom and outdoor garden rain shower. The bedrooms surround a 'pillared living pavilion' and large pool area meaning you get the best of both worlds with a huge space for socialising together as well as individual privacy.
Enjoy complimentary evening canapés and drinks next to your pool before heading out for dinner, either staying within the resort or letting The Nam Hai team transport you to nearby Hoi An or Danang to explore.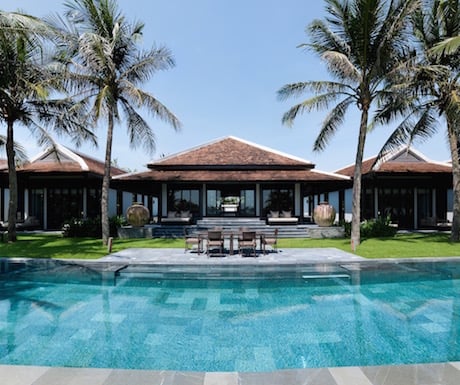 Check in to the largest villa at The Nam Hai and invite up to 30 friends and family to enjoy your enviable position right on the beach. The 5 bedroom beach front pool villa offers the upmost in private luxury and boasts a swimming pool bigger than you often find at your local gym or tennis club.
Spend your days next to the pool overlooking the stunning beach and once the sun has set over the East Vietnam Sea, retire to your dining room and enjoy a sumptuous meal prepared with the finest ingredients. You can arrange to 'follow the chef' and spend the morning exploring the local markets in Hoi An, returning to pick fresh vegetables from the resort's own organic herb and vegetable garden which will all form part of your unique dining experience.
As much as it will be tough to leave your villa in The Nam Hai, don't miss out on visiting the atmospheric and delightful city of Hoi An. If you can manage more than one trip away from your very own paradise then the nearby UNESCO World Heritage Sites of My Son and Hue are also well worth a visit; The Nam Hai offers both the ultimate luxury resort experience as well as the opportunity to get some great sightseeing done.
Each of our '4 luxury resorts where your friends and family can come too' will let you share world class luxury experiences with your nearest and dearest.
Enjoy visiting these amazing luxury resorts where you can all share a little slice of paradise and make memories to keep for ever, spend time with each other, enjoy the peace or go on a new adventure together; you only live once so why not make the most of it with those you love?
Paul Eyers is Founder of Vegan Food Quest.
If you would like to be a guest blogger on A Luxury Travel Blog in order to raise your profile, please contact us.