Mountain gorilla trekking is, for most people, a once-in-a-lifetime experience that offers an opportunity to spend one thrilling hour with extraordinary primates.  Just three countries house these amazing, and threatened, creatures: DR Congo, Rwanda and Uganda. Rwanda's and Uganda's tourism infrastructure is significantly more developed than that of DR Congo and, as a result, they receive the bulk of the gorilla-trekking visitors. Because trekking permits are limited in number and have been increasing in price (current price at time of publishing ranges from $600 to $750 for one permit in high season), it's important to plan well in advance.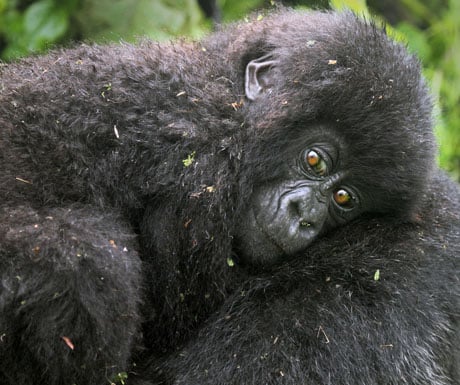 When to book a mountain gorilla trek
There are two main seasons: a wet (low) and dry (high) season. The wet season sees more rains and is generally from March through May and again from September through November. The dry season runs from December through February and again from June through August. It is no surprise, then, that the vast majority of visitors frequent Bwindi (Uganda), Volcanoes (Rwanda) and Virunga (DR Congo), during the high season. But, along with the comfort of drier socks and better vistas comes the necessity to book much further in advance and pay higher lodging fees.
Why Bwindi in the low season is the way to go
If you've dreamed of seeing the mountain gorillas and are in good physical condition, you may want to consider visiting during the low season. Why? For starters, Bwindi is home to roughly half of the 800 mountain gorillas left in existence. The remaining gorillas are spread across Mgahinga (Uganda), Volcanoes and DR Congo. Bwindi also offers significant discounts on permits issued during the low season. A $600 permit will run you $350. Same goes for lodging: you'll get the same luxury accommodation for less and, most probably, the overall price of your tour will be lower. And, while it's true the trekking conditions are more treacherous when the conditions are misty and wet, it's also true that the gorillas often are not as far away, since they've an abundance of food during the rainy season. This means you won't have to trek as far to see them. And, as an added bonus, the low season is also an excellent time for spotting migratory birds.
In summary, a visit to Bwindi in the off-season is an excellent way to experience mountain gorilla trekking without the crowds, and without paying full price. Just be sure to bring your waterproofs and some extra socks!
Javier Luque is a Co-Founder and Director of Your African Safari.
If you would like to be a guest blogger on A Luxury Travel Blog in order to raise your profile, please contact us.