The earliest settlements in Ireland's capital can be traced as far back as 140 AD. Not much remains of Dublin's history prior to 1204. After that time, however, much of the city's rich medieval traditions and heritage can still be found in their remarkably well-preserved architectural landmarks. Here are three that shouldn't be missed.
1. Trinity College and the Book of Kells
Trinity College was founded in 1592 as part of the University of Dublin and is the oldest university in Ireland. Most visitors to Trinity College journey there for one reason – to get a view of Ireland's "finest treasure," the Book of Kells.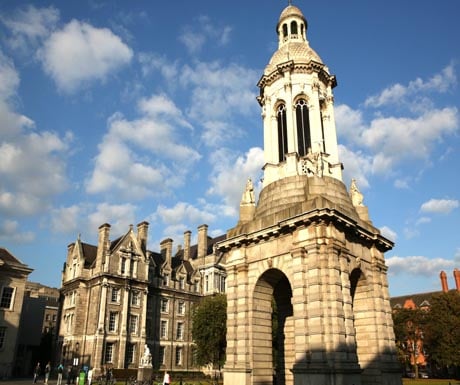 The Book of Kells is an illuminated manuscript created around 800 AD, featuring the four gospels of the New Testament as well as some other material. Most of the text is from the Latin Vulgate. For hundreds of years it was kept at the Abbey of Kells (44 miles from Dublin), hence its name. Since 1654 it has been in the keeping of the Trinity College Library.
The current Old Library is an 18th century building which houses more than 200,000 books. The Book of Kells is on display as part of the "Turning Darkness into Light" exhibition. Cost to enter the exhibition is €10. A tour of the campus of Trinity College is also offered, featuring the Douglas Hyde Modern Art Gallery, the Geological Gallery, and the Science Gallery, "a unique exhibit where ideas meet."
Over the centuries the book has been rebound several times – the latest being in 1953 and consisting of four volumes. Each book is 12 inches long by 9 inches wide. Only two of the books are on view at any one time – each of them kept under glass to protect the fragile pages.
It's also possible to see a facsimile of the books at Trinity College's website: http://digitalcollections.tcd.ie/home/index.php?DRIS_ID=MS58_003v (Make sure you give the images time to load completely.)
2. Christ Church Cathedral
Christ Church Cathedral is the oldest of the two cathedrals in Dublin, founded in 1030 AD., and it is still used for services to this day. It is no longer solely a Roman Catholic Church, but is rather Anglican, and welcomes people "of all faiths, or none." You can attend services if you desire, or purchase tickets for a guided tour of the cathedral at specific times of the day.
Christ Church Cathedral is steeped in history, of course. Recently, Richard III has been in the news, with his bones being discovered beneath a carpark in Leicester, England (near Bosworth Field, where he was killed in 1485). Christ Church Cathedral has a connection with Richard III, because in 1487 (two years after Henry Tudor came to the throne as Henry VII), Lambert Simnel was crowned here as "King Edward VI." The ten-year old boy was being passed off as one of the Princes of the Tower – the sons of Edward IV who were supposedly murdered by their uncle, Richard III (according to Shakespeare).
3. St. Patrick's Cathedral
St. Patrick's Cathedral is about 150 years younger than Christ Church Cathedral, having been founded in 1191. The original church on this site was built in honor of Ireland's patron saint. The building that stands there today dates from 1220.
Like Christ Church Cathedral, St. Patrick's is now part of the Anglican Church and welcomes people of all faiths for worship for its services, which are held daily. Tickets must be purchased for a guided tour of the building, after services are over.
The Cathedral possesses an impressive number of stone memorials, busts of significant individuals in Irish history and crosses, which date from the tenth century onward.
Check ahead for closing times
Both St. Patrick's Cathedral and Christ Church Cathedral also offer concerts at specific times throughout the year. The music is not always of a religious nature.
Check each cathedral's website to find out what events are on offer (and on what days the cathedrals are closed to all visitors – there are a handful of these throughout the year.)
Getting to and around Dublin
Several airlines – United, Delta, US Airways and of course Aer Lingus – fly from the United States into Dublin Airport. Once at the airport, there's plenty of public transportation to get you into the city itself, or of course you can rent a car. (Just remember that the Irish drive on the left, that unleaded "petrol" comes out of a pump with a green handle, and that many gas stations in rural areas do not take credit cards.)
Where to stay
There's hundreds of hotels and bed and breakfasts in Dublin, of course. It's a city of about a million people, but it has lodgings for millions of tourists, too! The Shelbourne Dublin is a luxury hotel situated quite close to our three pilgrimage sites, and it is easy to walk to each of them from this location.
It is a beautiful luxury hotel in Ireland's City Centre, operated by Marriot, and is almost 200 years old, but was completely refurbished in 2007 and has every modern convenience expected today by international travelers.
Rooms range from Double Doubles (two double beds) to Heritage Park View (overlooking St. Stephen's Green) to two-bedroom suites. Have tea in their Lord Mayor's Lounge, or dine in the elegance of the Saddle Room. Reservations are needed, but you can always drop into the No. 27 Bar & Lounge or the Horseshoe Bar for a nightcap. And don't forget to treat yourself to a couple's massage at the Luxury Spa at Shelbourne.
Go for a soothing walk through the adjacent St. Stephen's Green, a 22-acre park which is over 130 years old. There are several busts and statues placed throughout the park commemorating notable people and events in Irish history.