Thailand is rightly famous for massage. On the street, on the beach, in the night markets – massage is available everywhere. In tourist areas it is difficult to walk down the street without being accosted by Thai women desperate to manipulate your pressure points (in the nicest possible way). Thai massage, influenced by Indian, Chinese and Southeast Asian medicine, combines passive stretching and gentle – or sometimes firm – pressure to relieve muscular and joint tension, stimulate the internal organs and balance the body's energy system.
Traditional Thai massage is "dry" and can be vigorous. Clients usually lie on a mattress on the floor wearing loose clothing, and masseurs can stand on them to get better leverage for stretching the shoulders.
Luxury spas often combine oil massage with Thai techniques on Western-style massage beds. Aromatherapy is quite advanced in Thailand – that lovely fragrance on entering a Thai spa is most likely to be lemongrass, an essential oil produced locally that has beneficial diuretic and analgesic properties.
Massage is part of Thai culture and quality spas in the Thai capital are now very sophisticated, offering a range of treatments targeting different body areas, using therapeutic aids such as hot stones or herb balls (heated compresses to relieve stress and improve circulation). My first massage took place 20 years ago in Thailand, at a small resort on Phuket, and it was the start of an addiction to the feeling of lightness and tension relief that accompanies a skilful massage. Sightsee and shop in the morning, lunch lightly, and in the sweltering afternoon retreat to a spa for a perfect Bangkok day.
This award-winning spa has a theatrical, multi-storey reception area that is almost worth a visit in itself. The impeccable treatments are chemical free (the first in Thailand) on massage beds with adjustable height to ensure therapists can focus their energy on soothing stressed muscles. The surroundings are exquisite: this'urban luxury resort' occupies a prime riverside site and the hotel was designed to evoke Bangkok's Art Deco era. After a treatment stay on for some elephang dung coffee and high tea in the cafe, or sample wonderful Thai food at Chon, the hotel's riverside restaurant housed in three century-old teak dwellings. Book ahead and take the resort's private boat from Saphan Taksin pier to enjoy a 30-minute trip along the city's Chao Phraya river to The Siam's private pier.
As its name suggests,this spa is set in a tranquil pocket of colonial Bangkok with lawns and ponds and ancient trees. Treatments take place in small private villas, and those on the ground floor have outdoor rain showers. Drawing on Lanna (13th to 18th century northern Thai kingdom) traditions, the atmosphere is a gracious blend of timeless Thai hospitality and modern amenities. Treatments include facials, hot stones and herb balls, and some include special attention for the stomach area, which can help restore harmony to the digestive system. There is a free shuttle service to Phrom Phong BTS station.
The stylish Sofitel So Bangkok draws on French savoir faire and "urban design" to create an environment based around the Five Elements – Water, Earth, Wood, Metal and Fire – and this concept flows into the monochromatically contemporary So SPA. The Serenity of Five Elements treatment starts with tapping on acupressure points using a mallet (wood), vibrating the body's meridians to "free stuck energy". The other elements are incorporated using energizing ginger oil (water), hot herbal balls (earth and fire), and metal balls for balancing. The extensive menu also includes an upper body massage for those who hunch over keyboards. With verdant views of Lumpini Park, tres soft beds and great staff, So SPA is anything but so-so.
Panoramic views of central Bangkok and nature-toned luxury distinguish the Okura Spa, found on the 25th floor of the glossy Japanese-owned Okura Prestige hotel. Drawing on principles of acupuncture, the 'Ta-ke Relief' signature treatment is a deep tissue oil massage using heated Japanese bamboo rods, combining pressure and warmth to relieve muscular tension. Go early to enjoy the steam and sauna facilities before the attentive staff bring the flower tea.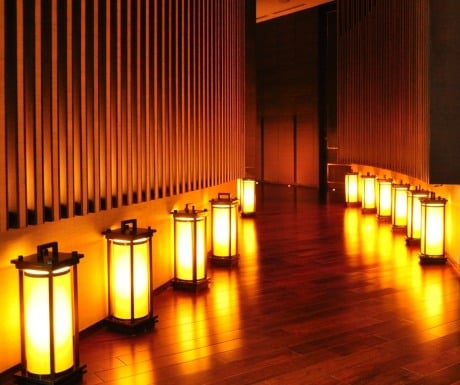 If yearning for a bespoke treatment, the Breeze signature "mood massage" offers an array of outcomes – serene, dreamy, invigorated, rejuvenated or energized – matched with music, while the client chooses pressure, oil and body areas on which to focus. Each choice and its benefits, (calming, lymphatic drainage, hot stones) is explained so the indecisive might allow extra time to choose. True to its name, this spa (part of the Thai-owned Amari Watergate Hotel) is airy and contemporary, with immaculate treatment rooms and very comfortable beds. There is even a Breeze-hued macaroon at the end so tastebuds leave on a high too.