Spain has become famous for its avant-garde, molecular gastronomy. Yes it is amazing but honestly, I often find it overwhelming and strange. Many times, I want something simple and comforting. This is why I personally love Spanish food-Spaniards have spent centuries crafting the perfect snack. Officially known as tapas, here is a quick guide to arguably the five most common, and a few personal recommendations. I'll start with the most basic:
Tortilla de patatas
The traditional Spanish tortilla originates from Navarra. The simplest version is made of eggs, potatoes, olive oil and salt. No traditional Spanish Sunday meal or early breakfast would be complete without it. I often have it for dinner. Most contain onions (according to many Spaniards they are not necessarily a prerequisite to preparing a good tortilla, but I think they enrich the flavor), the more creative ones also contain ham, chorizo, cheese, mushrooms or even spinach. The best tortillas have a rich, creamy texture when sliced. The Asador de Pollos Navarro is a small chain in Madrid that sells excellent tortillas and roast chickens to go (para llevar in Spanish). They don't have a website but type the name into Google and the locations will come up.
Pinchos (or pintxos in Basque)
These are typical snacks originating from the Basque Country and Navarra, but now common throughout Spain. They are small slices of bread topped with raw or cooked fish, tortilla, stuffed peppers, croquetas, baked or fried vegetables, ham (jamon in Spanish – you'll learn that word immediately in Spain) or other meats. They are typically fastened with a toothpick, which gives them their name pincho, meaning spike. Depending on the bar or restaurant, pinchos can be very creative and sophisticated, sometimes even resembling small art forms. My favorite place to eat them is in Madrid, at La Musa de Espronceda. Once again, no website but you can find them in the Lavapies neighborhood. Calle de Santa Isabel, 17.
Salmorejo Cordobes
This is a sibling of gazpacho. The difference is it is prepared on a base of bread which gives it a somewhat thicker texture. Served cold with boiled egg and/or ham on top, it is a perfect dinner option during the hot summer months. The best versions of Salmorejo can be found in Cordoba, which is where the soup originates.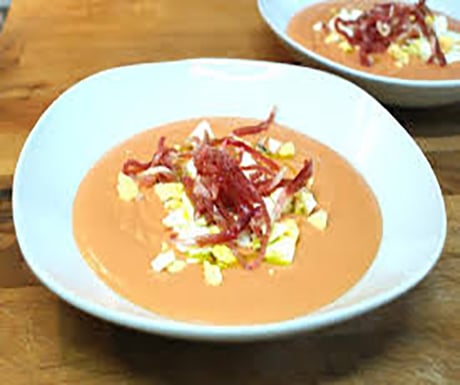 Morcilla de Burgos
Perhaps not everyone's top pick (or a matter of acquired taste), this dish reminds me of the year I lived in Poland, where a very similar version is a popular staple. It is blood sausage mixed with rice and fried until the texture becomes somewhat creamy. There are many different types of Morcilla found in different parts of Spain (some with and some without rice). However, the one from Burgos is my favorite because the rice gives it a somewhat firmer texture.
Croquetas
I wasn't a fan of these at the beginning, but that's because I started with a few bad ones. Put simply, they are some type of filling, rolled in breadcrumbs and fried. The filling is the key- it often contains a béchamel sauce. I adore the ones with bacalao, mashed potatoes or ham and cheese. Croquetas are probably the most popular snacks in Spain, and are almost always consumed with a cold beer. To get a flavor of real Spain, a visit to a local bar or tavern specializing in croquetas is a must.