Mention of the South of France conjures up numerous images, many featuring yachts, casinos and fast cars. Whilst these are undoubtedly hallmarks of the landscape, what often goes unmentioned are the many spectacular and world class natural resources and landmarks that can be experienced, the majority an easy day trip from the popular seaside resort town of Arcachon.
It's difficult to visit the Arcachon Bay area without a sightseeing trip to the Dune du Pyla, Europe's largest sand dune and one of its quirkiest tourist attractions. It's nearly 3km long. Although the height to the summit varies, at any point the climb is pretty gruelling, but the views from the top make it all worthwhile. Viewing the sunset from this vantage point is particularly unforgettable.
For ornithologists, the Banc d'Arguin at Dune du Pyla provides the starting point for a sailing excursion to the aptly-named Île aux Oiseaux. Tern, redshank, curlew and other species call this place home and it's a popular local choice for a picnic. For rarer species, from spoonbills to little egrets, on a grander scale, Parc Ornithogique du Teich showcases over 250 varieties of birds and is globally renowned in birdwatching circles.
The biggest draw of this stunning locale has to be the coastal scenery, and in the summer time, cycling is the most pleasant way to take the sights in. Dedicated cycle lanes connect all around the Bassin d'Arcachon over to Cap Ferret. Inland is possibly even more appealing for cyclists as cycle paths run all through Les Landes, Western Europe's largest forest which runs the length of the Arcachon coast. It's a natural park and area of outstanding beauty which provides a stimulating contrast to the beach.
Each of the resort's four main beaches, the Plage Pereire, the Plage d'Arcachon, the Plage d'Eyrac and la Plage des Abatilles, is sandy and well-maintained. Although there are many sophisticated dining spots and elegant villas in Arcachon, this is also a consciously family-friendly place, and the beaches cater to all needs from bucket and spades for toddlers to surfing lessons for teens. The Arcachon surf school runs introductory courses but is also well-equipped for intermediate and advanced surfing skills classes. Though some of the ocean waves in the area can become very dramatic, Arcachon itself is largely sheltered and perfect for swimming and paddling. France's second largest lake, the Lac de Cazaux, is just 10km from Arcachon too.
It's not necessary to venture outside Arcachon to enjoy green space. The Parc Mauresque is popular with residents and visitors alike, and includes a sweet children's play area and an elevator for ease of access.
Arcachon has its own small zoo, with a good mix of exotic varieties such as lions and giraffes with more familiar farmyard friends such as goats which can be hand-fed. Another easy way to get close to the fauna of this region is a visit to the Aquarium et Musée in Arcachon, where various local fish are on display in tanks. For a more proactive approach, sports fishing is a growing industry in this part of the world, with a number of different providers offering the chance to catch sea bass, tuna, pollock and even conger eels.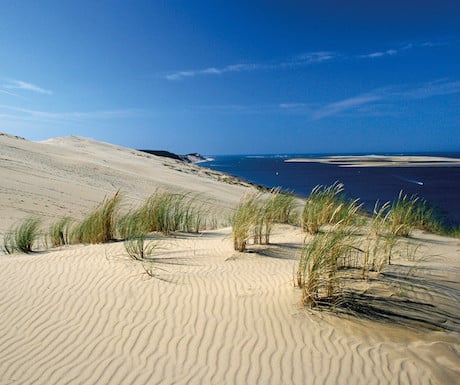 The most celebrated local aquatic feature, however, has to be Arcachon's world-famous oysters. With provenance and farm to fork never more on-trend than they are now, the popularity of trips to see where food comes from is exploding. The oyster beds are a fascinating example of this. Many boat trips offer the opportunity to sail around them and get close up to their cultivation. After an intensive day by foot and cycle exploring Arcachon Bay, there is no more authentic, and idyllic, way to unwind than with some oysters and a crisply chilled glass of Sauvignon Blanc.
Paola Fiocchi Van den Brande is Director of Passepartout Homes Ltd.
If you would like to be a guest blogger on A Luxury Travel Blog in order to raise your profile, please contact us.