150 years ago this summer, on 14 July 1865, 37 year old French mountaineer, Michel Croz, attached his blouse to a tent pole. Holding the pole aloft, with his shirt snapping and crackling in the wind, the world below bore witness to a remarkable feat: the Matterhorn had finally been conquered.
But triumph soon turned to tragedy. Out of seven men who reached the summit on that day, including renowned British climber Edward Whymper, only three made it home alive. Croz was not one of them.
Yet, six generations on from that fateful summer, the Matterhorn continues to draw climbers to its unforgiving slopes. However, if like me, climbing this beast of a mountain makes you break out into a nauseous cold sweat, there are other ways to experience the grandeur of this corner of Switzerland without risking life and limb. Here's a few suggestions how:
Autumn: go hiking
Mountains and hiking go together like milk and honey or, since we're in Switzerland, fondues and cheese. I know: technically speaking you can hike in Holland, but to me hiking implies some effort. It needs a landscape of slopes and a zigzag of mountain trails. Zermatt offers this in spades. And then some. There are 250 miles (400kms) of hiking trails to suit all appetites and abilities. 'Go high or go home', as they say, or drink in the dazzling views at a more leisurely pace: the choice is yours.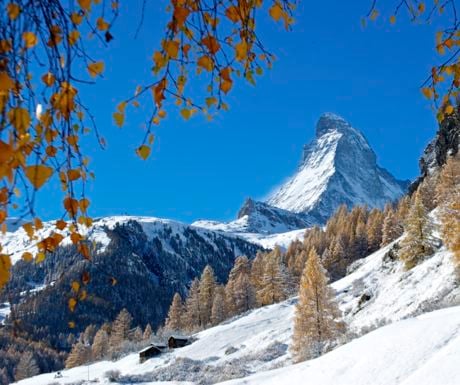 For me, however, the highlight has to be an autumnal trek in Zermatt. During these months, the summer tourists have dwindled away and the town catnaps as it awaits the influx of winter skiers. Nighttime frosts and crisp mornings paint the larch trees a startling golden yellow hue and when der erste schnee (the first snow) finally arrives, the two seasons begin their battle in earnest. We all know who wins in the end, but it's fun to watch the ebb and flow of this elemental campaign as the nights start to draw in. So grab a map, shoehorn your feet into some boots and check out the Zermatt website for details of hiking trails in the area.
Winter: go skiing
Zermatt may be in German-speaking Switzerland but south of the village, on the sunnier side of the Matterhorn, German gives way to Italian, rosti to pasta, and Teutonic efficiency to la dolce vita. Whilst the skiing on the Swiss side of the mountain is world beating, sometimes the heady decadence of skiing in two countries in one day is just too appealing.
Don't fret though. You don't need to polish off your ice axe and crampons to get there, just buy yourself a ski pass: the 'Ski Pass International'.
Before you get out your credit card, however, there's a few vital things you need to know: don't forget to take your passport and, if you have them, a handful of euros. Above all, keep a keen eye on the time—think more Swiss levels of timekeeping than Italian. If you miss the last lift back over to Zermatt, it's a whopping 140 miles (225 kms) to drive between the two resorts. When the lifts are shut, they're shut.
Spring: go ski touring
The longer days of spring are peak season for ski tourers, many of whom head to Zermatt via the 'Haute Route' ('High Route') from that other capital of mountaineering, Chamonix in the French Alps.
Admittedly, the concept of ski touring, or ski mountaineering ('skimo') seems to be counterintuitive. Skiing up a slope does look as though gravity is being resisted in the most painful way possible: as futile, say, as trying to amble up a down-escalator or canoe up the Niagara Falls (my recommendation? Probably best not to try either).
In any event, there's no doubt schlepping up the hill can be tough. The pace is stately, not brisk. Fitness, stamina and being able to take instructions from a guide is essential, as is a head for heights. But if you can master these, so much more of the mountain is yours: both the ups and, more importantly, the exhilarating downs (and Zermatt certainly doesn't skimp on the latter). Why not hire a guide and give it a go?
Summer: check out the 150th anniversary events
Is reading about these activities are making you tired?
Fortunately, you don't need to break into a unseemly sweat to enjoy the stunning mountainscape around Zermatt. Summer is the time to take it easy. Perhaps take a sightseeing flight around the Matterhorn by helicopter or join in one of the commemorative events that are taking place this Summer?
Local writer and priest, Paul de Chastonay, once wrote, 'thoughts of the Matterhorn, are thoughts of eternity'. He wasn't wrong. This iconic mountain is one that you can never forget. So if you still have some holiday entitlement left and haven't yet booked any time off, I can't think of a better time to head to this alpine gem.