A lot of people who come to Zermatt for the exceptional skiing and the stunning scenery will choose to stay in a chalet. There's a lot to be said for staying in a chalet – your own private space, the freedom to choose, come and go when you please, especially if you self-cater. But sometimes a well chosen hotel can offer something a little different. Here are my three favourite luxury hotels in Zermatt.
Located right in the heart of Zermatt, which, being a compact resort means everything is in easy walking distance. The Backstage is something a little different and is uber contemporary and original. Conceived and created by Heinz Julen. Heinz was born and bred in Zermatt and is steadily gaining world wide recognition for his artistry, skill and vision.
The Backstage is certainly a hotel with a vision, unlike any other  in the Alps. The Backstage is more that just a hotel, it's a hub of culture and creativity. Within it footprint is The Vernissage, a public cinema that shows art house films and the occasional blockbuster, The Vernissage Bar that is widely regarded and one of the best and most chic bars in town and the Vernissage Club that hosts concerts and is a leading venue when the Zermatt Unplugged festival comes to town, every year, in early April.
How many hotels can say they have an art gallery? The Backstage can, with original works for sale as well as on display. The hotel also boasts a Michelin starred chef who's passion for food matches Heinz's passion for art and design. The Backstage is a lifestyle statement and there's a frisson of excitement for me every time I enter its beautifully executed interior.
You definitely feel you're somewhere special in the Backstage and that feeling rubs off and enhances your well being. Of course, if you like chocolate box traditional you're in the wrong place, but after all Zermatt is a cosmopolitan resort and the Backstage perfectly reflects the fact. The hotel wouldn't be out of place in New York, Amsterdam or Paris.
The estate agent adage, Location, Location, Location couldn't be more apt than for the Cervo. It's setting is stunning. Nestled amongst snow dusted pines, on a steep hillside, the Cervo is far enough away from the heart of Zermatt to feel apart yet near enough to still be able to easily access all that this beautiful resort has to offer.
Approaching the hotel, especially when the sun has gone down is almost magical and fairytale like experience. Beautifully lit, the hotel looks warm and inviting and ready to embrace all it's guests with a cosy, welcoming glow. Interiors are important to me and I always feel a little taller when I enter somewhere special, I get this feeling walking into the Cervo. Finished with flair and imagination the Cervo marries the traditional with the contemporary to pleasing effect.
The rooms are havens of comfort and style, the food is delicious and satisfying without being fussy and over ambitious and the staff seem to love love being in the hotel as much as the guests. It can get a little noisy in the daytime as the outside terrace hosts DJ's and singer songwriters. It can get packed with skiers enjoying the music and the drinks but I like this aspect, it's a happening place with a buzz. If you seek peace and quiet and like to keep yourself to yourself perhaps the Cervo is not for you but that would be a shame because the terrace activities are a minor inconvenience, especially as you'd probably be out on the piste in the day time anyway. I love the Cervo, it's a feather in Zermatt's cap and even if I don't stay there, it's never too long between visits, either for a mingle on the terrace or a great meal in the fabulous restaurant.
This hotel wouldn't normally be my cup of tea but I have to respect it adherence to old school Swiss style and charm. The Riffelalp rooms are paneled in beautiful carved light brown Swiss chalet style pine wood. The night tables, writing desk and commode are reproductions of old furniture done with upmost good taste. Walls are covered in fabrics that match the sofas and curtains, modern it isn't but charming, it most definitely is.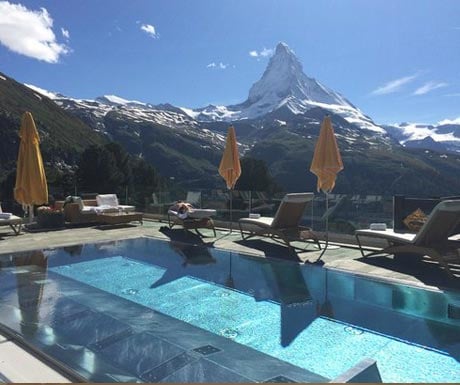 A word of warning, the hotel is half way up the mountain and the last train from Zermatt is well before midnight, so if you want a night out in town you're stuffed. Having said that, the hotel has all you could need otherwise and it's on the slopes so is ski-in ski-out. The hotel enjoys magnificent Matterhorn views and is set in it's own little world. Not exactly remote but far enough away to feel apart from the hustle and bustle and the queues of the town below.
The Riffelalp is an exceptional five star hotel with a deserved reputation for fine dining, top notch service and the finest Swiss hospitality. The Riffelalp works extremely well all year round as the many summer mountain trails are on the doorstep and easily accessible. The hotel boasts a heated outdoor pool and spa area, perfect for all seasons. Staying here was a pleasant change for me, peace and quiet at high altitude away from the worries of the world.
Rebecca Taylor is Director at SkiBoutique.
If you would like to be a guest blogger on A Luxury Travel Blog in order to raise your profile, please contact us.