Italy's southern heel may be considered one of the country's most resplendent hidden gems – however when it comes to activities, attractions and experiences, the region is overflowing with options. Whatever the interest, there really is something for everyone! Want to know more? Read on for our insider's guide to some of our absolute favourites.
Cycling
Puglia is famous for its spectacular scenery and there's no better way to soak it all up than on a leisurely ride through the countryside. Stop off at charming fortified farmhouses, country villages, cone shape trulli houses, beautiful beaches and working farms along the way – all while soaking up the dramatic Adriatic coastline. Gargano National Park is another lovely place to explore trails, lakes and plenty of cultural sights by bicycle or even on horseback.
Hiking
Love to get outdoors, stretch your legs and work up a sweat? Italy's south offers an abundance of wild hiking and trekking trails that take adventurers into the heart of the region. Alta Murgia is a National Park which stretches from the edges of the Adriatic Sea to the uplands of Lucania, and is perfect for day hikes as there is lots to discover. For more experienced hikers, you can join a guided walking tour (or set out alone) along the East coast of Italy's boot, starting at Otranto.
Golfing 
Golf aficionados will revel in the chance to tee off at world famous golf courses such as San Domenico and the Acaya Golf and Country Club. The world class courses are wonderfully uncrowded and accompanied by fantastic weather, gorgeous views and mouth-watering post-game food. San Domenico is also home to the PGA European Challenge Tour Grand Final, giving holidaymakers the chance to tee off at a championship course.
Cooking 
The Puglia region is famous for its 'Cucina Povera' cuisine which is steeped in seasonal ingredients, hearty recipes and rich flavours. Lecce is a town at the heart of a nation famous for its food, which is why it is renowned for its cooking schools. The region is virtually self-sufficient, sourcing locally the juicy olives, handmade pasta, vibrant vegetables and Mediterranean olive oil which are the staples of Puglian cuisine. Visitors to the Puglia region can take part in private cooking classes and uncover a wealth of regional delights. The Mozzarella Masterclass is one of our personal favourites for this Summer!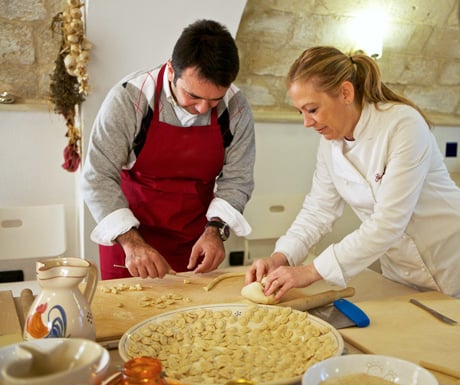 Beaches
For those who want to take it slow and relax or take part is adrenaline-fuelled water activities, Puglia is blessed with multiple Blue Flag status beaches that dot the pristine Mediterranean coastline. The calm waters are perfect for splashing around with the little ones while the sheltered coves make the stretches of sand ideal for sunbathing and picnics – some bays even attract surfers. Puglia has over 800km of coastline, and 5km of that is attributed to Pescoluse, also known as the Maldives of Puglia. Further up the West Puglian coast you'll find another pristine sandy beach, known as Rivabella – an essential stopover when visiting Gallipoli.
Indulging
There's no place on earth quite like Puglia when it comes to indulging in delicious food, fine wine and fabulous weather. The surrounding scenery is stunning while the entire region is peppered with beautifully appointed luxurious private villas featuring swimming pools, terraces, gardens and more.
Seafaring
The sparkling Adriatic Sea is the perfect place to set sail on a luxury private yacht that will whisk passengers away to hidden beaches, secluded coves and secret grottoes. One of Puglia's main natural attractions is a collection of caves – the Grotte di Castellana, located a few kilometres from Alberobello. We also have a stunning villa which is situated right above one of the region's famous caves, Zinzulusa and Romanelli caves, making the caves and other wonders of the sea easy to explore on your doorstep.
Of course, we've only managed to cover a snippet of what's on offer. To really appreciate the incredible diversity of Puglia you'll need to visit yourself, and continue to return year after year to ensure you take part in them all!
Chiara Tenuzzo is Director of Aria Luxury Apulia.
If you would like to be a guest blogger on A Luxury Travel Blog in order to raise your profile, please contact us.