A finely sculpted tiramisu of King Crab is the perfect delight for seafood lovers seeking a mix of sweet taste of desserts. This very delicacy reflects the professionalism and enthusiasm of the chef who precisely designed it in a way that it is appealing and mouth-watering to even vegans. High in protein and exotic in presentation, this dish contains over 15 different ingredients.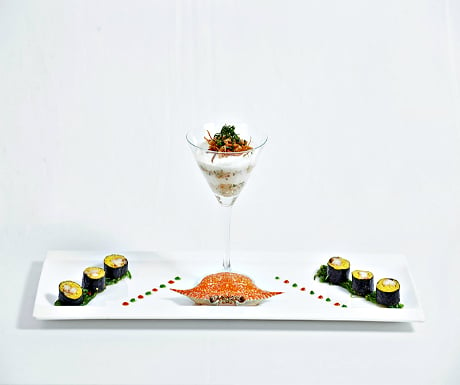 Ingredients
Rock lobster sushi
2 x sheets of yaki sushi nori
30g of sushi rice
2g saffron powder
20g onion
80g rock lobster tail
5g fresh ginger
Tiramisu of king crab
4 pieces of king crab boiled for 15 minutes with shell
40g carrot
40g onion
20g coriander
10g ginger
80g coconut milk
4 pieces of yellow lemon for zest and juice
10g of coconut powder
80 g of mascarpone cheese
Directions
Rock lobster sushi
Cooking time: 3 minutes, preparation time: 30 minutes
In a small saucepan, pan-fry 20g of onions and 5g of fresh ginger with olive oil after dicing them into small cubes.
Add 30g rice and 2 saffron to a cooking pot and fill with water while cooking at a low fire (Water should be 1cm above the top).
Adjust the seasoning according to taste (salt and pepper).
Cook the 80g of lobster tail in a non-stick pan with salt, pepper and olive oil.
When all of your ingredients are cold, apply rice on three quarters of the yaki sushi nori sheet.
Next, place the lobster in the middle of the rice and roll with a sushi mat.
Gently add water at the end of the seaweed.
Refrigerate for one hour, cut into slices and present on a bed of seaweed.
Tiramisu of king crab
Cooking time: 15-20 minutes, preparation time 30 minutes
Gently separate the meat and reserve the crab shell for decoration (Caution: Do not leave small pieces of shell in the crab meat )
For the mascarpone cream:- Mix 80gr. of mascarpone cream with 80g of coconut milk, lemon juice and zest until it is in fluid form. Ensure that it does not transform completely as a liquid. Place the concoction in the fridge.
On a big cooking pan, pan-fry 40g of onions, carrots, 10g of ginger finely chopped.
Add 120g of King crab meat along with 80g of coconut powder to the pan.
Let it simmer for a while. Later, add 80g of coconut milk and the refrigerated concoction.
Cook for 20 minutes and towards the end, add 20gr. of chopped coriander. Adjust seasoning according to taste (salt & pepper).
Let all the ingredients cool down and then place the tiramisu in a cocktail glass in the following order:
First, add 1 layer of crab meat followed by 1 layer of the creamy mixture. And follow the same procedure again by adding another layer of crab meat and a layer of the creamy mixture.
Refrigerate the dish for an hour. For garnish, one can add deep fried shallots and basil.
Thank you to Mr. Cedric Combe, Executive Chef of Dokbua Restaurant in Maikhao Dream Villa Resort and Spa, Phuket, for the recipe.
If you have a recipe you would like to share with  A Luxury Travel Blog's readers, please contact us.