Spain has 4,964 kilometers of coastline and between 150 and 300 days of sun, depending on where you are on around the peninsula. Not all beaches were created equal in Spain, many are rammed with people lying about like sea lions in front of miles and miles of unattractive hotels and out dated apartment buildings.  To discover the unspoiled paradises you so crave for a beach vacation you will need to adventure away from the big coastal towns.  Get away from Barcelona and Malaga and make your way to cool-water sandy beaches in the north, the rock covered "calas" in the islands, or to the pine covered dunes in the south; for this is where you will discover the best beaches in Spain.
I prefer low occupancy, beautiful, isolated beaches that are worth going the extra mile for.  I know in august most every beach is busy in Spain but there are still several special spots that are not over crowded and even give you a sense of awe. If you like the idea of exotic my favorites are in Mallorca and Menorca and if you prefer the long expansive stretches of a white sandy beach you can walk for hours stick to the mainland. So with that said here are some of my favorites beaches across Spain.
Calo des Moro, Llombars, Mallorca
This little inlet has blue crystalline water like I have never seen in Europe, it was a complete surprise.  Of course I found out through my local friend who said don't tell anyone. At the time I had visited I could safely say there were only locals there.  The calo is tight on space but the sand is like powdered sugar which you really do not see much in Spain.  The peninsula is big enough to go for a hike with a  few coves to swim to and a good spot to rock climb and dive.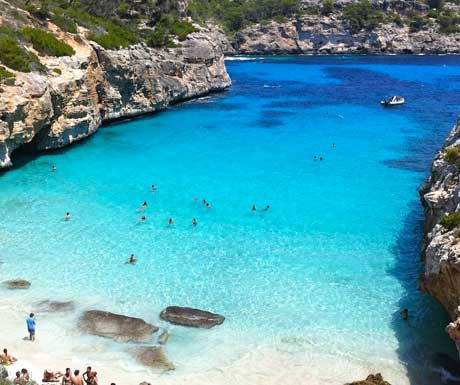 Cala Macarelleta, Menorca
The walk to get to this beach is almost as beautiful as the beach itself. The trail from Galdana to Macrella makes its way along the edge of the cliffs in some spots and then jags into the pine forest. There are a few look out points with panoramic views that should not be ignored along the trail. Walking to this cove for the first time it feels like a secret almost, like you are making your way to a little secret cove that is totally exotic.  Upon arrival it does not disappoint, the water is a spectacular turquoise that I have only seen in the Caribbean.
Playa Bolonia, Tarifa, Cadiz
Those who know of this beach in Cadiz almost all agree it is one of the most beautiful beaches in the Mediterranean.  A few miles north on the Atlantic coast Bolonia is a beautiful wide, sandy stretch of beach that plays host to its own Roman ruins.  Towards the north end it rises into high dunes that are slowly taking over a pine forest that borders the water.  The view from the top looks down beach spotted with wind surfers all the way to Tarifa and Africa beyond.  Its a special place in the sun at the outer limits of the European continent.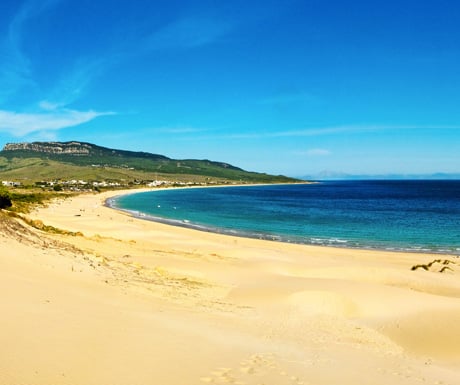 La Concha, San Sebastian, Basque Country
The only beach on my list that is in a city.  Famous for its perfect crescent shape, this beach lies directly in front of San Sebastian and since San Sebastian is really not a big port town the water is clean.  Great for walking at low tide it is a perfect little beach for a perfect little town.  If you want to surf just walk ten minutes to San Sebastian's other beach, Zurola where you can watch the surfers or give it a go yourself.
Playas de las Islas Cíes, Vigo, Galicia
On an island In the far north western corner of Spain just off the coast from Vigo, these beaches have been voted some of the most beautiful not only in Spain but all of Europe. The islands have nine beaches, the most famous and picturesque being Playa de Rodas. The only accommodation is a campsite so id you want to go lux skip the ferry and rent a boat and hop beach to beach.
Playa de Cofete, Fuerteventura, Canary Islands
An epic 12 kilometers of wild beach between the Jañdia Mountains and the atlantic ocean on the island of Fuerteventura, this beach is the most beautiful of all the canary islands. Located within a national park there are no mega hotels or tourist hoards to interrupt your view. The Canary Islands are a three hour flight from Madrid.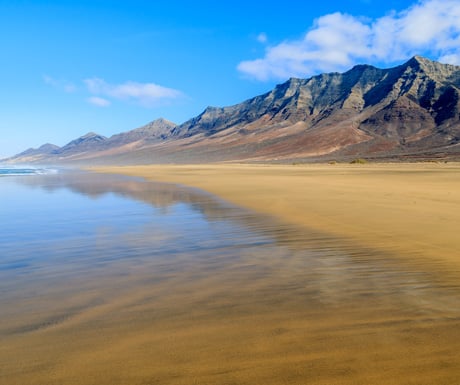 Ron Otto is Onwer of Best in Spain.
If you would like to be a guest blogger on A Luxury Travel Blog in order to raise your profile, please contact us.