Visitors to the rainforest are faced with a conundrum – how to see the rainforest without damaging its delicate ecosystem? More and more, you can choose form an array of hotels that recognize that have found a way to provide luxurious accommodations while minimizing their carbon footprint.
You'll notice these hotels usually have a few things in common – sustainably harvested construction material, biodegradable soaps and cleaning detergents, and kitchens that serve locally grown food. Besides their environmental efforts, environmentally responsible hotels often have a social mission as well. Ecolodges can provide jobs to indigenous people, who may otherwise struggle to find a way to make a living. These kinds of programs dissuade locals from participating from illegal logging and poaching, which is another important step toward preserving the rainforest.
You don't have to sleep in a tent to make your vacation green. These hotels have lavish rooms and environmentally friendly practices, and are located in some of the most exciting destinations in the world.
1. Finca Lerida, Boquete, Panama
Finca Lerida is a stately ranch-style hotel, set in the lush region of Boquete, Panama. This area is best known for its coffee, birding, and large community of ex-pats. Finca Lerida started life as a coffee plantation, and it continues to manufacture coffee – using environmentally friendly methods – to this day.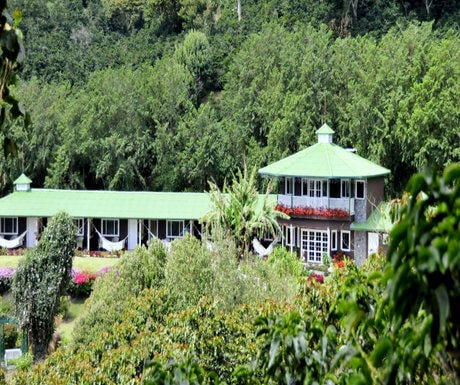 Boquete also has incredibly fertile soil, making it an excellent place to live off local produce. Before the ecolodge, these grounds had a reputation as an excellent destination for bird watching. Exotic birds and coffee plantations require the same type of ecosystem, and the preservation of these grounds gives these rare birds a place to thrive.
In the dining room, Finca Lerida's team of chefs shows off fresh Panamanian ingredients. They grow some of the restaurant's produce in the hotel's scenic gardens. Finca Lerida's coffee steals the show, and you can have it prepared in one of the kitchen's cutting-edge coffee makers.
The ecolodge's 21 rooms are arranged in a semi-circle. Inside the rooms guests have their own cozy fireplaces and bubbling Jacuzzis. All the rooms have patios with hammocks that overlook the landscaped grounds. Beds of colorful flowers give way to rolling hills and palm trees. In every direction, the intensely verdant slopes of Panama's highlands surround the hotel, and Barú Volcano National Park is just a short distance away.
2. Pacuare Jungle Lodge, Turrialba, Costa Rica
You will arrive at the lodge after taking a raft up the Pacuare River. This lodge sits on 25,000 acres (10,117 ha) of untouched rainforest. Pacuare Jungle Lodge is vigilant in making sure that this corner of the wilderness remains as healthy as it was before the lodge opened.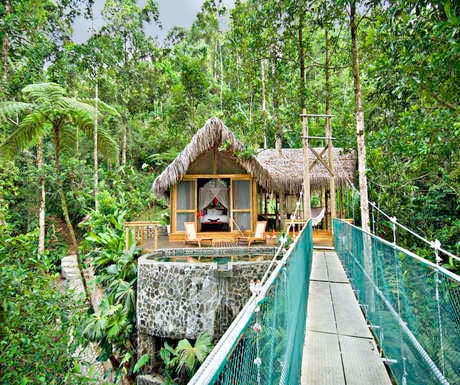 Pacuare Jungle Lodge makes a point of engaging in socially responsible tourism. The lodge hires its staff from indigenous communities, and is helping a community of Cabécar Indians install a clean water source. The lodge has had many new trees planted in the area, to offset the carbon associated with travel. All of the hotel's waste ends up in a septic tank, and not the river.
Cuisine here is unforgettable, with a jungle-to-table ethos and a kitchen that uses organic ingredients whenever possible. The lodge is in the process of installing a biodigester – a contraption that will transform the kitchen's organic waste into heat used for cooking. The lodge here offers the option of having a private meal served in a dining area set up in a kapok tree.
There is a spa here where you can book massages and skin treatments. The massage tables face large windows that overlook the coursing Pacuare River. Swedish massage, deep tissue massage, coconut masks, and chocolate facials – all the pampering you would find at an upscale resort you will also find here, deep in the rainforest.
3. Lapa Rios, Corcovado National Park, Costa Rica
Lapa Rios Lodge is one of the most prominent names in ecotourism. They have won a staggering number of awards for their conservation efforts, including a "5 Leaf" rating for their official Certificate of Sustainable Travel. National Geographic, Condé Nast, Travel+Leisure, and Forbes have all named Lapa Rios one of the top ecolodges in the world.
Lapa Rios is an ecological gem in the Corcovado National Park, on the densely forested Osa Peninsula.  This lodge has no TV, air conditioning, Internet, or telephones. But visitors to Lapa Rios will find the rainforest has plenty to absorb their senses – the sound of the jungle at night is enough to make you happy to skip TV.
Rooms here have patios that overlook the intense scenery. You'll find your accommodations outfitted with plush beds modern furniture. Even the mosquito nets look elegant, floating delicately around four-poster beds.
No live trees were harmed in the making of this ecolodge – only sustainably harvested materials were used to build these accommodations. Lapa Rios also introduced the area's first glass recycling deposit. This lodge has strong ties with the indigenous community – many of the staff members are locals, and Lapa Rios used some of the proceeds from the lodge to build a school for local children.
Food here walks the line between homey and upscale dining. You'll have intensely local options – like fruit plates made from rainforest produce – and international options for visitors that want a taste of home after a long day of hiking, boating, and swimming.
4. Las Lagunas Boutique Hotel, Petén, Guatemala
Las Lagunas Boutique Hotel is a lodge on the Las Lagunas rainforest reserve, conveniently located for day trips to the Maya ruins of Tikal and Uaxactún. The owner bought this property expressly to help preserve the area's biodiversity. The land surrounding the lodge has over 700 species of bird alone. This lodge works with the federal organization CONAP (Consejo Nacional de Areas Protegidas) to bring more information to the public about the environment. On nature hikes your guide will help you keep a lookout for margay tigers, tapirs, and wild pigs.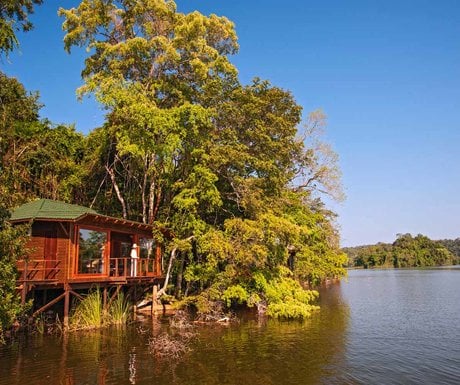 These accommodations make it easy to forget you're in the wilds of Petén. Beds have Egyptian cotton sheets, and rooms come with satellite TVs and air conditioning. All of the rooms have picture-worthy views – some of the rooms face the rainforest, and others overlook the Quexil Lagoon. In the middle of Quexil Lagoon you can visit one of the lake's islands, which are known for their boisterous populations of monkeys.
Las Lagunas' restaurant, Shultun, translates hearty Guatemalan fare into upscale cuisine. The chef crafts the menu based on what is available at the local market, so the food made here helps support the local economy while maintaining a minimal carbon footprint.
5. Laguna Lodge, Santa Cruz La Laguna, Atitlán, Guatemala
This lodge overlooks San Cruz Lake, facing three volcanoes that line the opposite shore. There is a lakeside pavilion where guests can admire the incredible view, and sample some of the lodge's yoga classes. You will arrive at the lodge by boat, giving you a chance to see the clear, blue water up close.
Rooms here come in individual suites. All of the suites are in individual buildings made of volcanic rock, material that keeps the rooms cool without the use of air conditioning. Power at the resort is carbon neutral – solar panels and water-powered energy supplies the resort with electricity and power for the Internet server. Laguna Lodge also runs a charity that provides educational and medical services to the local villagers.
From the lodge, you'll have access to 100 acres (40.5 ha) of wilderness reserve. Small villages cluster around the lake, places where you can meet locals and buy traditionally woven blankets. At the end of the day, peruse the list of massages and treatments offered at the resort's idyllic spa.
Laguna Lodge has its own garden where the cooks source as much of the hotel's produce as possible. As part of their effort to reduce carbon emissions, the kitchen serves a completely vegetarian menu. They also offer bespoke cocktails made with exotic local ingredients.
Zach Smith is CEO of Anywhere.
If you would like to be a guest blogger on A Luxury Travel Blog in order to raise your profile, please contact us.