Today we'd like to draw your attention to one of South Africa's completely undervalued gems – Tswalu. This vast private reserve in the Kalahari is more magical, more enchanting and more life changing than any other safari you will undertake in South Africa. South Africa has a repuation for being tamer than the other safari locations of Africa but we don't feel this is correct – there are still plenty of areas which are vast, wild and pristine with unbelievable vistas and fantastic game viewing. Tswalu is just one of them, and here are the five reasons we think everyone should visit Tswalu on a South African safari:
Conservation
Tswalu Kalahari in Northern South Africa boasts some of the most advanced and successful conservation initiatives in South Africa. This well funded private reserve has numerous conservation projects on the go, and the Kalahari obviously lends itself to providing the right environment for some very rare species such as pangolin, meerkats and many others. The head of conservation at Tswalu is an inspiring man, who if given enough warning will go out of his way to allow guests to get a more hands on insight into the work they do there. At Tswalu tourism is only a means of supporting the conservation initiatives on the reserve and this means the safaris are always in depth and interesting.
The luxury
The South Africans really know how to run a good safari property. Both properties on Tswalu (Motse and Tarkuni) are ultra chic and extremely luxurious, and of course complete with excellent meerkat and black maned lion viewing, amongst many other rare species. No expense has been spared when it comes to the décor and the suites at Tarkuni even have private star beds so you can decide as and when you sleep out under the myriad of twinkling stars.
The activities
The red dusty rolling hills here are breathtakingly beautiful and you can walk, ride or game drive. As well as getting involved with the conservation side of things there are also fantastic community projects based in the area and funded by Tswalu. Sundowners here are exceptional with sprawling views of the surrounding Kalahari bushveld, which at certain times of year will be lit with flowers of every description. Deserts in Africa really are very special places.
The Malori sleep out
This is certainly one of the most luxurious sleep outs in all of Africa, with a romantic and exciting outdoor bathroom, and wonderfully comfy bed you can have a private and exclusive night out in the bush, in utter safety, but with all the romance which surrounds sleeping out under the African stars.
The tranquillity
As Tswalu is so remote and wild you can guarantee your game drives will not encounter other people, the two hour private flight from either Cape Town or Johannesburg to get there only goes on to reiterate it's remoteness, and certainly adds to the feeling of being in the true wilderness. This really is a perfect slice of Africa which is unrivalled in both beauty and safari experience.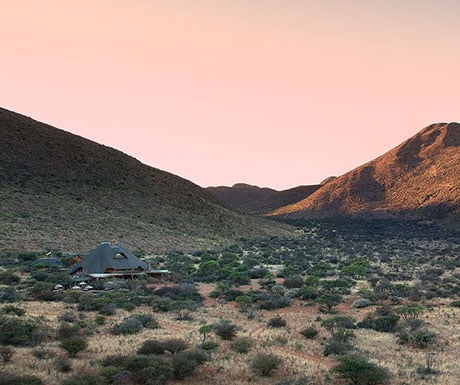 Rose Hipwood is Managing Director of The Luxury Safari Company.
If you would like to be a guest blogger on A Luxury Travel Blog in order to raise your profile, please contact us.