Mykonos is best known for throwing the party that never stops. It's a glamorous island where anything goes; friendly people, incredible bars, a stylish crowd and a non-stop party atmosphere that lasts long into the sunset. But just because it's a party paradise doesn't mean you'll be sacrificing luxury for fun. Here are 7 luxury secrets that you just have to check out. But shhhh! these are our best kept secrets for the magical island of Mykonos.
1. Go VIP at Paradise Club
If you're game for the non-stop party but you want the added glamour and convenience of VIP, make sure you book yourself a VIP table at the world-famous Paradise Nightclub. With your own table on the stylish terrace, you will be able to skip all the queues through your own private club entrance and enjoy a bottle service which comes to your table.
2. Remezzo Restaurant
It's hard to eat poorly in Greece as the heart of all Greek cookery is all about fresh, simple and delicious ingredients. But if you're after that magical fine dining experience, Remezzo Restaurant is an absolute must. The food doesn't come cheap but the views are to die for and the menu is the perfect example of world-class Greek gastronomy.
3. Buddha Bar at Sunset
There are many places you can watch the wonderful sunset on Mykonos Island. But there are few places with a setting quite as beautiful as Buddha Bar in Santa Marina. Not only that, but the bar is well known for its expert mixology; so you really can taste the best cocktails in Greece with the most spectacular views.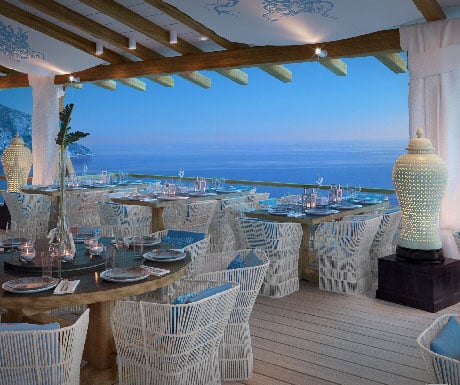 4. Agios Sostis Beach
Need to get away from the never-ending party atmosphere of the island's beaches? If you're looking for somewhere quiet to simply enjoy the views and listen to the therapeutic sound of the waves, Agios Sostis is definitely the island's best kept beach secret. Shh! Few people know about this relaxing little corner tucked away in the North of Mykonos and it can only be reached by taxi or rental car along an unmarked road.
5. Aqua Marine Spa
Looking your best and feeling your best are two elements that go hand in hand. That's the Greek philosophy – so make sure you take advantage of their many luxury spas. One of the most exclusive and most stylish is the Aqua Marine Spa at the Petasos Beach Resort.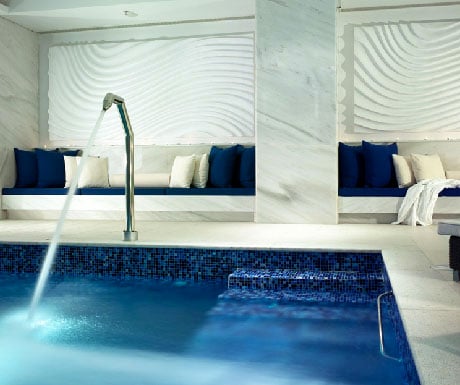 6. Bubbles Champagne Bar
Did you know that champagne is the beverage of choice for most Mykonos visitors? So you won't be stuck for delicious bubbly wherever you go. But for the ultimate experience, you simply can't miss Bubbles Bar; just because Veuve Clicquot is on the menu, doesn't mean you'll be surrounded by pretention. The hosts are extremely warm and welcoming and quite frankly, the crowd is just too hip and too chic to be pompous.
7. Enoplon Dinameon Street
Take a stroll down Enoplon Dinameon Street and you'll be pleasantly surprised by the luxury retail shops – which is perfect for those shopaholics with money burning a hole in their wallets! Shops include La Martina Polo, Timberland, Diesel and Nautica Clothing.
Christos Hajipapas is Head of Business Development & Strategy at Cyplon Holidays.
If you would like to be a guest blogger on A Luxury Travel Blog in order to raise your profile, please contact us.