By
Paul Johnson
on Aug 11, 2015 in
Accommodation
,
Europe
,
Featured
,
Food and Drink
,
Germany
,
Going Out
,
Hotels
,
Regions
,
Restaurants
,
Travel Miscellany
,
Western Europe
The highlight of our recent stay in Frankfurt – other than the private flight with Jetfly to get there – was dinner at the newly-opened, pan-Asian restaurant, Breeze by lebua at the Steigenberger Frankfurter Hof hotel – already an esteemed culinary destination and home to the Michelin-starred restaurant Francais. But, before all that, we called at a vineyard on the outskirts of the city run by Eva Vollmer – just one of a number of local vineyards that the restaurant carefully sources its wines from.
Having been greeted with a wonderfully creamy and fruity 2013 Pinot Blanc, we made our way to the vineyard where Eva talked to us about how they were just coming to the end of the harvest. Eva runs a mixed farm, using the fields of flat land for wheat and the south-facing slopes for the grapes. When you are this far north, you need all the sun you can get!
The winery was founded in 2007 but the oldest vines on the site are 33 years old now. They started with 8 hectares but now have 11 and even offer tractor tours of the vineyards. A tasting room opened just weeks ago.
We sampled a 2012 Pettenthal Riesling which sells at 25 euros a bottle (that's expensive to Germany where you can still pick up a good Riesling for more like 7 euros) – full of character, floral and with a hint of ginger at the back – before sitting down to a feast of local delicacies and a wonderful view of the surrounding landscape.
After our visit, we headed for the Steigenburger Frankfurt Hof hotel where we were to spend the night. We were there for for the hotel's new restaurant primarily, but my room is worthy of mention as well – very comfortable, with modern décor and all the modcons you might expect from a luxury city centre hotel.
Moving on to the restaurant… for global travellers, the name lebua Hotels and Resorts probably needs little introduction but, in case you are unfamiliar with the name, the group is best known for its Bangkok hotels – the luxurious lebua at State Tower and the all-suite hotel, Tower Club at lebua. The latter is home to the original Breeze restaurant which opened in 2006 and has become world renowned, reaching the dizzy heights of  one of the world's 'Top 10 most cutting-edge restaurants' according to USA Today.
Now, thanks to a new partnership with the Steigenberger Hotel Group, lebua has opened its first restaurant and bar in Europe – Breeze Frankfurt. With it, it brings a new concept to Frankfurt – first class pan-Asian cuisine matched with an unparalleled service in an upscale ambience, drawing on influences from China, Malaysia, Taiwan and Singapore.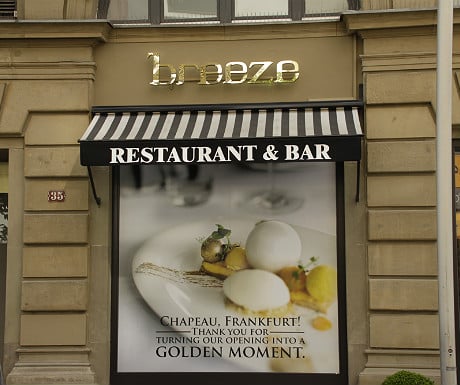 So popular was the bar when this place first opened – with queues outside the door – that the police came along and told them they'd have to sort out their own security!
The interior space – inspired by the renowned architectural firm Eight Inc. (the same company that's behind the world's most famous Apple store on 5th Avenue in New York) – is beautifully designed with stone walls, timbers and a stylish atmosphere, if a little dark in places, and with the capacity for 70 diners in the restaurant and 30 guests in the bar. There are some narrow walkways with water features either side so watch your step!
The Chef de cuisine at Breeze Frankfurt is Malaysian-born Poon Kam Long who began his 22-year career at th House of Mao and Wang Dynasty restaurants in Singapore. He has also held positions at the flagship restaurants of the Hakkasan Group in London. The Culinary Creative Director Sam Leong is the consulting chef; he has appeared in numerous television shows and has a host of cookbooks to his name and it is his role to work with Chef Poon Kam Long to develop the culinary team and design the menus.
Having had my fill of wine at the vineyard earlier, and knowing that there was a different regional wine being paired with each course in the tasting menu that lay ahead, I began with a very refreshing non-alcoholic cocktail made with mango, strawberry, thyme and cinnamon whilst we nibbled on some caramelised cashews with a variety of different Asian-inspired dipping sauces.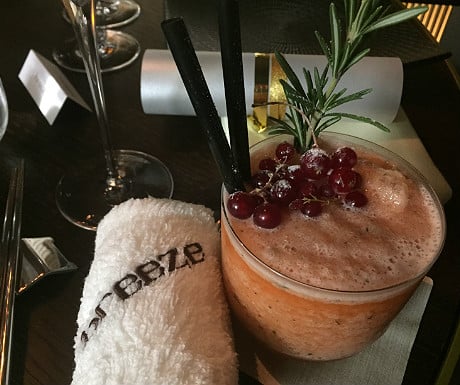 When it came to the food, we began proceedings with a mouth-watering dish of stir-fried Atlantic lobster and crunchy kailan, beautifully balanced with a rich but subtle foie gras sauce.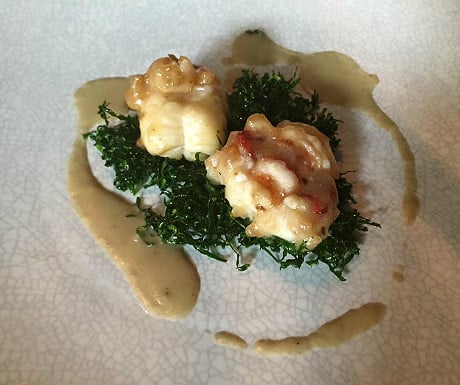 This was followed by black cod, egg white, baby pakchoi and black vinegar – for me personally, the egg white didn't really complement the dish but the flavours from the cod more than made up for this.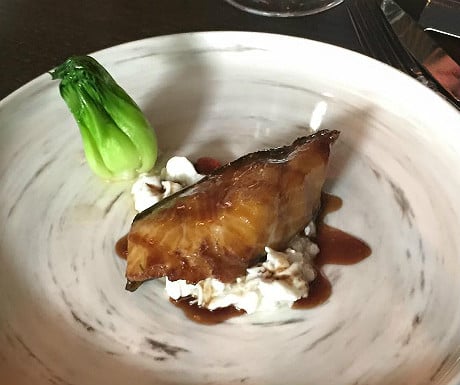 Next up, crispy chicken, 'Thai' style, with mango and shallot – crunchy, packed with flavour and yet a delicate and light dish at the same time. The wine wih this one was a particularly gutsy Pinot Noir (Weiherberg, Pinot Noir Weingut Klump) – vines from Burgundy but planted in Germany.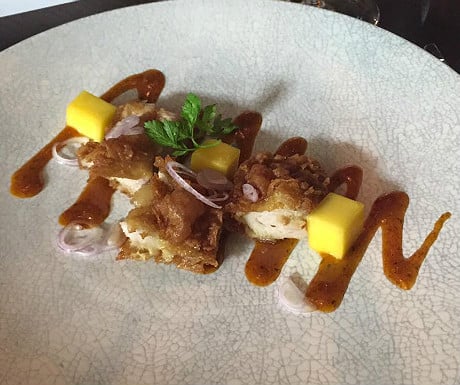 The main was a melt-in-the-mouth Wagyu beef tenderloin with a mildly spiced green pepper sauce and ginger-scallion fried rice. This was paired with a quite powerful Austrian wine (Goldberg, St. Laurent, Birgit Braunstein).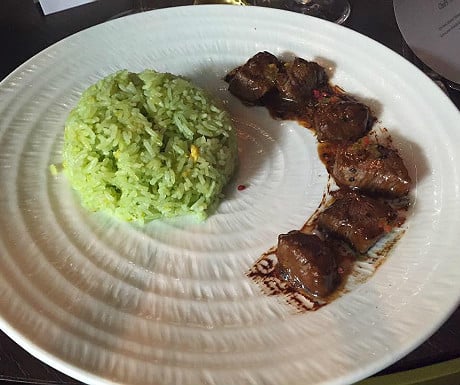 The kitchens at Breeze Frankfurt are on view to diners with large windows giving an insight into the preparation of the dishes. Our table looked into the patisserie where we could see the final touches being put on the desserts.
Our dessert was a bit of a novelty – dehydrated chocolate, Mandarin orange chantilly, Sichuan pepper sorbet and a citrus mist – essentially dry ice that dehydrated the chocolate and gave it a brittle texture. You can't really go wrong with a chocolate and orange combination and this dish was both a little bit of fun and a treat for the tastebuds at the same time. This had been paired with a sweet red wine, mainly Grenache, from the South of France (Banyuls Rimange Thérése Reig, Domaine de la Rectoire).
After dinner we retired to the bar area where the cocktail barman was being kept extremely busy.
I'm not usually a big lover of cocktails – preferring instead to have a glass of wine – but the saketinis came highly recommended so I thought I'd give one a try. Made with sake, wasabi and ginger, this certainly didn't disappoint and the atmosphere and ambience in the bar was second to none.
Frankfurt is an interesting choice for Breeze's first foray into Europe. It's fair to say that the city has nothing like it already and, for this reason alone, it will surely be a success. The fact that guests can also expect superb gourmet cuisine and first-class regional wines from the likes of Eva Vollmer will only serve to cement its position as a leading restaurant in this progressive city
Breeze is open Tuesday to Saturday (12:00 – 14:30 for lunch and 18:00 – 22:30 for dinner, with last orders at 22.30). The bar is open Tuesday to Thursday (17:00 – 01:00) and Wednesday to Saturday (17:00 – 03:00).
Disclosure: This trip was sponsored by Breeze by lebua in conjunction with Jetfly.