British Columbia is one of Canada's most beautiful provinces, and one of the most action-packed! Whether you're looking for a city break, some outdoor adventure or perhaps a ski holiday, BC is the place to be. Here are six reasons why you should choose a holiday to British Columbia next year:
The great outdoors
There's no doubt that British Columbia is absolutely breath-taking. With some of the world's best national parks, glistening lakes and rugged coastline, you won't want to go back indoors! Hire a car and drive the Sea-to-Sky Highway, a short but spectacular journey from Vancouver to Whistler, and breathe in the fresh mountain air when you arrive.
Some of the best National Parks in BC include:
Glacier National Park – This incredible alpine region contains lush forest, deep canyons, active glaciers and one of Canada's largest cave systems. From snow-capped peaks to wildflower meadows, this area of the Columbia Mountains is bound to take your breath away.
Pacific Rim National Park – The most famous section of this park, Long Beach is located on the west coast of Vancouver Island. This coastal reserve boasts some of the most dramatic rugged shores and wild seas anywhere in Canada. Stroll along sandy beaches in summer, or dress head to toe in storm gear to watch the huge waves in winter.
Yoho National Park – The western slopes of the Rocky Mountains promise towering rock faces, spectacular peaks and impressive waterfalls. With some of the world's richest deposits of fossils and the birthplace of the majestic Kicking Horse River, Yoho lives up to its Cree name meaning "awe and wonder".
Vibrant Vancouver
What's not to love about Vancouver? A glistening city with a glorious mountain backdrop, set on the shores of the Pacific Ocean. This really is a city for everyone; not only are there opportunities for world-class shopping and dining experiences, you can also cycle, hike, sail and ski, all in the same day! Make sure you visit Granville Market and climb the city's Lookout Tower for fantastic 360 degree views.
Here are some of the best Vancouver activities:
Stanley Park – This gorgeous park is huge and the best way to see it is by hiring a bike and going for a leisurely cycle. The diversity is stunning as it boasts beaches, bike trials, a serene lake and incredible views of downtown Vancouver. A surprising oasis right in the heart of the city action, don't forget to stroll along the impressive seawall.
Granville Island – Although an absolute must-do, there is more to Granville than the vibrant Market. One of the most popular spots in Vancouver, the picturesque winding streets of this little hub are packed with niche boutiques, restaurants and galleries.
A city tour – There is so much to see in Vancouver, why not get a helping hand to make the most of your sightseeing? Choose from a hop-on, hop-off bus for the freedom to pick and choose or a fully escorted tour for insider knowledge and facts from passionate locals.
Opportunities for adventure
British Columbia is a natural playground, designed for adventure! In the winter, Whistler and Blackcomb mountains welcome countless skiers and snowboarders to enjoy over 8,100 acres of skiable terrain. With more than 200 trails, 16 alpine bowls and 3 spectacular glaciers, there's something for skiers of every level. Don't miss a crossing on the Peak2Peak gondola to admire the stunning scenery that surrounds you. In the summer, Whistler becomes a premier mountain biking resort, and there are lots of opportunities for hiking, cycling and kayaking all around BC.
Here are three ski resorts you should definitely consider visiting in BC:
Whistler & Blackcomb – Consistently ranked North America's No1 ski resort, these twin mountains offer world-class skiing and snowboarding. Located just a 2 hour drive from Vancouver, it is easy to get to, even if it might be hard to leave.
Revelstoke – The "Powder Snow Capital of Canada", this resort is one for adventure lovers and thrill seekers. Revelstoke has carved a name for itself as the place to go for heli skiing and cat skiing among the varied alpine terrain. With 48% of the mountain classed as "Expert" level, this is not one for the faint-hearted.
Big White – Canada's largest fully ski-in, ski-out resort, Big White lives up to its name. And we mean big. With over 2700 acres of skiable terrain, there is a run to suit everyone here. It is perfect for families and groups as there are so many winter activies on offer, from dog-sledding to snowmobile tours.
History and culture
As well as the vibrant city of Vancouver, British Columbia has a strong Commonwealth heritage that still exists today. Discover BC's past on a trip to Vancouver Island, where you can visit the province's capital, Victoria, which is also one of Canada's oldest cities. Wander along the wharf and visit the Inner Harbour – look out for the unusual floating houses and shops, which are one of the city's most popular attractions. If you're visiting for a special occasion, make sure to book a traditional afternoon tea at the Fairmont Empress Hotel – a real treat!
Here are some of the best historical activities in Victoria:
Royal BC Museum – Founded in 1843, Victoria is one of the oldest cities in the Pacific Northwest, meaning it is bursting at the seams with history. This excellent museum is full of interesting exhibits and an adjoining IMAX cinema which will keep holiday-makers of all ages enthralled.
BC Legislature Building – This gorgeous building is not only a stunning piece of architecture inside and out, but is also an excellent place to learn about the history of Victoria. With free guided tours, it is light on your wallet too. Try coming back at night to see it lit up and take a horse-drawn carriage ride from outside the building.
Empress Hotel National Historic Site – Aside from the excellent afternoon tea, there is a lot to see and do in this beautiful location. Built for the Canadian Pacific Railway, the Chateau-style architecture is of great historical importance. Try a guided tour of the building and grounds for the inside scoop on how the hotel helped to develop the region.
Wonderful wildlife
British Columbia is known for being one of the best places to spot wildlife in Canada. As well as looking out for various species of bears, whales and birds along your journey, you can choose to visit one of the province's many bear or whale watching lodges, such as Knight Inlet Lodge, a floating wilderness retreat. Visit the Great Bear Rainforest on Vancouver Island and look out for the rare Kermode or 'Spirit' bear.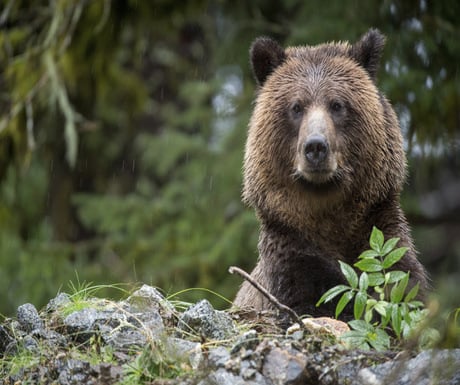 Here are some of the best places to spot wildlife:
Whale watching – Vancouver Island is one of the best places in Canada for whale-watching. Expect to see orcas and other species such as humpback, minke and Pacific grey whales. The Robson Bright Ecological Preserve to the north is Canada's only orca sanctuary.
Bear watching – BC is prime bear watching territory, home to more than half of Canada's grizzlies and a quarter of Canada's black bears. It also is the only province where the rare, white Kermode bear lives. For a chance to see one, head to the pristine Great Bear Rainforest which is easily accessible from Vancouver Island.
Bird watching – Boundary Bay is easily visited from Vancouver and is rated as the country's top "Important Bird Area". A major preserve for migratory birds, the ecosystems here support more than 333 species, including rare eagles, hawks and owls.
Foodie paradise
You may be surprised to hear that Vancouver has one of the largest Chinatowns in the whole of North America, so best start practising with chopsticks before you go! Try a taste of Vancouver tour and experience some of the city's most delicious restaurants and markets. Let an expert culinary guide teach you about the city's local produce in between sightseeing.
As well as food, BC is world-renowned for its wines. Top vine growing regions include:
Okanagan Valley – This is BC's major wine-producing region with more than 120 wineries in this uniquely perfect climate. Set among sparkling lakes and golden deserts, the wineries here offer friendly tours of their vineyards with ample opportunity to sample their delicious produce.
Vancouver Island – This is the place to come for small-batch, high-quality boutique wines, with around 25 family-owned growing their vines here.
Kootenay Rockies – For something different and off-the-beaten-track, try a trip into the mountains to sample some unique wines. This fledgling wine region produces small-batch wines near to Creston and Trail.
Kathryn Munro is Managing Director at Canadian Affair.
If you would like to be a guest blogger on A Luxury Travel Blog in order to raise your profile, please contact us.