For many travellers, Japan is the holiday of a lifetime. Shrouded in myth and mystique, it holds its own special allure, drawing visitors back again and again with its distinctive combination of time-honoured tradition and hyper-modernity. Japan is also a fantastic place for luxury travel, as that little extra really can make the difference between a great trip and an extraordinary one. If you are in any need of convincing, just take a look at this list – which represents just a handful of our favourite exclusive experiences in Japan.
1. Meet one of Kyoto's mysterious geisha
The image of a white-faced, kimono-clad geisha teetering on wooden geta sandals is one of the most enduring symbols of Japan. Geisha are highly skilled performing artists who spend their entire lives training in the traditional Japanese arts, living in a "flower and willow world" shut off from the public eye. Over the past century they have seen their numbers dwindle to just a handful, and suffered the indignity of being misidentified with courtesans in the eyes of the world. Nonetheless they have survived, and the few who remain are living repositories of traditional Japanese culture.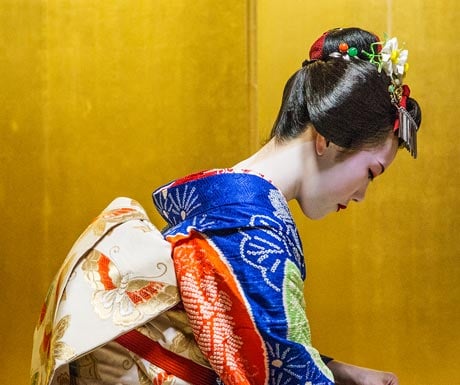 To have an audience with a geisha or maiko (apprentice geisha) is no common occurrence, and most Japanese will never have the honour of receiving an invitation. With the right contacts, however, it is possible for foreign visitors to arrange for a private audience with a trainee geisha.
Far from being "touristy" or inauthentic, this experience provides a rare window into a fascinating and secretive world that few truly understand.
2. Experience omotenashi at one of Japan's exclusive ryokan
Top-class hotels are an integral part of any luxury holiday, but the tradition Japanese ryokan inn is an experience in itself. Ryokan come in all shapes and sizes but are identifiable by a few common features, including tatami-matted floors, futon bedding, sliding doors, shoji paper screens, delicious kaiseki cuisine and communal hot spring baths.
When discussing the merits of ryokan inns, it is worth noting that the Japanese criteria for luxury accommodation is somewhat different from what we expect in the West. At a Western five-star hotel you might expect to find elaborate décor, antique furniture, artworks on the walls and super-king-sized beds – but Japanese ryokan are comparatively pared down, understated, even Spartan in style.
Luxury is measured instead in the quality of the features, the level of craftsmanship found through the inn, the outstanding included meals, the beauty of the onsen hot spring baths, and – above all – the impeccable omotenashi (hospitality) of the ryokan hosts.
3. Take a sunset helicopter cruise over Tokyo
Tokyo is one of the world's largest cities, with an international reputation for being at the cutting edge of technology and architecture. It is a byword for the futuristic, and its skyline stretches almost as far as the eye can see.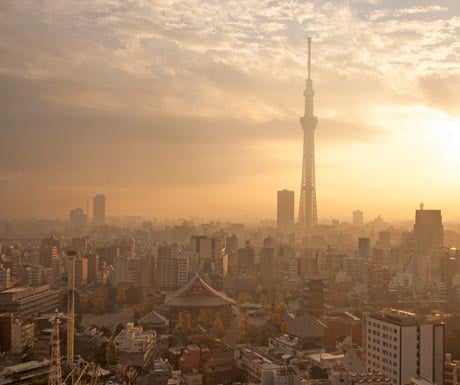 What better way to gauge the true scope of Japan's neon megalopolis than from the air, with a spectacular sunset helicopter ride over the capital? Though helicopter rides can be taken at any time of day, we consider sunset to be the most impressive. Watch as the sky turns the deep red of a Hiroshige woodcut print, while Mount Fuji provides a dramatic backdrop as dusk falls over the twinkling lights of the city.
4. Stay at an exclusive beach resort on the tiny island of Taketomi
Of all the iconic, evocative images of Japan – subtropical islands and beautiful beaches probably don't make it onto your list. Yet Japan's southerly Okinawa Islands offer just this, providing a fantastic contrast to the mountains and cities of the mainland. This archipelago was part of the independent Ryukyu Kingdom until the 19th century, so the culture and cuisine is strikingly different from that of Japan proper.
Okinawa harbours several high-end resorts where you can relax in luxury on white sand and partake in activities like scuba diving, snorkelling, whale watching and jungle trekking. One of our favourites is the exclusive Hoshinoya Resort on the tiny island of Taketomi, where the sand is shaped like tiny stars (no, really) and you're more likely to see a cart drawn by water buffalo than a car.
5. Take a tour of Tsukiji Fish Market and sample the world's finest sushi in Tokyo
Fish – or more accurately, sushi – is one of Japan's most famous culinary exports, and rightly so.
Tsukiji Fish Market in Tokyo is the largest of its kind in the world, a vast maze of stalls filled with an array of the weird and wonderful creatures of the deep: shimmering fish, wriggling eels, crustaceans large and small, and of course the king of sushi fish, tuna. Any tourist can access the market (with some notable restrictions), but imagine attending in the company of a world-class sushi chef and a professional translator! With access to all areas, you'll learn about the different grades of tuna, how they are cut and prepared, and all the inner workings at this bustling market.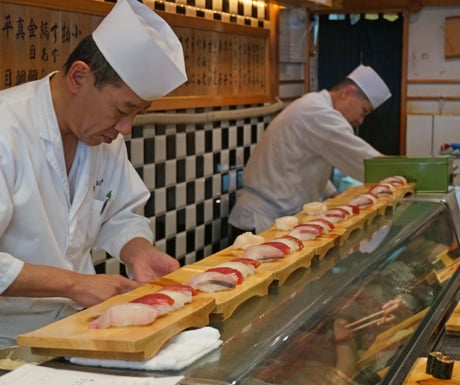 Following a tour of the market, head to one of the finest sushi restaurants in Japan (and consequently the world), for a breakfast of some of the freshest and most delicious seafood it's possible to eat. Enter at your peril, because plain old run-of-the-mill sushi is never going to taste the same again! Of course, if you've always wanted to learn how to make that perfect tuna roll (maki zushi), then why not add a lesson with one of the best chefs in the business – a once-in-a-lifetime chance to learn from a master.
6. Stay at a traditional temple lodging and meditate under the guidance of a head priest in Mount Koya
Last but certainly not least, make time during your holiday to stay at a shukubo, or traditional temple lodging. Our favourite is to be found in atmospheric Mount Koya, deep in the mountains of Wakayama Prefecture.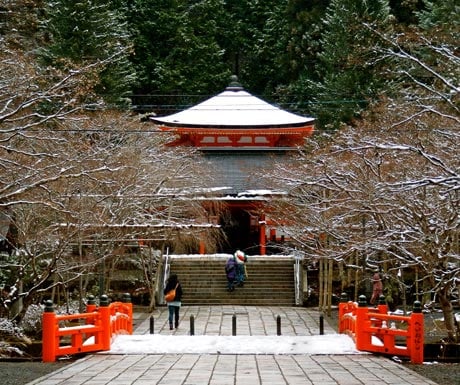 This is not your traditional five-star luxury. It is quiet contemplation, the sliding windows of your tatami-mat room opening on to a 1,000-year-old garden, the emotive smell of incense filling the air, the gentle chanting of monks in the distance. It is the authentic, atmospheric Japan of the imagination; a world far removed from the modern hustle and bustle of the overcrowded cities.
Nevertheless, you do not have to give up on your creature comforts. Our favourite shukubo offers a beautiful suite room complete with deep-soaking Japanese hinoki wood bath, antique painted scrolls, intricate carved wood friezes and thick futon mattresses and duvets. It's not for everyone, but this is an experience you'll never forget.
While staying at these temple lodgings, you will be served a dinner of shojin ryori (vegetarian Buddhist cuisine), and will have the chance to rise at the crack of dawn to attend the beautiful morning prayer ceremony. You might even have the chance to learn zazen meditation from the temple's head priest.
Alastair Donnelly is Director at InsideAsia Tours.
If you would like to be a guest blogger on A Luxury Travel Blog in order to raise your profile, please contact us.