Dubai – the land of luxury, fast cars, skyscrapers and world-record breaking achievements. Spend a few days in this bustling metropolis and it's all too easy to forget the Emirate's rich Arabian history. Carved out of the desert sands, Dubai has undergone more transformation in its short 43-year lifespan than most countries have over the course of centuries. But for a taste of what life was like before oil riches flooded the country, and for some good old-fashion marketplace ambiance, head to one of the Sheikdom's many souks. Not only will you get to practice your haggling skills, you can pick up some truly unique Emirati wares and engage in some delightful conversation with the sun-weathered traders, many of whom pass their market stalls down from generation to generation. We take a look at some of the best picks for a Dubai shopping experience without a mall in sight.
Spice souk
For a heady experience, head to the maze-like walkways of Deira Spice Souk where the streets are lined with canvas sacks filled high with pungent spices. Wind your way through the narrow cobbled lanes of this bustling area, also known as the Old Souk, and chat with the friendly vendors who'll be more than happy to give you some tips on the best way to use their spices.
Traditionally used cumin, known locally as kamoon, can be found at every stall as well as other staples like coriander and nutmeg and you can also get your hands on rarer trades for a bargain price depending on how effective your haggling skills are. If you only buy one thing, make sure its the local bezar – a traditional mixture of roasted spices, pounded together to create a mildly spicy herb that's used to flavor fish and meat dishes, it's definitely one of the fundamentals of Emirati cuisine. This is definitely one stop foodies shouldn't miss.
Gold souk
Perhaps not quite what you might expect from a souk, the Dubai gold souk – which is reportedly the biggest in the Middle Eastern region – is actually more a series of streets lined with glass-fronted shops all packed to the rafters with dazzling diamonds, sparkling silver and, of course, lots and lots of gold. A major tourist attraction, this place is always busy and the bustling atmosphere simply adds to the experience.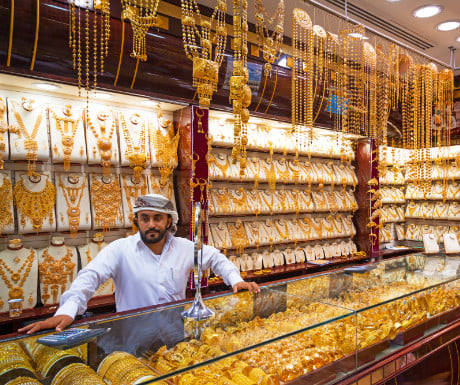 Located on the north side of Dubai Creek, this is the place to go if you want to pick up something special to remind you of your time in Dubai. The majority of jewellery on offer is bright-yellow gold; a favourite with Arab and Indian visitors and some of the best value gold you'll find in the region, if not the world. The jewellers here have been in this trade for a while with many of the stores being long standing family-run business so don't be afraid to get their advice on cuts and finishing and, if you have a specific design in mind that you don't see in the trillions of trays presented to you, just ask – they'll be happy to customise something truly unique for you.
Textile souk
While you may not see an actual flying carpet, Dubai's textile souk is the place to go for hand-woven rugs a la Aladdin, as well as a huge array of rainbow-hued saris and shimmering headscarves. The Bur Dubai-based market, which is reached via a quaint little abra ride – sources the majority of fabrics from India so a kaleidoscope of colours is guaranteed, perfect if you're seeking something a little bit special to upholster a favorite sofa or craft into a bespoke suit.
Located close to Al Fahidi Fort, parking can be a bit tricky in this busy area so plan ahead and hire a driver to drop you off. Don't be afraid to haggle on prices, especially if you're buying a substantial chunk of cloth and, when you're finished sourcing material, take a few moments to appreciate the gorgeous Islamic-style architecture of the market with its wooden shutters, hanging lanterns and covered walkways.
Perfume souk
World-renowned for its lingering scents, Arabian perfumes typically come in two distinct types, both of which can be sourced at Deira's pungent Perfume souk. Be prepared for a heady assault on the senses and the feeling of being in an old apothecary as you step into the small stores where shelves are piled high with a harlequin of glass jars and canisters containing multi-hued oils, liquids and substances of every scent imaginable.
Oud is the more expensive of the traditional types, and is essentially small fragments of wood infused with a scent that is burned slowly to allow the scented smoke to be used as perfume for clothes and bodies. Bukhoor is a combination of various scents, fused together to form what resembles small pieces of coal that are then burned in something called a medhan. If you're looking for something a little easier to manage, you can also buy tiny bottles of fragranced oil for rubbing onto pulse points in place of regular perfume. While traditional Arabian scents have base notes of amber, rose, and white musk you can also find oils inspired by today's most fashionable branded perfumes, expertly created by the store perfumists.
Fish souk
Located on the Deira Corniche, a visit to this market will no doubt provide one of your most memorable moments in Dubai, if only for the powerful smells that will envelop you on your visit. While it may not be the most pleasant experience for your nostrils, there's nothing quite like a sunrise visit to Dubai's bustling fish souk.
Early morning is the best time to go to catch flocks of fishermen arriving with freshly caught hauls of crab, local hammour, red snapper, lobster, shark and countless other varieties of tasty seafood. Friendly stall owners are happy to barter, gut and prepare purchases exactly as you'd like them so don't be shy. While the covered market offers a little respite from the middle eastern sun, it's not the type of place you'll want to stay too long unless you have an odd-penchant for fishy aromas. That said, nothing really compares to picking up a haul of freshly caught seafood, at a top-value price, ready to be grilled-up later at a barbecue on the beach.
Images: Shutterstock